Reduce Virtualization Costs with TrueNAS
Most users want their IT infrastructure to be simple, reliable, and cost-effective. If there are any performance issues, rapidly add the resources needed, but do not pay for resources or software that are unnecessary. This is the core of the iXsystems approach to building virtualization infrastructure or private clouds.
TrueNAS and FreeNAS® can both support virtualization workloads. FreeNAS is great for development, labs, and other non-critical use-cases. TrueNAS is a platform designed for critical applications where enterprise support and HA are generally needed for production. TrueNAS also includes vSphere certification and vCenter plugins to reduce operating costs and complexity. TrueCommand provides the "single pane of glass" for simplifying the management of many NAS systems and replication targets.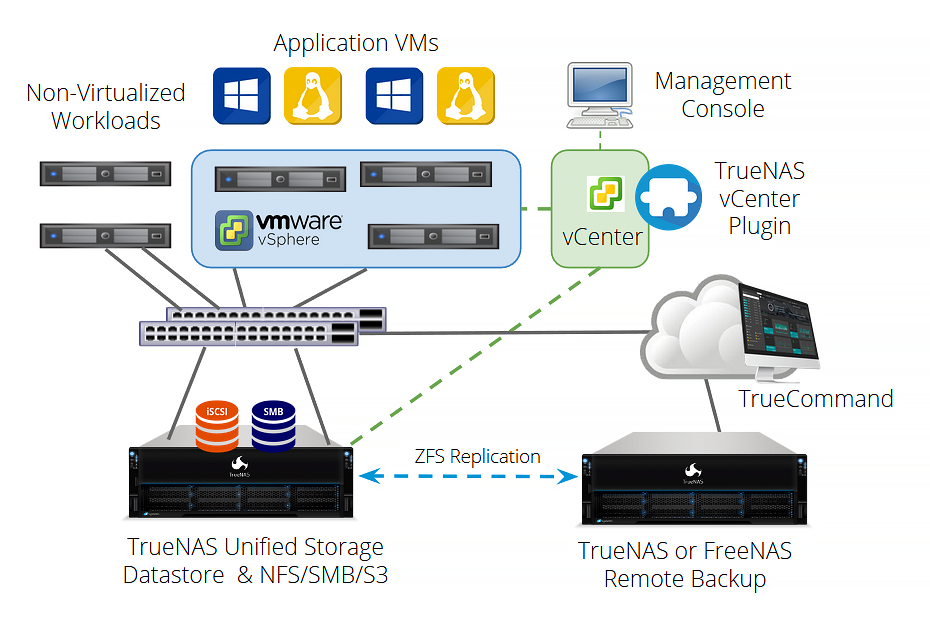 Unlike purely SAN-based datastores, TrueNAS is a unified storage system supporting SAN (iSCSI or FC), NAS (SMB, NFS), and object (S3) protocols. VMs and applications that need to share data can use NFS, SMB, or S3 APIs without the need for additional storage systems. Non-virtualized hosts and laptops can use the same TrueNAS system with data separated into different datasets. Consolidation saves money and power.
Open Source Economics
The key to reducing the costs of private clouds is Open Source economics. Amazon, Facebook, and Google have used Open Source to reduce their cloud costs. Smaller organizations can take advantage of the same long term trend for their own competitive advantage.
iXsystems delivers Open Source economics to IT infrastructure and virtualization. Servers and storage can support Open Source or proprietary stacks like VMware vSphere, Citrix Hypervisor (XenServer), or Microsoft Hyper-V. Our clients get to choose whether they need industry-standard server platforms for minimum cost or enterprise platforms for High Availability (HA) and up to 24×7 support. In many cases, a blend of platforms is the most cost-effective solution for an organization. 
With a flexible and consolidated infrastructure, there is also the opportunity to use other software stacks such as KVM (OpenStack) and XCP-ng (Cloudstack). Open Source economics is all about removing vendor handcuffs. 
The same architecture scales from office deployments to rack-scale pods in colocation facilities and data centers. Larger deployments use multiple pods with each typically having one storage system and up to 64 servers and a pair of Ethernet switches. These can be built as pre-configured racks using TrueRack, which greatly simplifies deployment.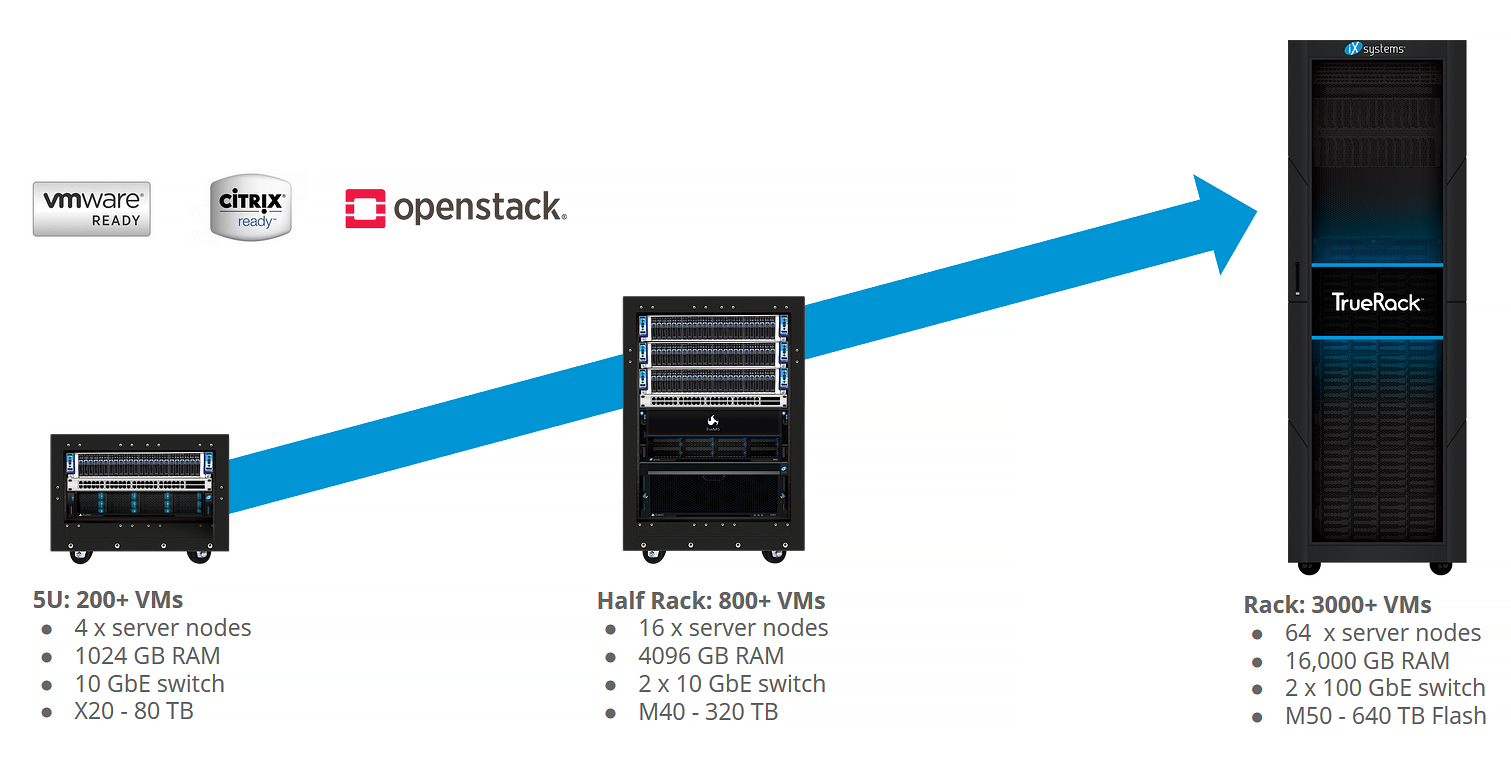 Rightsize Your Infrastructure
Rightsizing virtual infrastructure is important. Too small, and performance is poor. Too large, and the cost per VM is very high.  In typical deployments, each VM requires 20 IOPS, half a CPU core and 4GB RAM. Performance VMs may require 50 IOPS, 2 cores, and 16 GB RAM. Existing deployments can have their workloads more accurately characterized via reporting tools (e.g. Live Optics).
TrueNAS supports both all-flash and hybrid (disk + flash) configurations, with the ability for all-flash and traditional pools to operate on the same system. All-flash configurations deliver sub-millisecond latency, increasing VM density and performance for latency-sensitive workloads, such as VDI. 
TrueNAS performance has been validated by our clients and with various tools including SPEC storage performance testing suites.  At the top end, the TrueNAS M50 supports 100K real world virtualization IOPS, up to 5000 VMs, and 64 dual-socket virtualization servers. Using the popular 2U 4 node server form factor, this M50-based pod can fit snugly into a single rack. 
The performance of a TrueNAS M50 with only 24 SSDs demonstrates how well everything scales. Sub-millisecond latency is normal to 60,000 IOPS  or about 3,000 standard VMs. Latency and IOPS can be further improved by adding more drives to support more than 5,000 VMs on a single TrueNAS M50.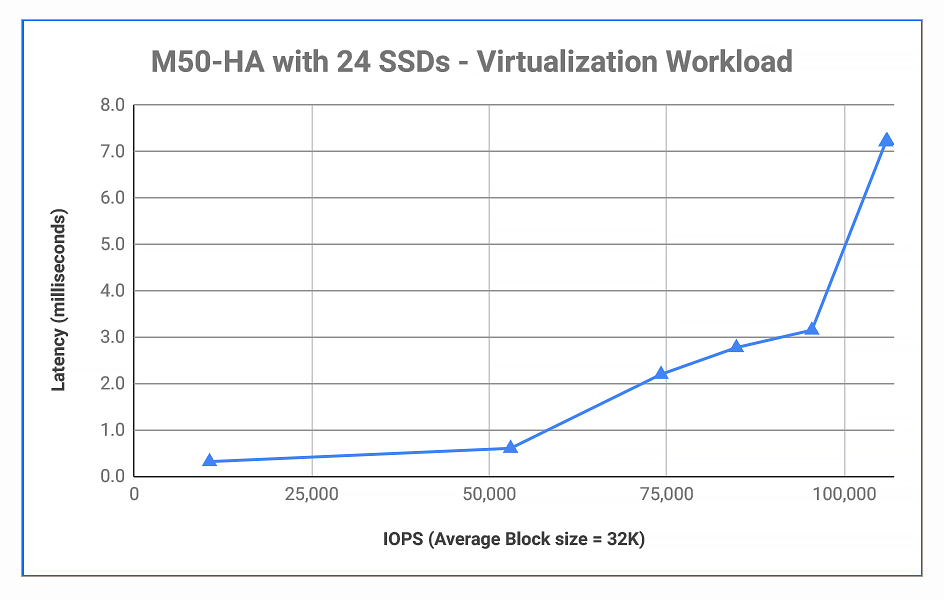 Many deployments will not need the performance of an M50 with All-Flash. Costs can be reduced by using smaller systems (X20 and M40 are both well suited to virtualization) and by using hybrid architectures with memory, NVDIMM, and flash-based caching. Small virtualization systems with HA storage and compute nodes can be built from under $20,000. 
On your next virtualization project, whether optimizing for a budget, leveraging Open Source economics for the first time, or looking to meet a specific performance requirement, iXsystems has a solution to fit your needs. Contact us for a solution tailored to your requirements.
Talk to iX
To find out more about our virtualization solutions, visit the iXsystems virtualization page. For any questions, please schedule a call with one of our TrueNAS solution architects, and we can help configure, size, and price a system that meets (and exceeds) your needs. 
If you are attending VMworld 2019 in San Francisco (August 25-29), please drop by the iXsystems booth (#966) and have a chat with one of our expert staff.