Partner With iXsystems
Enhance your portfolio and bottom line by partnering with iXsystems, the leader in Open Source powered solutions. Gain a competitive edge while providing your clients and customers with the most reliable, flexible, expandable, and economical technology solutions. The iXsystems Partner Program (IXPP™) focuses on Storage Centric VARs and Resellers. No matter the scope of the project, you can count on iXsystems.
What's in it for you?
The IXPP offers Partners a rich experience, coupled with benefits and perks designed to help our Partners grow their businesses while becoming Storage Experts.
Our commitment to IXPP™ Partners includes the following tools, benefits, and perks:
Sales & Marketing
Pre-Sales Engineering: Access to iXsystems Solutions Architects and Sales Engineers to help determine your customer's full requirements.
Joint Sales Calls: Leverage our Channel Sales Team's knowledge, expertise, and experience for a higher closing percentage.
Deal Registration: Register your Sales Opportunities and protect against open bidding while gaining higher margins.
Sales Leads: Take advantage of Sales Leads generated by iXsystems' Marketing efforts. We attend numerous trade shows around the globe, host webinars, and other lead generating activities.
Sales Training: Let the experts at iXsystems train your Sales Teams. Get a leg up on the competition and win more deals.
Marketing Tools: Use our library of Case Studies, Product Briefs, White Papers, and Videos to help drive awareness and product knowledge.
Joint Marketing: Opportunities for Qualified Partners to join iXsystems at Trade Shows, Conferences and participation during Webinars, and other lead generation activities.
Product
Product Training: IXPP Product Training helps Partners take their product knowledge to the next level. Ideal for your technical staff and Sales Engineers.
Try & Buy Evaluation: IXPP Partners can offer their customers a hands-on 30-day trial of our award-winning storage products. Involvement with our Engineering and Tech Support departments ensures a successful trial.
Monthly Newsletter: Partners can stay current on the latest product offerings, updates , support issues, and great Sales & Marketing tips.
GSA Advantage IT Schedule 70 Access: Help your federal, state, and local customers shorten procurement cycles, ensure compliance, and obtain the best value for TrueNAS products, services, and solutions.

Become an iXsystems Partner
Partnering with iXsystems enhances your portfolio and bottom line. Register now and start enjoying the benefits of Partnership.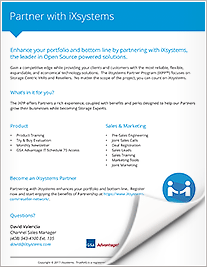 Questions?
David Valencia, International Sales Manager
(408) 943-4100 Ext. 135
david@ixsystems.com
Patrick Bullock, Sales Director – US East
(408) 943-4100 Ext. 173
pbullock@ixsystems.com
Karim Hafez, US West and Canada Sales Manager
(408) 943-4100 Ext. 150
khafez@ixsystems.com