TrueNAS
All-Flash and Hybrid Arrays
TrueProtection   TrueAvailability   TrueUnification
ZFS-based Storage Arrays for Enterprise Workloads
For over twenty years, iXsystems has been the go-to company for storage and servers driven by open source software, and we're also the developers of FreeNAS. With our unique convergence of hardware, software, and storage expertise, we bring you the award-winning TrueNAS flash and all flash storage arrays, offering enterprise reliability and performance at a value unheard of in storage.
Unify your business-critical applications with a TrueNAS storage array that fits the performance and capacity requirements of your application. TrueNAS unifies block and file storage, grows to nearly 5PB in a rack, is available in hybrid and all-flash configurations, and uses a ZFS-based file system that guarantees data stays pristine and safe.
<!– Zozo Tabs Start–>
<!– Tab Navigation Menu –>
<!– Content container –>
<!– Overview –>
<!– Zozo Tabs nested (TrueNAS) Start–>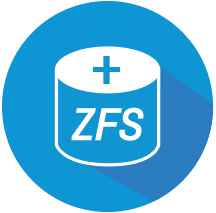 One of the key pieces of technology we use in TrueNAS is the ZFS filesystem. So what makes ZFS so great?
True Protection
TrueNAS provides unrivaled data integrity protection by using the OpenZFS enterprise file system. OpenZFS is a next-generation file system in every regard from its self-healing bit rot mitigation to its flexible snapshotting and replication.
True Scalability
OpenZFS is a future-proof 128-bit "scale up" file system that is designed for decades of continuous use. TrueNAS grows from hundreds of GBs to 4PB per system and is designed to make the increase in capacity painless.
True Flexibility
TrueNAS uses OpenZFS to provide unlimited point-in-time snapshots, allowing you to roll back and access data as it was. TrueNAS is a proven way to mitigate virtual machine corruption, user error, and ransomware attacks like CryptoLocker.
True Performance
TrueNAS delivers a perfect balance of price and performance that puts many all-flash arrays to shame. It uses TrueCache™ to leverage RAM, flash storage and spinning disks for flash-like performance with spinning disk capacities and economics.
True Freedom
Originally developed at Sun Microsystems, but now Open Source, OpenZFS is an enterprise-grade file system that iXsystems has delivered to more users than anyone. We pride ourselves on working closely with the OpenZFS community to help make OpenZFS the greatest file system ever written.
Cost should not be the sole reason to go with a storage vendor. Solid-state performance with spinning-disk capacity and cost—that's what you get with TrueNAS. Since the performance of RAM and flash is significantly faster than HDDs and has a lower power requirement, we created TrueCache™ to combine RAM and nonvolatile flash with high-density spinning disks to save you money when you need to increase capacity or performance. When the appropriate number of drives is inserted, their capacity is immediately available for use, allowing for seamless capacity expansion without service interruption.
iXsystems also offers an all-flash array, the TrueNAS Z50 TrueFlash, which combines the performance of SSDs with the powerful enterprise features and elegant simplicity of a TrueNAS hybrid storage array, making it ideal for your most latency-sensitive and demanding mission-critical workloads.
TrueNAS gives you enterprise-strength storage that has all the features you need for less than many vendor's prices. Why shouldn't you use TrueNAS instead of another vendor's storage. There's no question that TrueNAS is hands-down the best value in storage.
TrueNAS guarantees data integrity and has redundancy throughout the storage array. It includes instant snapshots and clones with local and remote replication. Windows users can easily integrate snapshots with the view previous versions attribute of files from within Windows Explorer. Get simple and efficient recovery points for VMs and business-critical applications.
Not everything goes as planned all the time, and how your vendor reacts in critical situations is what makes the difference. We have built our business on quality of service and support, and we want you to view our team as an extension of yours. iXsystems offers tiers of support to meet your organization's specific needs. We support your storage deployment so you don't end up having to scramble for a costly services or additional hardware. In fact, customers say that the support they get with TrueNAS is first rate and they prefer our support to other vendors. 1
---
1. [TrueNAS customer survey, August 2015]
TrueNAS' transactional processing model also allows it to write to individual physical disks, rather than just the RAID volume. TrueNAS will stripe writes across RAID volumes and place synchronous writes together in a physical disk location, speeding up write performance. The transactional model also means that there are no long waits for file system checking. In the case you need to sync mirrors with only a bit of information, you don't have to wait for it to sync any of the empty disk space, which can take a good deal of time.
TrueNAS uses TrueCache™ to combine DRAM and nonvolatile flash with high-density spinning disks to create a flash-first architecture. TrueCache™ uses algorithms that make sure your Most Recently Used (MRU) and Most Frequently Used (MSU) data are stored in the fastest system storage media. Spinning disks are notoriously slow and all flash solutions drive up your dollar per gigabyte cost significantly. By utilizing these algorithms in combination with flash-based read and write caching, you can speed up your performance by orders of magnitude at minimal cost.
TrueNAS Adaptive Compression (TAC) intelligently compresses what it can and skips over any data too inefficient to be worthwhile. TrueNAS uses block-based deduplication that can find shared blocks between different applications or VM-based operating systems, such as Linux and Windows VMs. This storage optimization reduces the size of IOPS that reach storage media, which actually increases performance. Its storage optimization lets you get the most out of every byte of TrueNAS storage by increasing capacity up to 10x without you having to worry about I/O performance.
TrueNAS provides unified storage, meaning it is both a NAS and a SAN, which makes it possible to run and manage files and applications on TrueNAS, giving you flexibility in your choice of applications. TrueNAS simultaneously supports CIFS/SMB, AFP, NFS, and WebDAV for file storage as well as iSCSI and fibre channel for block storage. Every common operating system, hypervisor, and application is supported. Instead of two storage platforms, one for file-based storage and the other block-based storage, TrueNAS combines both modes into a single device.
Your users are not one size fits all. They vary from the casual user to the power user and they may use mobile devices or work from their desk. Most access corporate applications through Windows; however many use Mac OS X, BSD, or Linux. TrueNAS' unified storage will provide all users with a high performance user experience regardless of their desktop infrastructure – physical, stateless, persistent or cloned.
At iXsystems, we are defined by Open Source. Everything we do, software we use internally, all projects we contribute to, and nearly every piece of software we develop is open. We develop FreeNAS, the Open Source version of TrueNAS. FreeNAS has been Open Source software since its inception in late 2005 and its 8.5M downloads make it the world's largest Open Source-based software defined storage solution.
We're passionate about Open Source because we believe in the open flow of information and the innovation it fosters. We love the development model because it allows us to release a more secure, stable and feature-rich product more quickly than our competition. The model also provides us with direct access to a community of users and testers that provide us with feedback and feature requests, and therefore enhances our speed of innovation. Our support of Open Source technology enables us to beat the competition on both features and price, which lets us deliver the highest value, lowest initial cost, and best return on investment for our clients.
<!– Zozo Tabs nested (TrueNAS) End–>
<!– Overview –>
<!– Zozo Tabs nested (TrueNAS) Start–>
TrueNAS integrates with Active Directory, LDAP, NIS, Apple Open Directory, and NT4 directory services. It also supports Kerberos Realms and Kerberos Keytabs. This allows simple administration of a user database for system administrators while users get the advantage of single sign-on to many corporate services.
With highly granular quota and reservation tools, TrueNAS allows administrators to overcommit storage space and allocate data on a just-enough and just-in-time basis. Since scaling TrueNAS is so easy, allocating storage ahead of availability is not risky, as you can add capacity only when needed. It has a shared storage pool, meaning you don't have to dedicate space to any user or group, which makes thick provisioning simple.
Every TrueNAS gives you flexibility in connecting to a storage network. It comes with two 1GigE storage ports, and you can expand your storage network using additional 1gbE, 10gbE, 40gbE and 8Gb Fibre Channel interfaces. TrueNAS makes it simple to expand your storage network, as you can mix or match interfaces as required.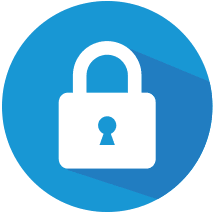 Many regulated industries require encryption of at-rest and in-flight data. To this end, TrueNAS supports disk-level encryption using a variety of methods and offers various modes of encryption on replicated data. TrueNAS remote replication can be encrypted; also, the TrueNAS web user interface can be configured to work over HTTPS. Even TrueNAS firmware updates are signed with a certificate issued by a public certificate authority. When you can't leave data security to chance, TrueNAS has you covered.
TrueNAS integrates with all major virtual machine environments, enabling you to deploy hundreds or thousands of VMs and virtual desktops (VDI) in minutes and run more operating environments on a single host from a single, hassle-free array.
Citrix, Microsoft, and VMware have certified TrueNAS. It supports their hypervisors and is integrated with VMware VAAI/Block and VMware snapshots, and has a vCenter plug-in, it is also integrated with Microsoft CSV, ODX, and VSS. TrueNAS gives you instant and crash-consistent snapshots of any VMware VM, allowing you to replicate a VM and restart it.
TrueNAS is storage designed for around-the-clock applications. When data grows, the expansion of TrueNAS storage is simple and non-disruptive. Every TrueNAS model supports non-disruptive upgrade (NDU) capacity expansion, storage controller redundancy, hot spares, and redundant power/cooling. To increase cache, you insert a cache device, and it is available for use. To upgrade any model to high availability, you simply add a second storage controller. If you need to move between models to increase performance, it's as simple as replacing storage controllers, additional network controllers can be added for more network connectivity. In the event of a drive failure, TrueNAS can automatically replace a drive with an available spare. If a power supply or fan fails, an alternate is utilized. With TrueNAS, downtime isn't an option.
TrueNAS provides flexible storage management and an easy-to-use web interface with automated management down to the file system level. It does not require additional software for the configuration of underlying storage devices and volumes. All commands are available through the Web GUI, a command line interface, and a programmatic REST API. TrueNAS can be managed locally or around the world using a secure SSH connection.
Your data is a strategic asset, and your success relies on the performance and reliability of TrueNAS. Its unified architecture reduces deployment risks, conserves power, space, and cooling, and has a 3x-4x lower total cost of ownership that a spinning disk or hybrid solution. In addition to technical support, TrueNAS includes predictive and proactive support capabilities. This allows us to identify and correct problems early or even before they occur, which means we can know of an issue and alert you of it before it impacts your operations. Opening a support issue is easy and can be done from within TrueNAS GUI itself. Every support issue is handled by the person best suited to resolve it as quickly as possible, not by the next available representative in a call center. In a recent customer survey, nearly 80% preferred iXsystems support to the competition's. We're committed to the best possible support experience for all our clients. It's the hallmark of what we do.
With TrueNAS, the software license is comprehensive, so you get the best value in an enterprise storage array then you would from other vendors. You don't pay separately for features like data protection, capacity, and replication. If other features are needed in the future, you will not incur additional licensing costs.
Your success relies on the performance of TrueNAS, you can monitor the performance of TrueNAS in real time and see the results for the last 15 minutes or view the usage trends over last year in increments from 10 minutes, hourly, daily, weekly, or monthly. Reporting graphs include a display of CPU usage with various time metrics, a view of the disk I/O operations, memory usage, the received and transmitted traffic for each network interface, the uptime of TrueNAS, and details on its read cache.
TrueNAS can also be monitored for conditions that warrant administrative action using SNMP. The SNMP MIBs for TrueNAS are available, as are plugins for monitoring TrueNAS with Cacti, Nagios, Zabbix, and Zenoss.
<!– Zozo Tabs nested End–>
<!– Tech Specs –>
| | TrueNAS Z20 | TrueNAS Z30 | TrueNAS Z35 | TrueFlash Z50 |
| --- | --- | --- | --- | --- |
| Capacity (RAW) | Up To 320TB | Up To 888TB | Up To 3.84PB | Up To 30TB |
| Effective* Capacity | Up To 800TB | Up To 2.2PB | Up To 9.6PB | Up to 300TB |
| Expansion Shelves Supported | 1 | 4 | 8 | 0 |
| Storage Architecture | Flash + Disk | Flash + Disk | Flash + Disk | All-Flash |
| Network Performance | Up to Ten Gigabit | Up to Twenty Gigabit | Up to Forty Gigabit | Up to Forty Gigabit |
| Flash Read/Write Cache | Up to 1.2TB | Up to 2.4TB | Up to 4TB | All-Flash Storage |
| 120TB Configuration (RAW) | Starting Under $25K | Starting Under $30K | Starting Under $40K | Call |
| Hypervisor Certifications | Citrix Ready, VMware Ready, Hyper-V | Citrix Ready, VMware Ready, Hyper-V | Citrix Ready, VMware Ready, Hyper-V | Citrix Ready, VMware Ready, Hyper-V |
| Hybrid Storage Pools | | | | None, All-Flash Storage |
| High-Availability Option | | | | Included |
* Compression rates vary by application. 2.5x compression factor for Hybrid Arrays and 10x for All-Flash Arrays is reflected in the effective capacity.
<!– Collateral –>
<!– .et_pb_row –>
The Case For TrueNAS : Learn 6 Reasons Why TrueNAS is Replacing NetApp & EMC in the Data Center.
If you're looking to upgrade your NetApp or EMC, or any other legacy storage system do yourself a favor and join us for this informative and entertaining webinar.
---
Time Required: 36 Minutes or Less
During this webinar, you will learn:
More About iXsystems and our clients.

Open source FreeNAS vs fully supported TrueNAS

Why the DCIG Storage Analysts rated us higher than NetApp & EMC.

TrueNAS Features and Models Overview.
<!– .et_pb_text –>
<!– .et_pb_column –>
Everything You Ever Wanted to Know About TrueNAS (Without Even Asking)
What is TrueNAS and how does it work? We'll answer all of your questions during this technical deep dive look into the underlying architecture.
---
Time Required: 40 Minutes
During this webinar, you'll learn how:
To optimize your data using Compression and Deduplication

ZFS protects your data AND repairs corrupted files

To get better performance and faster read/write speeds

And much more…
<!– .et_pb_text –>
<!– .et_pb_column –>
<!– .et_pb_row –>
Why We Love ZFS & You Should Too
Join Michael Lucas & Allan Jude, two of the biggest names in FreeBSD, as they discuss why they love ZFS so much and change the way you look at storage forever.
---
Time Required: 1 Hour
During this Webinar you will learn:
What is pooled storage?

Software RAID vs hardware RAID

Compression vs performance

Why do checksums matter?
<!– .et_pb_text –>
<!– .et_pb_column –>
<!– .et_pb_column –>
<!– Videos –>
<!– Quote –>
<!– Zozo Tabs End–>