FreeNAS reigned as the world's most popular Open Source Software-Defined Storage (SDS) from 2009 to 2020. During Q3 2020, TrueNAS 12.0 was introduced, which started the transition of FreeNAS merging into TrueNAS. Within a year, TrueNAS is now the new #1 Open Source SDS with more than twice the number of systems deployed. The final phase of the transition will be to merge the FreeNAS.org site into the TrueNAS.com site.  While we kick off that process this week, we wanted to take the opportunity for one last comparative review of FreeNAS and TrueNAS, and discuss why now is the time to upgrade if you haven't already.
FreeNAS is now known as TrueNAS CORE
TrueNAS CORE inherited the same free and Open Source attributes of FreeNAS and has continued to build on that foundation with new features.  Below is a high-level overview of the capabilities of TrueNAS CORE.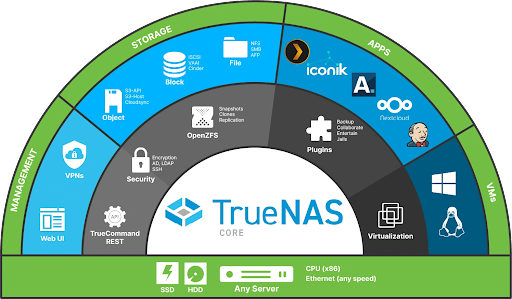 Looking beyond features, both the quality and functionality of TrueNAS CORE 12.0-U5 are also now substantially superior to FreeNAS 11.3-U5 (which was the last official FreeNAS release). FreeNAS has been transitioned to "legacy" status and is no longer recommended for any new deployments.
Given this progress, we will be officially consolidating the freenas.org website into truenas.com to give users and contributors a single hub of information for all things TrueNAS.  With this, we are also recommending that all users deploy TrueNAS for both security and support going forward.
Why Are FreeNAS and TrueNAS so Popular?
TrueNAS and FreeNAS share a common architecture and more than 90% of the same software. They provide the software for an extremely flexible unified storage system (i.e. – NAS, SAN, and/or object) on a proven and robust ZettaByte File System (ZFS) base. For more detail, please refer to the TrueNAS documentation. 
Key capabilities of both FreeNAS and TrueNAS include: 
File services: NFSv3/v4 and Windows SMB provide the foundation.  Windows compatibility (Active Directory, Shadow copies) is excellent, and ZFS enhances it with superior performance and features.
Block services: iSCSI can be used for virtualization and backup, or other applications that need block storage.  VMware compatibility (VAAI, snapshots, clones) simplifies deployments. Extreme reliability (RAID-Z1/Z2/Z3, scrubbing, and replication) ensures that block storage data is very safe. Fiber Channel is also available with TrueNAS Enterprise.
Object storage services: S3 API source and target are required for many modern applications.  Emulate a local S3 service using the compatible Minio API or sync data with AWS S3 and other cloud services for long-term archive. 
Application services: jails, plugins, and VMs simplify application deployments and reduce the physical footprints needed. Plex, NextCloud, Asigra, and many other applications can be integrated into the NAS and receive all the benefits of ZFS.
ZFS data management (snapshots, clones, scrubbing, RAID-Z protection, replication) underlies all of these services and allows data to be managed and protected simply and consistently. When hardware failures or operator errors happen, ZFS provides the tools to recover your data and continue operating.  
System management coordinates all of the above services with powerful middleware that presents the users with an easy-to-use WebUI and a fully functional REST API for automation.  TrueCommand was added to enhance management capabilities and enable the administration of many FreeNAS and TrueNAS systems from a single pane of glass.
Hardware flexibility gives the user the ability to install TrueNAS CORE on the consumer, professional, and enterprise-grade hardware of their choosing. Virtually any x86 storage server can be built with industry-standard NICs, HBAs, and drives of any type. The community helps with validating an enormous range of components, including retired enterprise gear.
What Are the Differences Between FreeNAS and TrueNAS?
With FreeNAS receiving its final release with 11.3-U5, all new feature development is happening on TrueNAS. Beyond that (and apart from the obvious rebranding), TrueNAS also adds many technical enhancements that improve the user experience, both now and going forward.  The current list of TrueNAS enhancements includes:
Unified TrueNAS CORE and Enterprise:  TrueNAS Enterprise 11.3 and FreeNAS 11.3 were separate software images, each with their own QA process and unique bugs.  With TrueNAS 12.0, the model is now a unified image with a license key to enable iXsystems Enterprise platform features like Fibre Channel, High Availability, KMIP, and Enclosure Management.  The result has been a more efficient development cycle with fewer bugs and faster problem resolution within TrueNAS. TrueNAS CORE users now benefit from the same QA and testing that TrueNAS Enterprise users get.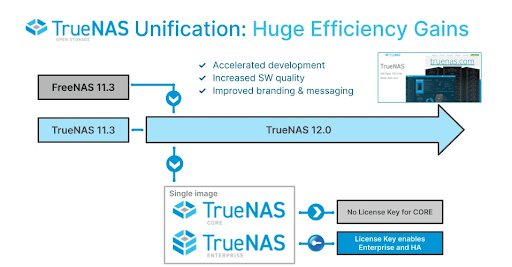 Enhanced Software Quality:  In addition to faster bug resolution, TrueNAS 12.0 has improved testing and quality. FreeBSD 12.1, SAMBA 4.12, OpenZFS 2.0, and Python 3.9 are all much better than their predecessors. The common software has allowed an increase in the QA test coverage, resulting in fewer critical issues and a generally more reliable experience. TrueNAS 12.0-U5.1 has been the best release so far, and we expect that to continue improving with each future TrueNAS release.
Improved OpenZFS Performance: TrueNAS moved from the FreeBSD version of OpenZFS to the multi-OS version of OpenZFS 2.0. This included feature parity with the Linux version and also included a wide range of performance enhancements and features.  Fusion Pools, using special VDEVs, persistent L2ARC, and other general performance improvements have been the result of this transition. With this update, we've often measured 30% performance improvements on larger TrueNAS systems like the TrueNAS M60. TrueNAS has also made further virtualization improvements with version 12.0.
Better Security: The removal of security threats is a never-ending challenge.  Many vulnerabilities have been removed by FreeBSD 12.1 and SAMBA 4.12. In addition, TrueNAS has been improved both in terms of its software quality, features, and documentation of issues. Security.truenas.com maintains the list of security vulnerabilities. TrueNAS 12.0 added ZFS dataset-level encryption, KMIP (Enterprise), and OpenVPN capabilities as well.  Any vulnerabilities found will be patched in TrueNAS.
Modern Hardware: The update to FreeBSD 12.1 and the subsequent fixes improve support for modern hardware such as AMD's high core-count processors and NVMe SSDs.  Performance and system reliability have been improved with TrueNAS.
Cloud Management: The latest TrueCommand 2.0 uses a vastly improved TrueNAS stats collection system that offers per-second statistics and better CPU/network efficiency.  TrueCommand users should update to TrueNAS 12.0-U4 or later to gain access to these improvements. TrueCommand Cloud enables multi-site management via SaaS.
Path to Scale-Out: TrueNAS 12.0 and OpenZFS 2.0 are the foundations for the Linux-based TrueNAS SCALE which provides Open Source Hyperconverged Infrastructure (HCI) and scale-out storage. There is a path for migrating TrueNAS CORE and Enterprise systems to TrueNAS SCALE for users that want these features. FreeNAS users will first need to migrate to TrueNAS CORE before making the jump to SCALE.
FreeNAS to TrueNAS 12.0 Upgrades are Easy
The short-term and long-term benefits of TrueNAS are clear. We recommend FreeNAS users plan and execute their updates. The current version is TrueNAS 12.0-U5.1 which is a minor update to TrueNAS 12.0-U5 and includes all the same benefits.
TrueNAS 12.0-U5 is compatible with all of the iXsystems platforms – from the FreeNAS and  TrueNAS Minis, to the power-efficient X-Series, all the way up to the flagship High Availability (HA) M-Series. The "FreeNAS Certified" Server line was also replaced by the new R-Series product line that can run CORE, Enterprise, and SCALE editions of TrueNAS.  
For those with FreeNAS installed on your system, we recommend upgrading to FreeNAS 11.3-U5 first and then upgrading to TrueNAS 12.0-U5 with a single click to retain roll-back options.  While it is an easy web update, we do recommend updating your system's zpool feature flags only after you are finished validating your performance and functionality.  
For those with TrueNAS 11.x HA systems and support contracts, we recommend contacting iXsystems support to schedule an upgrade. We will verify your systems' health and configuration, and support the upgrade process as part of the "white glove" service that comes with any support contract.
TrueNAS CORE is the Best-Ever Free NAS
In short, if you've been waiting to upgrade from FreeNAS to TrueNAS, now is the time.  You lose nothing (heck, we even have a FreeNAS-themed UI skin for us nostalgists), and you'll gain all the new improvements we've made and plan to release into the future, while also keeping your system security up to date. 
TrueNAS 12.0-U5 still is and will continue to be the best ever "free NAS" system available. If you have any questions or comments, we'd love to hear them on the community forums, on the TrueNAS subreddit, or in response to this blog. 
If you need additional information on how TrueNAS can streamline, accelerate, and unify data management for your business, please contact us.