TrueNAS has integrated well with VMware and vSphere for many years by maintaining VMware-ready certification status and including support for vStorage API for Array Integration (VAAI), vSphere Storage DRS, a vCenter plugin, and other integrations. In 2021, the TrueNAS VMware partnership is expanded with the performance and security improvements of TrueNAS 12.0 and a new TrueNAS vCenter Plugin (v3.4.0). 

The new TrueNAS vCenter Plugin is being released today.  The plugin integrates into the VMware vCenter utility, which provides management of vSphere clusters and their storage. The plugin connects with the TrueNAS API to create, delete, and manage datastores from within the vCenter WebUI.  Datastores can be set up and managed on one or more TrueNAS systems via iSCSI, NFS, and this latest release now also enables Fibre Channel (FC).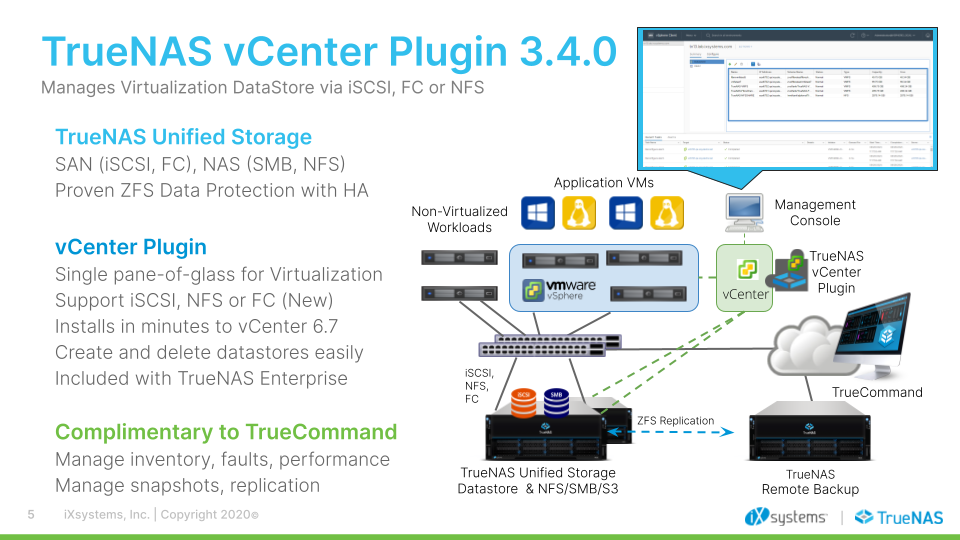 The number of steps to deploy the TrueNAS vCenter plugin has been halved and deployment only takes a few minutes.  Once up and running, the familiar vCenter webUI makes it easy to perform common virtualization tasks involving compute, hypervisor, and storage. The TrueNAS vCenter plugin is included for free with TrueNAS Enterprise deployments.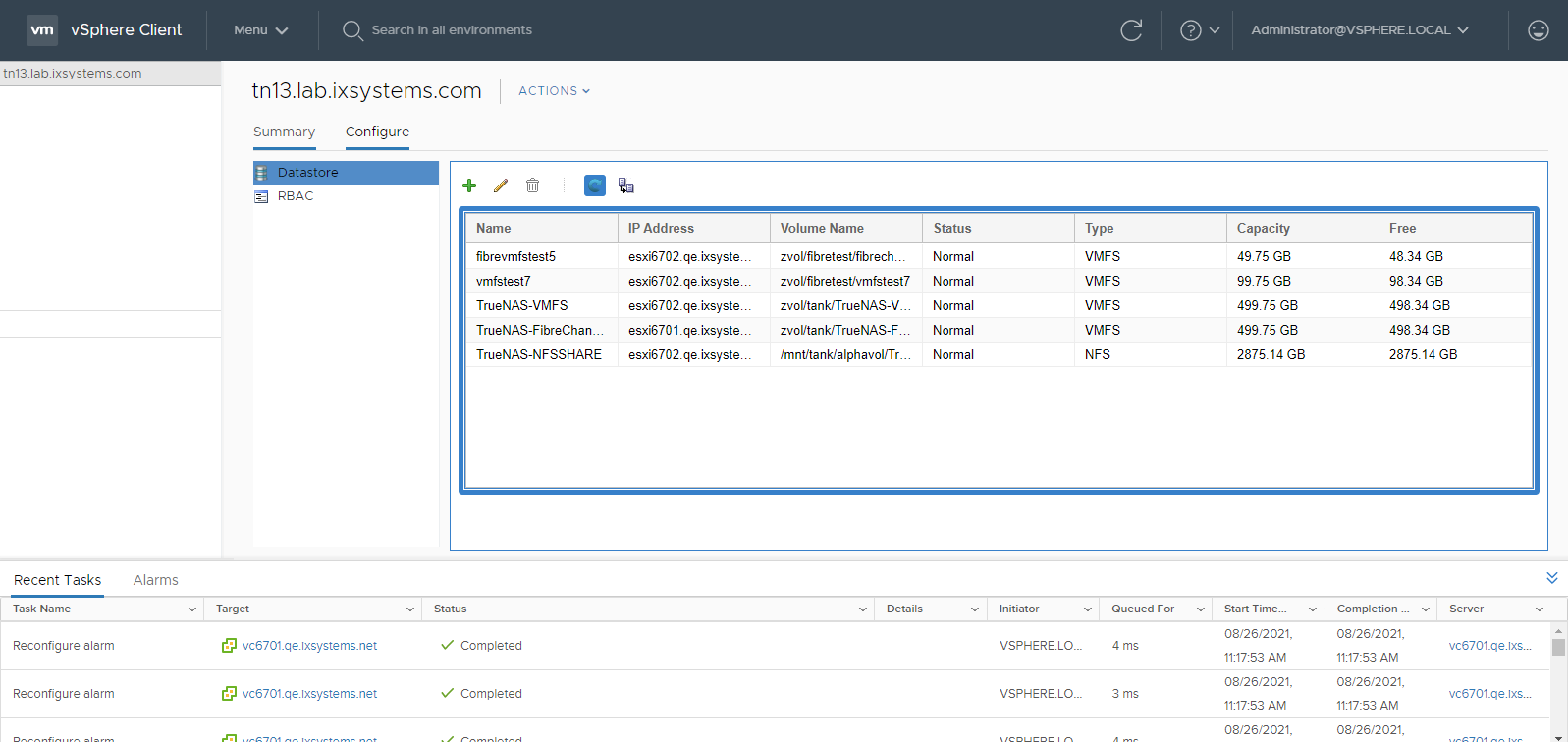 vCenter 6.7 WebUI
TrueNAS 12.0 Unlocks New Upside for Virtualization Workloads 
TrueNAS 12.0, which is now the General Availability (GA) release "train", added several improvements to both performance and security.  Overall general storage performance increased by 30% and deduplication was improved for virtualization workloads.  To take advantage of these gains, the TrueNAS M60 appliance was introduced to enable one million IOPS, 20GB/s, and 20 PB capacity. In terms of simplifying compliance and addressing enterprise security needs, encryption per dataset and KMIP functionality were added. Additionally, recertification of TrueNAS 12.0 with Veeam was recently completed.

TrueCommand Completes the Management Experience
While vCenter manages the virtualization aspects of TrueNAS, TrueCommand 2.0 provides complementary management of the physical infrastructure (controllers, drives, SSDs, temperatures), the ZFS file system, and the more complex data management tasks like snapshot policies and replication across many TrueNAS systems, some of which may be managed via vCenter. TrueCommand Cloud also provides a SaaS capability to securely manage these systems across many sites.  Both TrueCommand and vCenter can be accessed via a web browser on the same management station.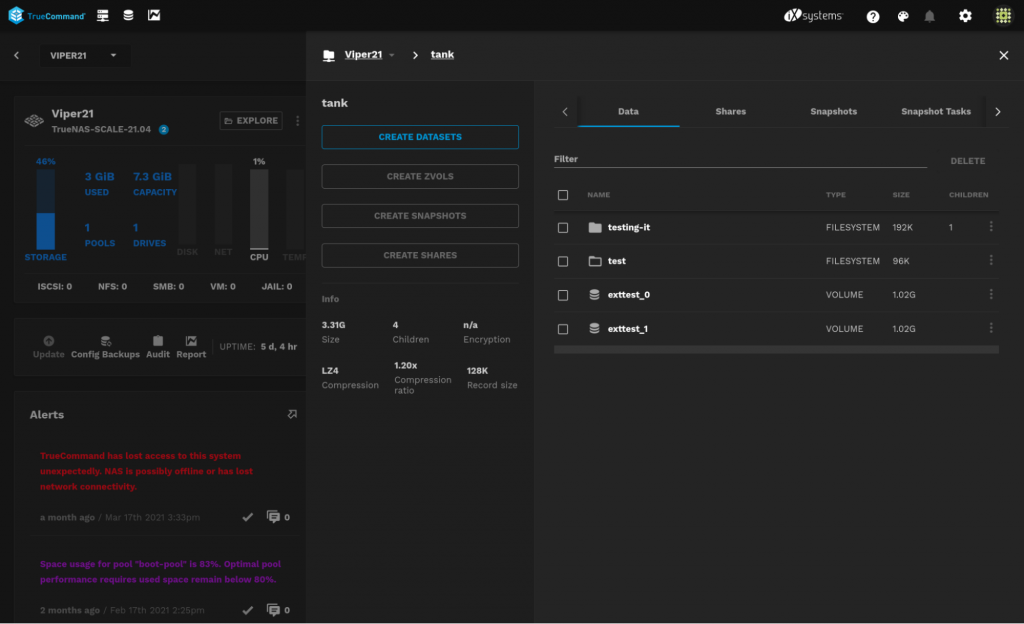 TrueCommand 2.0 WebUI
VMware + TrueNAS: a Powerful Combo
The combination of TrueNAS 12.0, TrueCommand 2.0, and the TrueNAS vCenter plugin deliver an easy-to-manage virtualization experience that leverages Open Source economics to provide best-in-class value with Enterprise-grade support. 

TrueNAS is an extremely flexible virtualization storage platform with capabilities for high-performance all-flash datastores or lower-cost hybrid datastores via iSCSI, Fibre Channel, or NFS. Virtualized environments are made even more reliable through the data protection features of TrueNAS and OpenZFS such as copy-on-write snapshots, built-in integrity checking and self-healing, and highly efficient replication. Enterprise-grade backup can be provided via native ZFS tools or via integration with Asigra, Veeam, or other backup software. Unlike VSAN and block storage solutions, TrueNAS also enables integrated data sharing between VMs via SMB, NFS, or S3

In addition to the legendary software flexibility of TrueNAS, there is also significant flexibility in the platform choices. Small HA systems can be built with the compact and efficient TrueNAS X-Series systems, and larger systems with the datastore and sharing capabilities for thousands of VMs can be built with the TrueNAS M-Series. The flagship TrueNAS M60 scales to more than 20GB/s and 20PB in capacity. All of the platforms can be managed across multiple sites from TrueCommand and vCenter. 
Learn More
More information on the TrueNAS virtualization solution is available on the Documentation Hub. Thousands of organizations ranging from small businesses to Fortune 100 companies have turned to TrueNAS to reduce the cost and complexity of their virtualization infrastructure. Contact iXsystems to learn how we can help you do the same.