TrueCommand 2.0 is now available in the BETA version which represents a significant enhancement to its features and capabilities. The new version extends TrueCommand to manage, create, and delete datasets and snapshots. TrueNAS SCALE clusters and datasets can also be created and managed. Many other improvements significantly simplify storage operations and dramatically improve performance and responsiveness. TrueCommand 2.0 is expected to be released in June.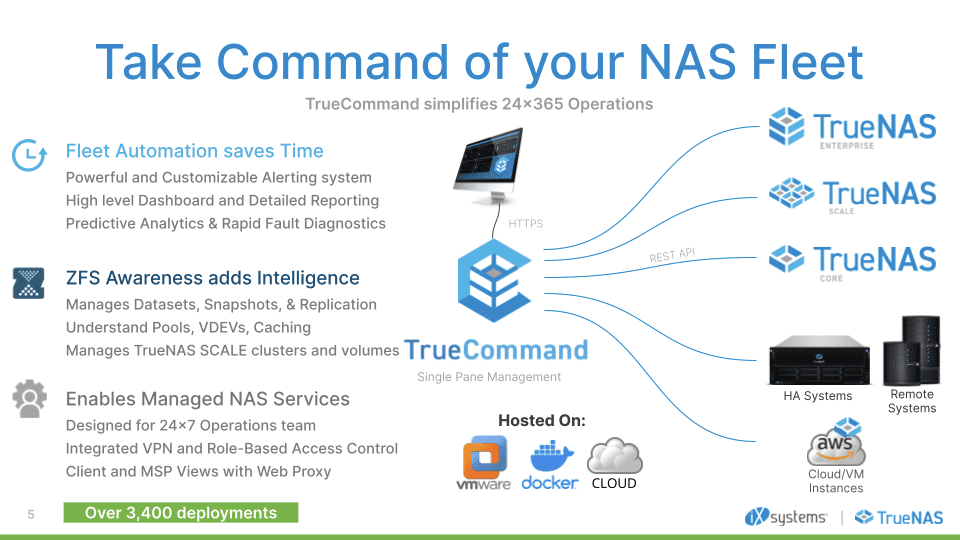 Overview  of TrueCommand 2.0
The primary goal of TrueCommand is to automate and accelerate the tasks of managing TrueNAS and ZFS storage, whether there is one system or hundreds deployed. TrueCommand 2.0 greatly improves the predictability, reliability, and total cost of ownership of production systems. Significant new features include:
Faster Time-Series Database
Real-Time Stats & Analysis
Storage Navigator
iSCSI Manager
Improved System-Down alerts
Secure Web-Proxy for Cloud
TrueNAS SCALE cluster UI
TrueCommand 2.x uses a much faster and lightweight InfluxDB instead of a PostgreSQL database. This time-series database improves general performance and specifically improves the performance of Cloud instances significantly.  This extra performance gives TrueCommand the ability to monitor real-time, per-second statistics rather than the previous 30-second intervals. The protocol to collect those statistics has also been improved and uses 40% less network bandwidth. These additions will dramatically improve the ability to diagnose occasional performance issues and their root causes.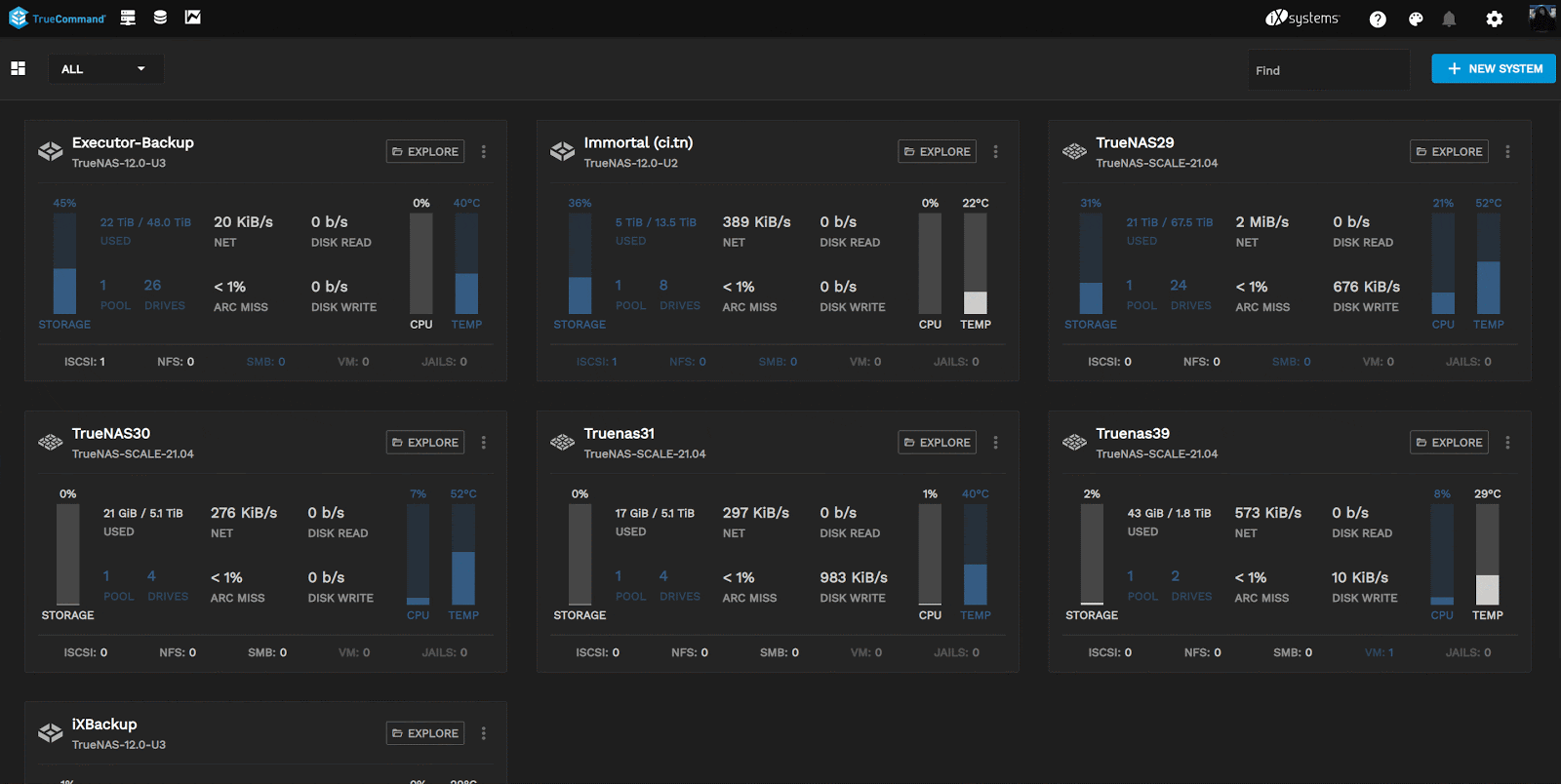 Improvements to real-time monitoring and stats gathering
TrueCommand 2.0 also brings new features including a Storage Navigator and iSCSI Manager. Previously, it was possible to monitor datasets, but now it is possible to create, manage, and delete datasets and volumes. Also new is the ability to automate the creation of iSCSI LUNs. System-down alerts have been improved to be less sensitive to network interruptions. These additions will save administrators time and simplify the management of multiple TrueNAS nodes.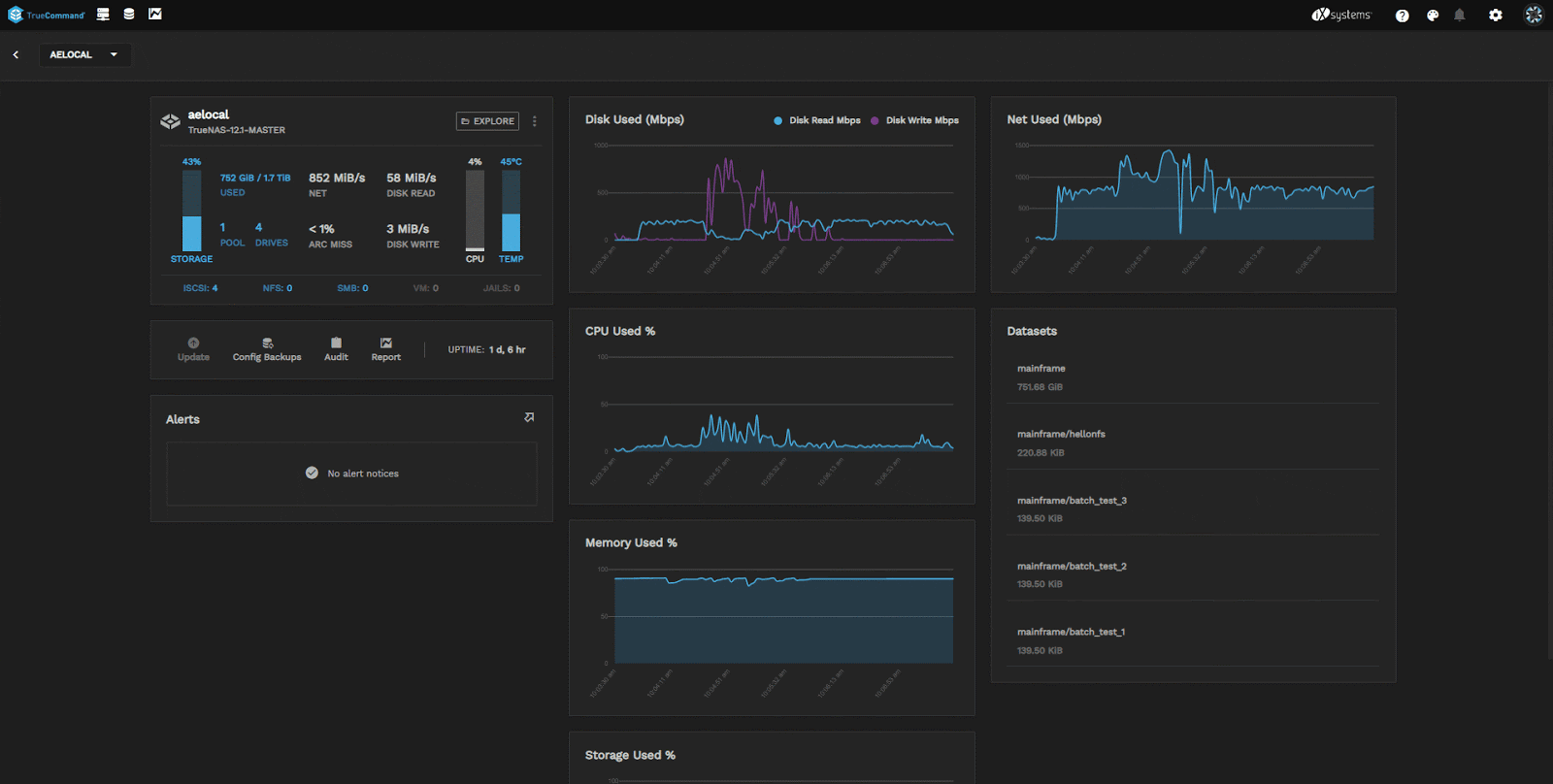 Storage Navigator simplifies Dataset Management
TrueCommand Cloud benefits significantly from the improved database performance and also gets a cloud-secure Web Proxy capability to enable Single Sign-On for all TrueNAS systems. Managed Service Providers (MSPs) will significantly benefit from this.
TrueCommand 2.0 will also take the role as the primary cluster management UI for TrueNAS SCALE. With the introduction of TrueNAS SCALE 21.04 in April, TrueCommand 2.0 can create clusters and cluster volumes which can be shared via NFS, SMB, or iSCSI. Via TrueCommand, there is Single Sign-On for the SCALE cluster, Role-based Access Control (RBAC), and auditing of all configuration changes. Alerts for the whole cluster can be managed from a single screen and fed to either email or PagerDuty. The whole TrueNAS cluster can be managed via TrueCommand Cloud as a service.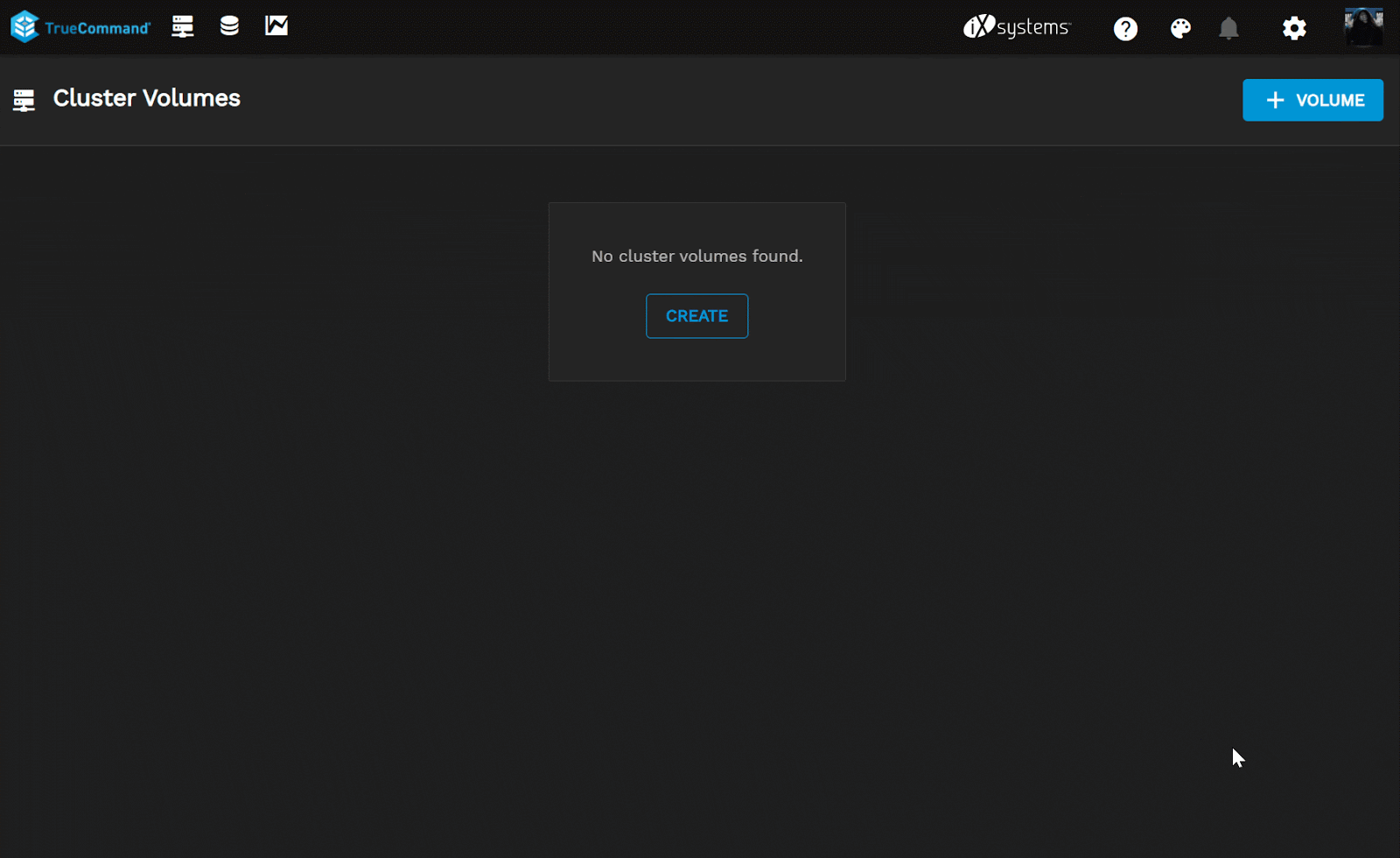 TrueCommand 2.0 is the TrueNAS SCALE Cluster UI
With all these additions, TrueCommand 2.0 is the single pane of glass for:
TrueNAS CORE:

Manage systems on standard servers, Minis, or even AWS.

TrueNAS Enterprise:

Manage X-Series and M-Series systems with High Availability.

TrueNAS SCALE:

Manage a group of systems running a TrueNAS SCALE cluster. 
You can download TrueCommand 2.0 for free. Deployments with fewer than 50 drives require no license and are free forever. Once TrueCommand is installed and you have its SystemID, a license key can enable more drives. The self-service portal simplifies the purchase of TrueCommand licenses for less than $2 per drive annually. The portal also provides free 60-day trial licenses. 
Important Note for Upgrading from 1.x 
When first updating to TrueCommand 2.0 from version 1.3, the database migration process is run. This preserves all configuration data but does not preserve old performance statistics.  It is not possible to rollback to TrueCommand 1.3, so please use caution when trying the BETA and be careful with production TrueCommand systems. If necessary, you can run TrueCommand 1.3 and TrueCommand 2.0 in parallel for a transition period.
We're looking forward to the community feedback on TrueCommand 2.0 BETA. Report any issues and suggest features via the community dashboard. For advice on installation and usage of the free version, please use the community forum.
TrueCommand Background
TrueCommand was launched in 2019 as a single pane of glass management system for TrueNAS fleets. TrueCommand 1.3  has been adopted by well over three thousand organizations to manage their NAS fleets. TrueCommand is deployed as a Container, as a VM, or as a Cloud service (aka TrueCommand Cloud). As promised, TrueCommand remains free for users with less than 50 drives and is very affordable for larger organizations, where TrueCommand coordinates a team of people to manage many systems on a 24 x 365 basis.
Previous features of TrueCommand have been retained. Below is a list of the more important ones:
Smart Dashboard:

Monitor the performance of many systems from one screen.

LDAP Integration:

Authenticate and authorize users via AD or LDAP.

Single Sign On:

Securely administer each NAS via TrueCommand via a web proxy.

Role Based Access Control (RBAC):

Define systems a user can monitor or configure.

Predictive Analytics:

Predict and alert on events like storage capacity shortages.

Powerful Alerts:

Flexible notification services and multi-variable, customizable alerting.

Custom Reports:

Design reports that suit your organization.

NAS Updates:

Initiate and monitor updates to many NAS systems.

Configuration Backup & Restore:

Recover from disasters more easily.

Configuration Audits:

Logging of any configuration changes and who made them.

Scrub and Replication Monitoring:

Quickly identify systems with background tasks.

Datasets Monitoring:

See all the datasets, their sizes, snapshots, and replication tasks.

API Keys:

Use the TrueNAS 12.0 API keys to keep your root passwords more secure.

Scalability:

Simultaneous monitoring of over 500 TrueNAS systems.

VM or Docker:

Run on VM or container infrastructure, including a laptop.
TrueCommand Cloud is a cloud service (SaaS)  that is provided through the addition of WireGuard VPNs to TrueCommand. Administrators or MSPs can securely manage many TrueNAS systems at different sites through firewalls and NATs. TrueCommand Cloud is now available so please subscribe via the portal or contact us if you need this capability.