The migration of FreeNAS to TrueNAS started in October 2020. The transition has been deliberately slow and methodical, while the efficiency gains have been every bit the windfall we anticipated.  Over this period, many exabytes of data were carefully managed while the ZFS file system and NAS software were updated with new technologies, features, and performance. 
It's now time to thank the FreeNAS shark for its service. FreeNAS 11.3-U5 played its part by being a very stable and reliable release. TrueNAS 12.0 is now much faster, more secure, and more reliable than any previous FreeNAS release.
TrueNAS 12.0-U5 was released today and is now the recommended update for even the most conservative users of both TrueNAS CORE and TrueNAS Enterprise. Wait a couple of weeks for community feedback and then update.  It will ship by default on all new TrueNAS systems.
In October of last year, the first release of TrueNAS 12.0 marked the official merger of FreeNAS and TrueNAS into a unified software image, accompanied by a long list of features and performance improvements.  Since then, over 70% of the FreeNAS 11.3 installed base have already migrated to TrueNAS CORE.  TrueNAS 12.0 passed one exabyte (EB) of data under management over two months ago; this number is now about 1.5 EB.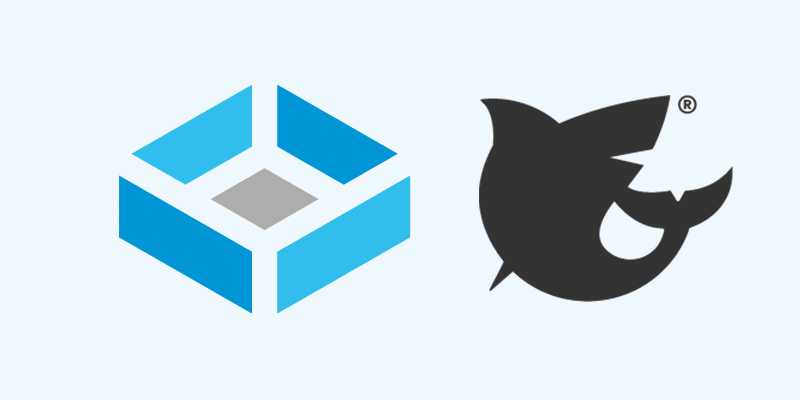 FreeNAS Transition to "Legacy" status as TrueNAS 12.0-U5 isReleased
In the near future, the FreeNAS.org website will be redirected to the newer-styled TrueNAS.com website.  There will be very little change for most users, but Google searches will be redirected to current TrueNAS software and not the legacy software information.  (We will maintain a page on truenas.com for legacy FreeNAS software downloads).
While releasing TrueNAS 12.0, we created a new lifecycle model for TrueNAS CORE and Enterprise releases.  The history of TrueNAS 12.0 releases has been:
TrueNAS 12.0 RELEASE was made available October 20, 2020, and included many new features along with OpenZFS 2.0 support.
TrueNAS 12.0-U1 was released in December, resolved the most significant bugs, and enabled features like Fusion pools, efficient scrubbing/resilvering.
TrueNAS 12.0-U2 was released in February, and included bug fixes and minor features. 
TrueNAS 12.0-U3 was released April 13, 2021, and included bug fixes and some minor features.  This release was recommended for mission-critical users.
TrueNAS 12.0-U4 was released June 1, 2021, and included bug fixes and robustness improvements. 

TrueNAS users have been reporting that updates have been smooth.
TrueNAS 12.0-U5 was released on August 3, 2021.  A full list of changes and bugs is available for those with an account on the TrueNAS Jira bug tracker. Issues resolved include:
About twenty improvements and eighty bug fixes. 

Python upgrades to address potential memory leaks and eliminate rare middleware crashes. 

OpenZFS update to 2.0.5.

Several security updates to key components that are not available in 11.3.

TrueNAS R-Series and Mini Enclosure management has been improved.

Several WebUI improvements – including resolving a dashboard CPU% bug.

NVMe drives automatic resizing support.

M-Series HA improvements.
Please check out the updated TrueNAS documentation even if you don't upgrade today. We're extremely grateful for all the contributions received thus far and encourage more user suggestions going forward.
FreeNAS to TrueNAS 12.0 Upgrades are Easy
TrueNAS 12.0-U5 is compatible with all of the iXsystems platforms from the FreeNAS/TrueNAS Minis, to the power-efficient X-Series, all the way up to the flagship High Availability (HA) M-Series. There is also a new R-Series product line that can run CORE, Enterprise, and SCALE editions of TrueNAS.  All of these can be updated via the web UI and include graphical enclosure management.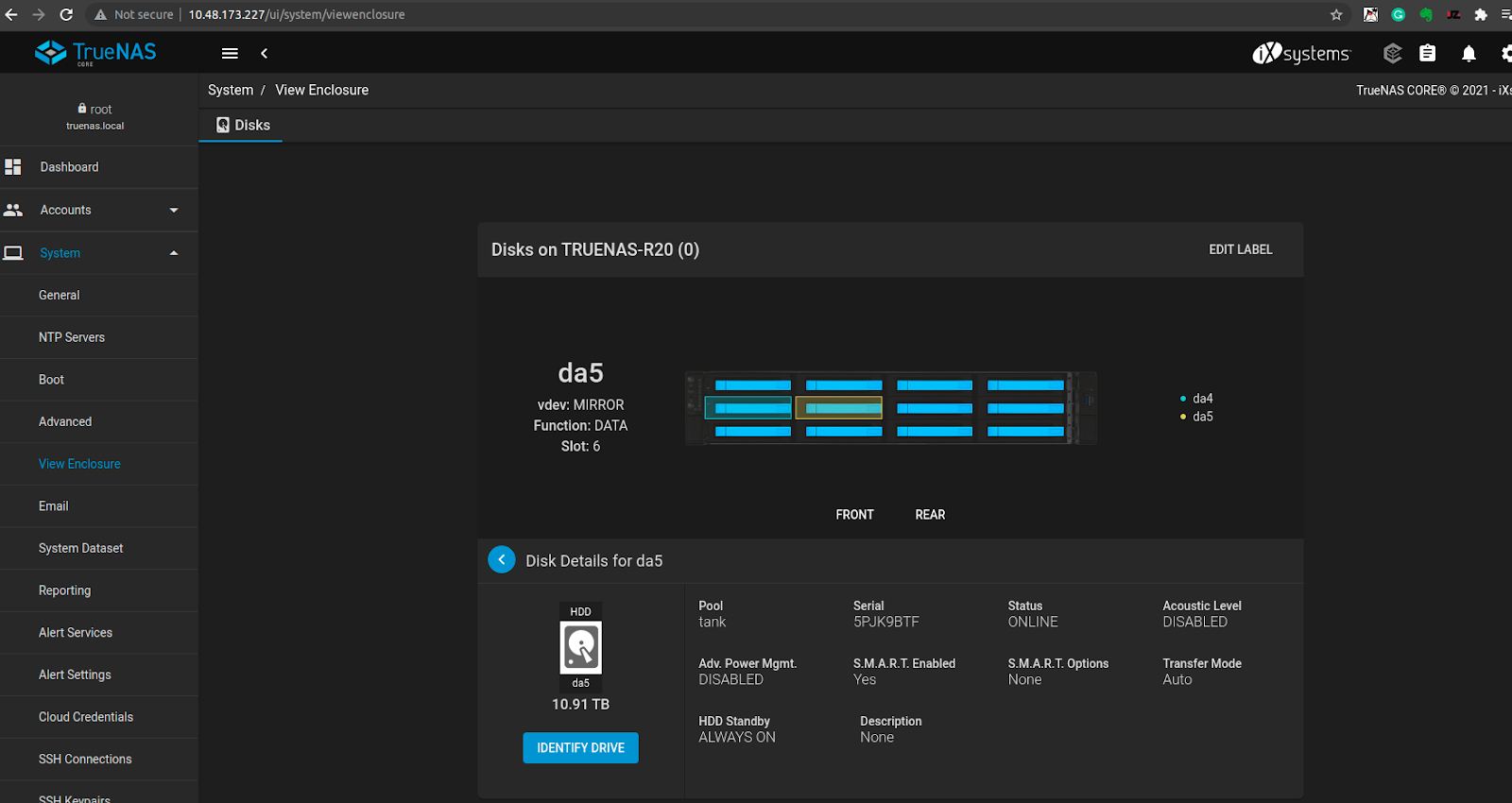 R-Series enclosure management showing a drive and its associated vdev
For those with FreeNAS installed on your system, we recommend upgrading to FreeNAS 11.3-U5 first and then upgrading to TrueNAS 12.0-U5 with a single click to retain roll-back options.  While it is an easy web update, we do recommend waiting to update your system's zpool feature flags until you are finished validating your performance and functionality.  
For those with TrueNAS HA systems and support contracts, we recommend contacting iXsystems support to schedule an upgrade. We will verify your systems' health, configuration, and support the upgrade process as part of the "white glove" service that comes with any support contract.
For new users, download TrueNAS 12.0-U5 to get started.
TrueCommand 2.0 is the Single-Pane-of-Glass Management Platform
TrueNAS 12.0 includes support for TrueCommand (Docker or VM) and TrueCommand Cloud, a SaaS version that includes a VPN capability for managing across private networks.  TrueCommand 2.0  includes a storage navigator to view datasets, files across multiple NAS systems, and real-time per-second statistics.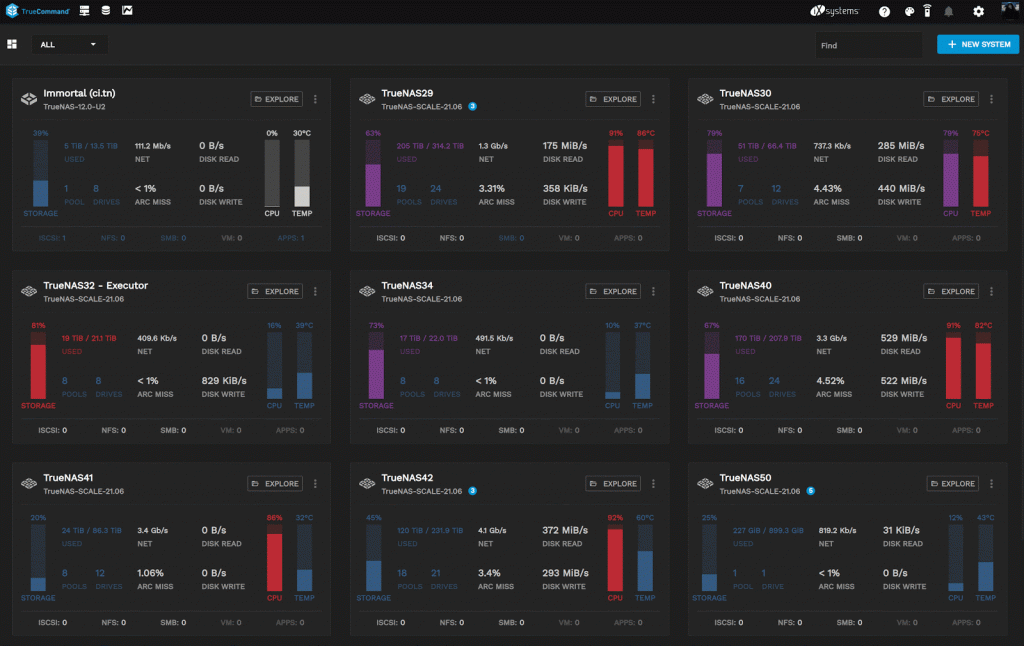 TrueCommand view of TrueNAS systems with per second updates
TrueNAS 13.0 and SCALE are Progressing
TrueNAS users will have a choice of migrating to SCALE (Linux containers, hyperconvergence, and scale-out) or maintaining their TrueNAS CORE and Enterprise operations.  TrueNAS 12.0-U6 is planned for the November timeframe. The next version of TrueNAS CORE and Enterprise will be 13.0 and will be based on FreeBSD 13.0.  Early development has begun and more information will be available later this year. 
TrueNAS SCALE 21.06-BETA already has thousands of users and is getting very positive early reviews. For the next five months, the focus will be on getting TrueNAS SCALE to a release quality similar to TrueNAS CORE/Enterprise 12.0. TrueNAS SCALE 21.08 is expected to be a solid, largely feature-complete BETA release.  A Release Candidate is planned for early Q4. 
TrueNAS CORE is the Best-Ever Free NAS
TrueNAS 12.0-U5 improvements continue its tradition as the best-ever "free NAS" system available. If you have any questions or comments, we'd love to hear them on the community forums, on the TrueNAS subreddit, or in response to this blog. If you need additional information on how TrueNAS can streamline, accelerate, and unify data management for your business, please contact us.