During its last year in Las Vegas before moving back to San Francisco, VMworld was abuzz with all the popular buzzwords, but the key focus was on supporting a more agile approach to hybrid cloud.



Surveys of IT stakeholders and analysts agree that most businesses have multiple clouds spanning both public cloud providers and private data centers. While the exact numbers vary, well over half of businesses have a hybrid cloud strategy consisting of at least three different clouds.
This focus on hybrid cloud provided the perfect timing for our announcement that iXsystems and Asigra are partnering to deliver the Asigra TrueNAS Backup Appliance, which combines Asigra Cloud Backup software backed by TrueNAS storage. Asigra TrueNAS Backup Appliances provide a self-healing and ransomware-resistent OpenZFS backup repository in your private cloud. The appliance can simultaneously be used as general-purpose file, block, and object storage. How does this tie in with the hybrid cloud? The Asigra Cloud Backup software can backup data from public cloud repositories – G Suite, Office 365, Salesforce, etc. – as well as intelligently move backed-up data to the public cloud for long-term retention.


Another major theme at the technical sessions was persistent memory, as vSphere 6.7 added support for persistent memory – either as a storage tier or virtualized and presented to a guest OS. As detailed in our blog post from SNIA's Persistent Memory Summit 2018, persistent memory is rapidly becoming mainstream. Persistent memory bridges the gap between memory and flash storage – providing near-memory latency storage that persists across reboots or power loss. vSphere allows both legacy and persistent memory-aware applications to leverage this ultra-fast storage tier. We were excited to show off our newly-introduced TrueNAS M-Series at VMworld, as all TrueNAS M40 and M50 models leverage NVDIMM persistent memory technology to provide a super-fast write cache, or SLOG, without any of the limitations of Flash technology.
Our booth's theme was "Enterprise Storage, Open Source Economics". iXsystems leverages the power of Open Source software, combined with our enterprise-class hardware and support, to provide incredibly low TCO storage for virtualization environments. Our TrueNAS unified storage and server offerings are an ideal solution for your organization's private cloud infrastructure. Combined with VMware NSX Hybrid Connect – formerly known as VMware Hybrid Cloud Extension – you can seamlessly shift running systems into a public cloud environment for a true hybrid cloud solution.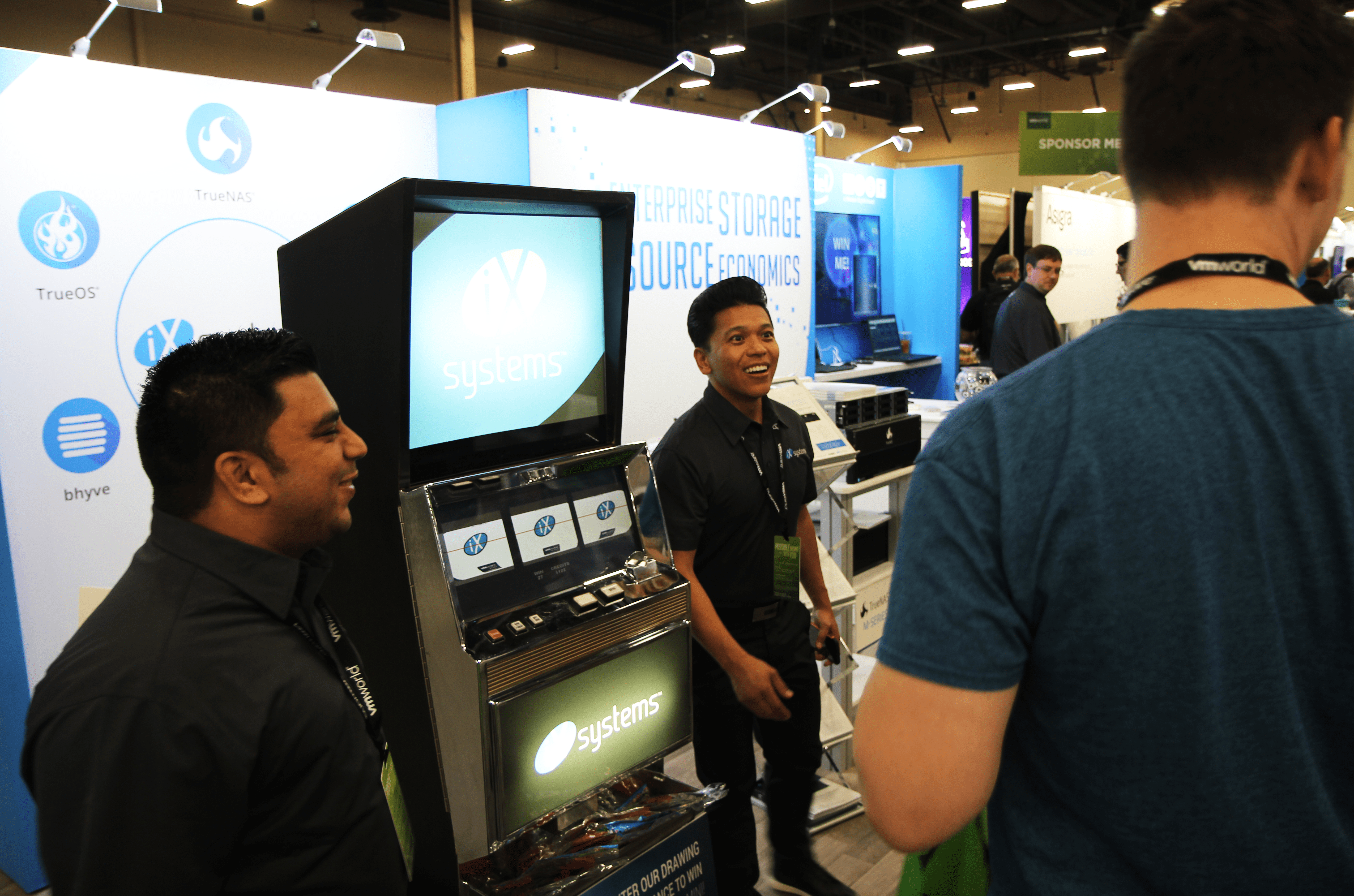 The iXsystems booth again featured our incredibly popular slot machine! All slot players received a copy of the beautiful new iX Magazine, most were lucky enough to win some special iX schwag, and the truly lucky won an entry into our grand prize drawing for a 24TB FreeNAS Mini!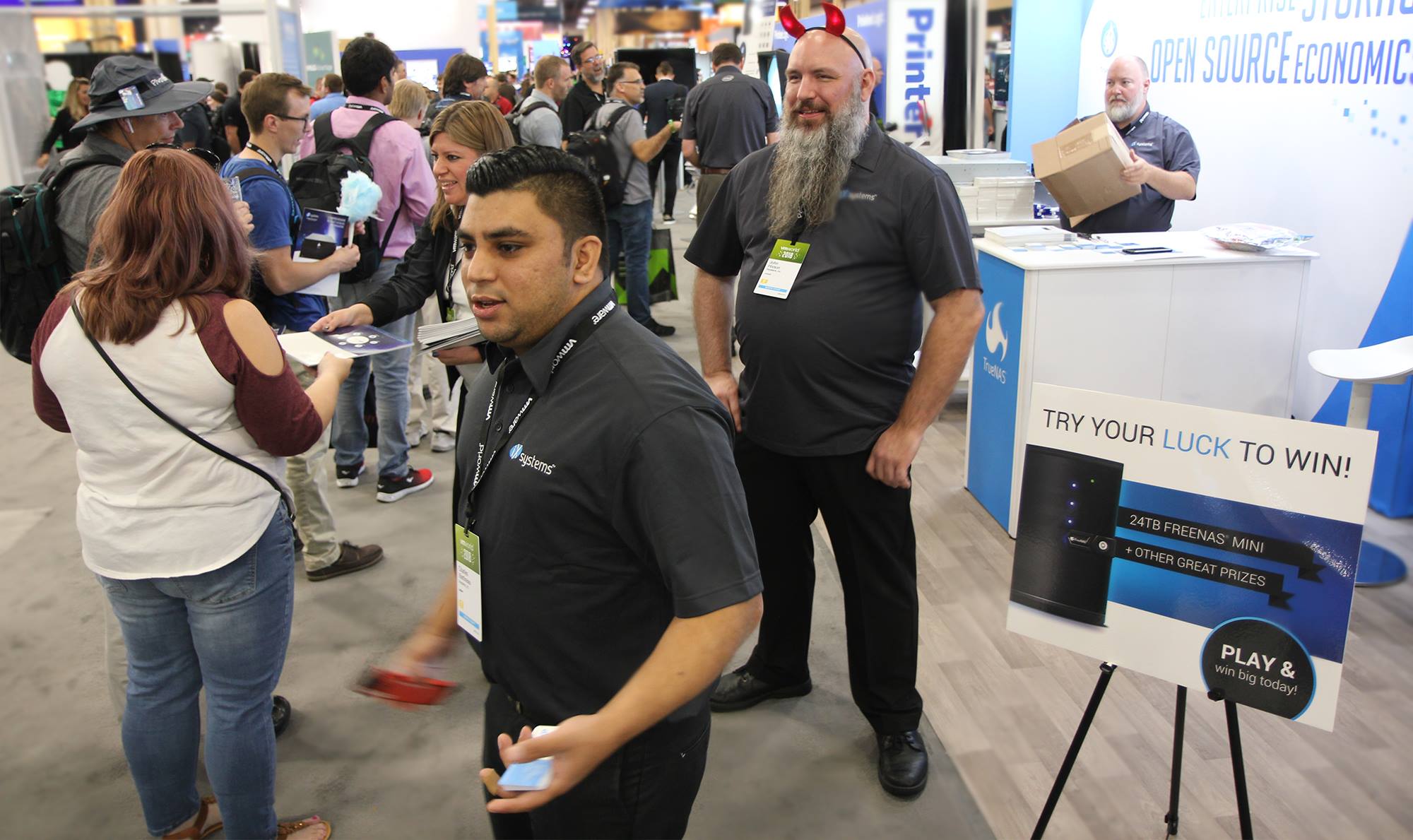 Another special treat at this year's booth was iXsystems Vice President of Engineering Kris Moore giving demos of an early version of "Project TrueCommand", a single-pane of glass management solution for administration of multiple FreeNAS and TrueNAS systems. In addition to simplified administration and enhanced monitoring, Project TrueCommand will also provide Role-Based Access Control for finer-grained permissions management. A beta version of TrueCommand is expected to be available at the end of this year.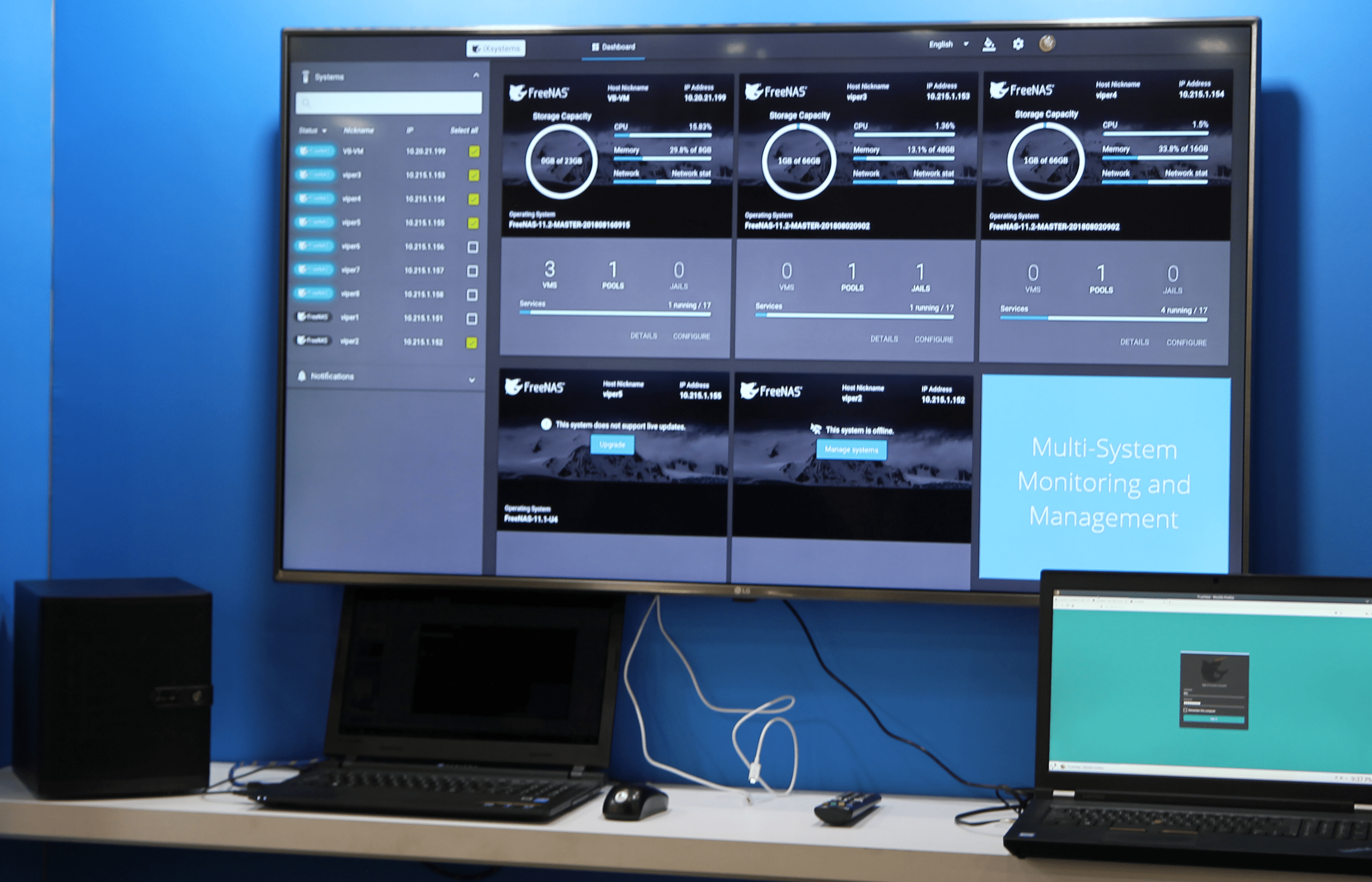 Overall, we had a great week at VMworld 2018 with lots of good conversations with customers, press, analysts, and future customers about TrueNAS, the Asigra TrueNAS Backup Appliance, iXsystems servers, TrueCommand, and more – our booth was more popular than ever!
Are you ready for a conversation about how iXsystems can help you with your hybrid cloud? We're here to help! Email us at info@ixsystems.com or call us at 1.855.473.7449.
We look forward to seeing you at VMworld 2019 in San Francisco!
Nick Principe, Technical Marketing Engineer