Yes, we work with Acronis!
The exponential growth of data increases the need to store and protect this valuable company resource. In a recent TrueNAS customer survey, we found half of our customers backup to TrueNAS as part of protecting their business-critical data and Acronis was one of the most popular backup solutions used. So, we partnered with Acronis and built a solution that exceeds our mutual customers' storage, backup, and recovery expectations.

In addition, we ran a series of tests using the latest version of TrueNAS 9.10 and Acronis Backup Advanced 11.7. We ran Acronis Backup on a Microsoft Windows Server 2012 VM hosted on VMware ESXi 6.0. Acronis backed up the local drive and recovery partition and used an iSCSI connection to TrueNAS to store the backup files.
Here is what a typical deployment of Acronis looks like: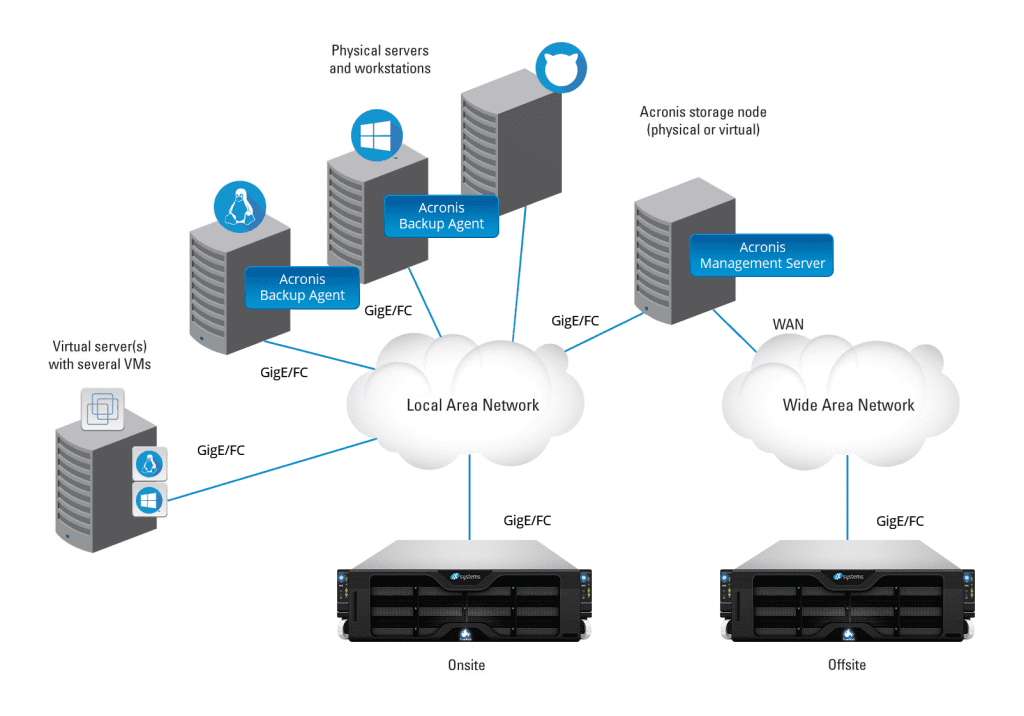 Our testing shows that the joint TrueNAS and Acronis solution fits seamlessly into your environment to protect all mission-critical systems. Also, our survey also showed that about half the customers deploy virtualized applications. TrueNAS certifications include Citrix XenServer, leading Open Source hypervisors, Microsoft Hyper-V, and VMware vSphere. TrueNAS keeps the Acronis backup images safe, while Acronis protects every common operating system, application, and hypervisor.
Backup images are only as good as the backup medium that stores them. TrueNAS' unique convergence of hardware, software, and storage expertise, offers enterprise reliability and performance at a value unheard of in storage. Backup your business-critical applications with a TrueNAS storage array that fits the capacity requirements of your backups. TrueNAS unifies block and file storage, grows to nearly 5PB in a rack, and safely protects your valuable data from corruption, bit rot, and decay thanks to its use of the revolutionary OpenZFS file system, which guarantees backup images stays pristine and safe.
Read more on using TrueNAS for backup here and then contact us to obtain a quote on a TrueNAS configuration for backup/archive. Email sales@iXsystems.com or call 1-855-GREP-4-IX and cover your backup requirements with one of our solution architects.