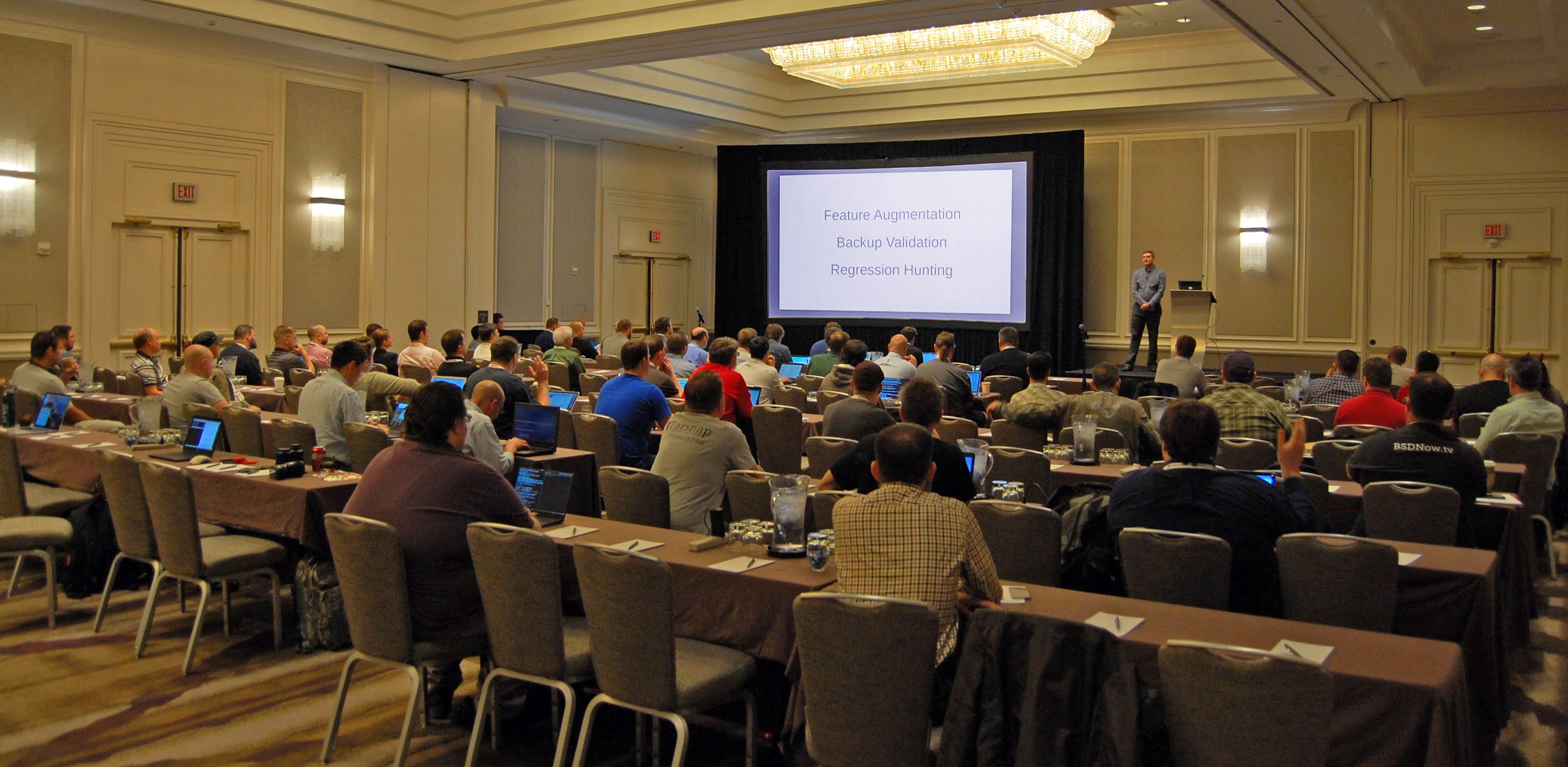 The third biennial vBSDcon hosted by Verisign took place September 7th through 9th with the FreeBSD Developer Summit taking place the first day. vBSDcon and iXsystems' MeetBSD event have been alternating between the East and West coasts of the U.S.A. and these two events play vital roles in reaching Washington, DC-area and Bay Area/Silicon Valley audiences. Where MeetBSD serves many BSD Vendors, vBSDcon attracts a unique government and security industry demographic that isn't found anywhere else. Conference time and travel budgets are always limited and bringing these events to their attendees is a much-appreciated service provided by their hosts.
The vBSDcon FreeBSD DevSummit had a strong focus on OpenZFS, the build system and networking with the FreeBSD 12 wish list of features in mind. How to best incorporate the steady flow of new OpenZFS features into FreeBSD such as dataset-level encryption was of particular interest. This feature from a GNU/Linux-based storage vendor is tribute to the growth of the OpenZFS community which is vital in light of the recent "Death of Solaris and ZFS" at Oracle. There has never been more demand for OpenZFS on FreeBSD and the Oracle news further confirms our collective responsibility to meet that demand.
The official conference opened with my talk on "Isolated BSD Build Environments" in which I explained how the bhyve hypervisor can be used to effortlessly tour FreeBSD 5.0-onward and build specific source releases on demand to trace regressions to their offending commit. I was followed by a FreeNAS user who made the good point that FreeNAS is an exemplary "entry vector" into Unix and Enterprise Storage fundamentals, given that many of the vectors our generation had are gone. Where many of us discovered Unix and the Internet via console terminals at school or work, smart phones are only delivering the Internet without the Unix. With some irony, both iOS and Android are Unix-based yet offer few opportunities for their users to learn and leverage their Unix environments.
The next two talks were The History and Future of Core Dumps in FreeBSD by Sam Gwydir and Using pkgsrc for multi-platform deployments in heterogeneous environments by G. Clifford Williams. I strongly recommend that anyone wanting to speak at AsiaBSDCon read Sam's accompanying paper on core dumps because I consider it the perfect AsiaBSDCon topic and his execution is excellent. Core dumps are one of those things you rarely think about until they are a DROP EVERYTHING! priority. G. Clifford's talk was about what I consider a near-perfect BSD project: pkgsrc, the portable BSD package manager. I put it up there with OpenSSH and mandoc as projects that have provided significant value to other Open Source operating systems. G. Clifford's real-world experiences are perfectly inline with vBSDcon's goal to be more production-oriented than other BSDCons.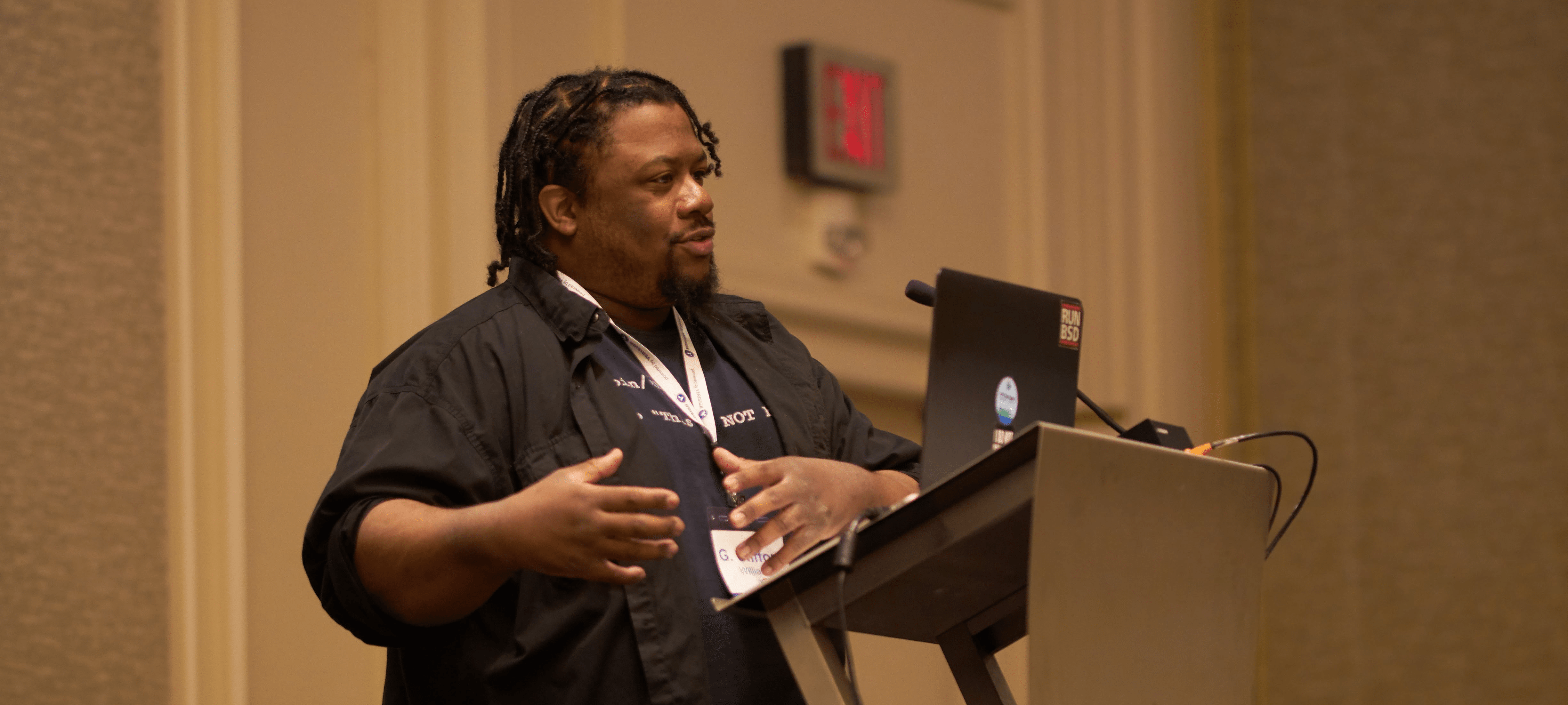 Of the other talks, any and all Dtrace talks are always appreciated and George Neville-Neil's did not disappoint. He based it on his experiences with the Teach BSD project which is bringing FreeBSD-based computer science education to schools around the world. The security-related talks by John-Mark Gurney, Dean Freeman and Michael Shirk also represented vBSDcon's consideration of the local community and made a convincing point that the BSDs should make concerted efforts to qualify for Common Criteria, FIPS, and other Government security requirements. While some security experts will scoff at these, they are critical to the adoption of BSD-based products by government agencies.
BSD Now hosts Allan Jude and Benedict Reuschling hosted an OpenZFS BoF and Ansible talk respectively and I hosted a bhyve hypervisor BoF. The Hallway Track and food at vBSDcon were excellent and both culminated with an after-dinner dramatic reading of Michael W. Lucas' latest book that raised money for the FreeBSD Foundation. A great time was had by all and it was wonderful to see everyone!

Michael Dexter
Senior Analyst