TrueNAS SCALE 21.08 BETA has been released and includes clustered SMB (aka Windows storage) and a much improved Windows-style ACL (Access Control List) editor. These build on the major iXsystems innovation of Windows-style (aka NFSv4) ACLs on Linux ZFS.  With these new features, the first release ("Angelfish") of TrueNAS SCALE is largely feature complete and scheduled to go through the RC and RELEASE process in Q4 of 2021.
TrueNAS SCALE 21.06 had the largest community of BETA users of any previous TrueNAS or FreeNAS release with over 3,000 deployed systems and a lot of field testing. Many thanks to the thousands of community developers and testers who have contributed to the effort. 
Commercial BETA trials have started for a limited number of users and are also going well. The TrueNAS R-Series platforms are the first platforms available with TrueNAS SCALE support.

TrueNAS SCALE 21.08 BETA includes about 400 improvements (including bug fixes). The major new capabilities of TrueNAS SCALE 21.08 include:
Windows-style ACL Editor: TrueNAS CORE and Enterprise support Windows-style file system ACLs (aka NFSv4 ACLs), based on OpenZFS with FreeBSD-compatible extended attributes. TrueNAS SCALE includes iXsystems enhancements to Linux which also allow importing of TrueNAS CORE & Enterprise pools while keeping the same extended attributes. With 21.08, the ACL editor in the WebUI received a large improvement in ease of use, while still supporting advanced ACL configurations. This makes it much easier for storage administrators to set up and manage ACLs in an immediately familiar way with a much smaller learning curve for new users.
Scale-Out SMB: TrueCommand 2.0 provides a WebUI for TrueNAS SCALE which enables ZFS datasets to be pooled together as cluster volumes which span multiple nodes. Clustered SMB access to those clustered volumes is previewed on TrueNAS SCALE 21.08 via APIs, and will be WebUI configurable with an upcoming TrueCommand version update. This allows scale-out capacity and bandwidth as well as fault tolerance.
Improved System and Sharing Dashboards: The main dashboard and the sharing dashboards have been significantly improved. The overall goal is to simplify setup and administration by reducing the steps required.
Enclosure Management: Enclosure management provides visual control of specific iXsystems platforms such as the TrueNAS R-Series, with support for the Minis, M-Series, and X-Series coming soon.
OpenZFS 2.1: 21.08 includes an updated version of OpenZFS which lays the groundwork for future file-system feature enhancements.  iXsystems contributed code for better scaling of worker processes with processor cores which makes tasks such as scrubbing and resilvering behave more reliably.
Container Storage Interface (CSI): The Democratic CSI is now supported and has been improved to be all API based. This will enable more robust deployments of TrueNAS storage for Kubernetes systems.
Application Catalog Improvement: Third-party applications can be deployed as single (Docker) containers or "pods" of containers described with customizable  Helm charts. These applications can be downloaded via catalogs like TrueCharts, which also provides a process for users to build and customize their own catalogs. The syncing and managing of catalogs has been improved and is now snappier and more robust. 
The WebUI, while similar to TrueNAS CORE, has also been vastly improved with new UX enhancements which enable configuration and management of a system with far greater ease than ever before. Users will find much more relevant and important information readily available with less need to navigate through multiple pages in the interface. See the animated demo below.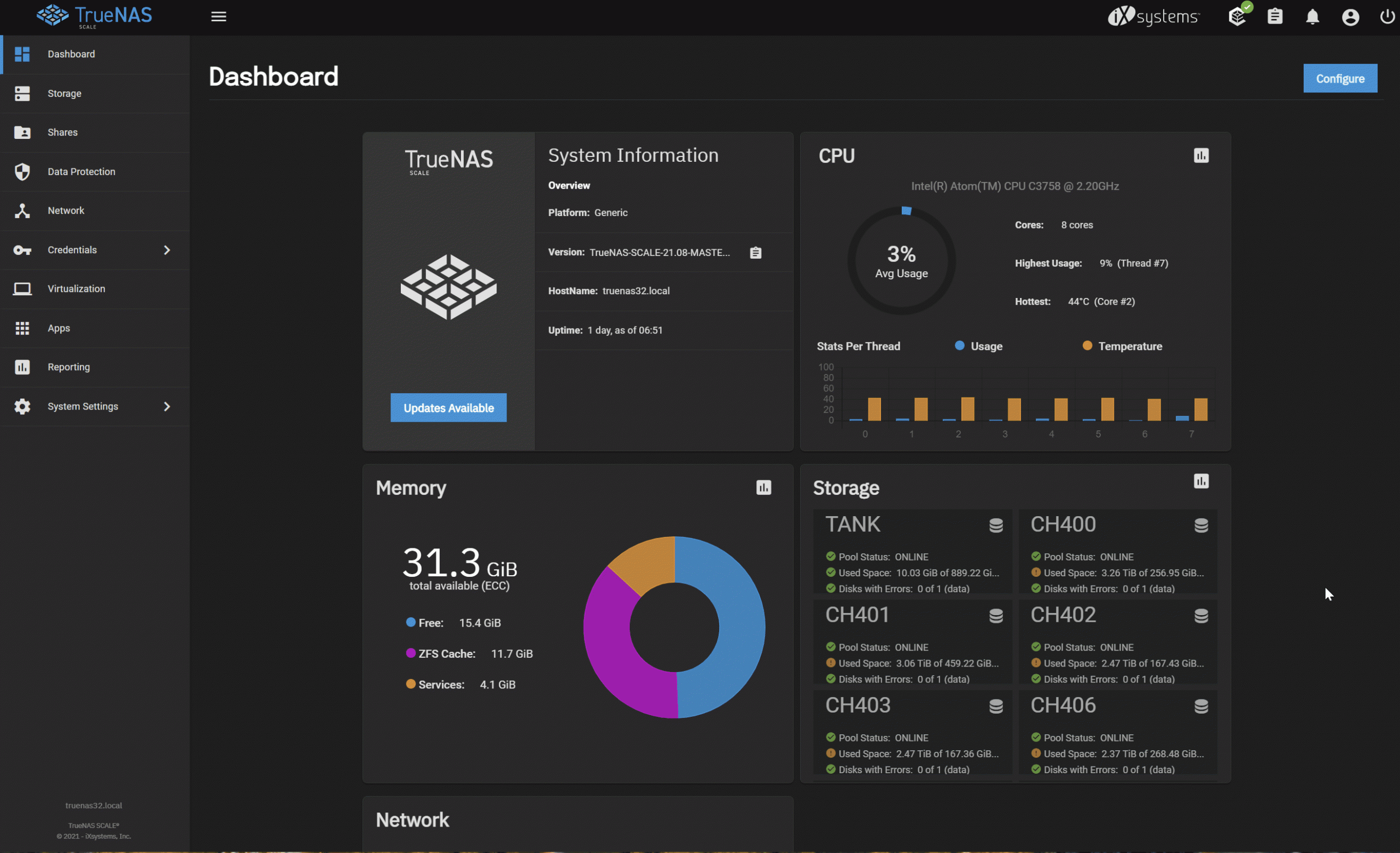 TrueNAS 21.08 WebUI
TrueNAS SCALE documentation has also improved significantly and includes instructions on how to sidegrade from TrueNAS CORE to SCALE. In addition, there are Developer Notes and Release Notes.  
We appreciate the community feedback and bug reports and hope to get all those features to full RELEASE quality faster. A special thanks also goes to the large number of awesome community members who joined the development and test team. We've really appreciated your contributions and teamwork and it has greatly contributed to the accelerated development process.  
Who should use TrueNAS SCALE?
At this BETA stage of its Software Development Lifecycle, TrueNAS SCALE is primarily for developers, testers, tech-savvy enthusiasts, and early adopters. The software is now feature complete and will be heading into its Release Candidate (RC) phase in October.  The SCALE software can be downloaded here after reading the release notes.  
For Linux developers, there are many opportunities to contribute to the Open Source TrueNAS SCALE project, and we have a vibrant Discord Community for contributors.  It is a well-coordinated and managed environment to develop the best open hyperconverged infrastructure. For more information, see this community post.
For larger commercial users with scale-out needs, iXsystems has a formal BETA program to support specific deployments and applications before they complete testing and enter the production phase later this year. Please contact your iXsystems Account Representative or email us at info@iXsystems.com if you are interested in joining the BETA program. 
Production users with standard NAS (NFS, SMB, iSCSI, S3) requirements are still advised to use TrueNAS CORE and Enterprise, which have hundreds of times more data under management and over ten years of operation. TrueNAS SCALE has inherited some of that maturity and the automated testing, but it will be a while before it has the same quality and reliability.  
If you have any additional questions or need advice on a new project, please email us at info@iXsystems.com. We are standing by to help.