If you are managing a number of NAS systems or a large number of drives, you know that "stuff" happens and they occasionally need your attention. TrueNAS and ZFS do a great job of automatically preventing many issues, but sometimes there needs to be proactive action to keep data safe, apply a software update, or ensure that performance does not degrade. No one wants to constantly login and monitor many systems, but what is the reliable alternative? You need an administrative assistant that can take command and alert you while you are not watching.
TrueCommand was launched in 2019 as a single pane of glass management system for FreeNAS and TrueNAS fleets. Since then, it has been adopted by well over one thousand organizations to manage their NAS fleets. TrueCommand can be deployed as a VM, or as a Docker container, and is now undergoing trial as a Cloud service. As promised, TrueCommand remains free for users with less than 50 drives and is very affordable for larger organizations. For larger organizations, TrueCommand coordinates a team of people to manage many systems on a 24 x 365 basis.
TrueCommand 1.3 extends TrueCommand to TrueNAS CORE, Enterprise, and SCALE and enables hybrid cloud operation. Many other improvements significantly simplify storage operations.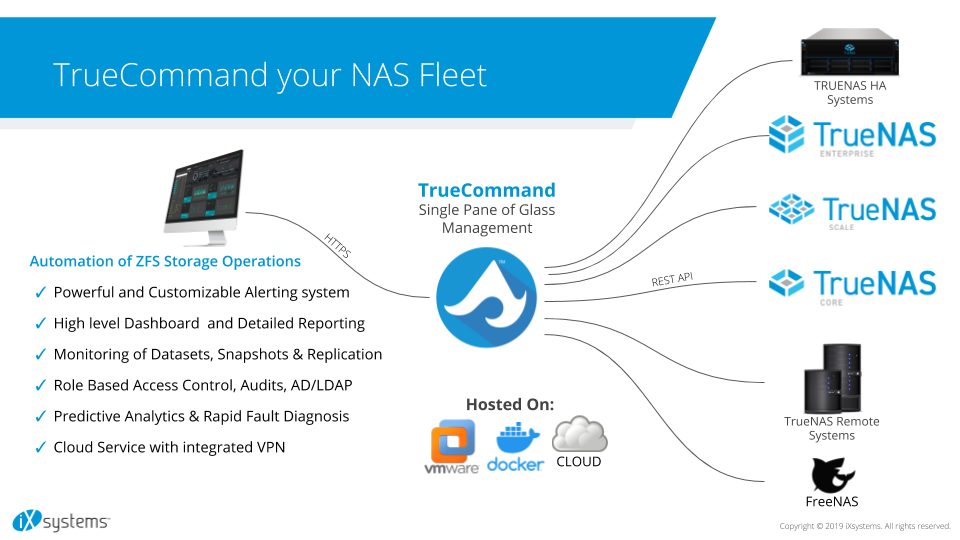 The primary goal of TrueCommand is to automate and accelerate the tasks of managing ZFS storage, whether there is one system or hundreds deployed. For example, it provides automated backup and restores capabilities for TrueNAS configuration files. TrueCommand 1.3 greatly improves the predictability, reliability, and total cost of ownership of production systems. Significant new features include:
Smarter Dashboard: Monitor the performance of many systems from one screen.
Scrub and Replication Monitoring: Quickly identify systems with background tasks.
Datasets Monitoring: See all the datasets, their sizes, snapshots, and replication tasks.
Powerful Alerts: Standard and customizable alerts monitor the health of each system.
API Keys: Use the TrueNAS 12.0 API keys to keep your root passwords more secure.
TrueCommand's standard alerts have been significantly extended and even include an ability to detect the use of SMR drives.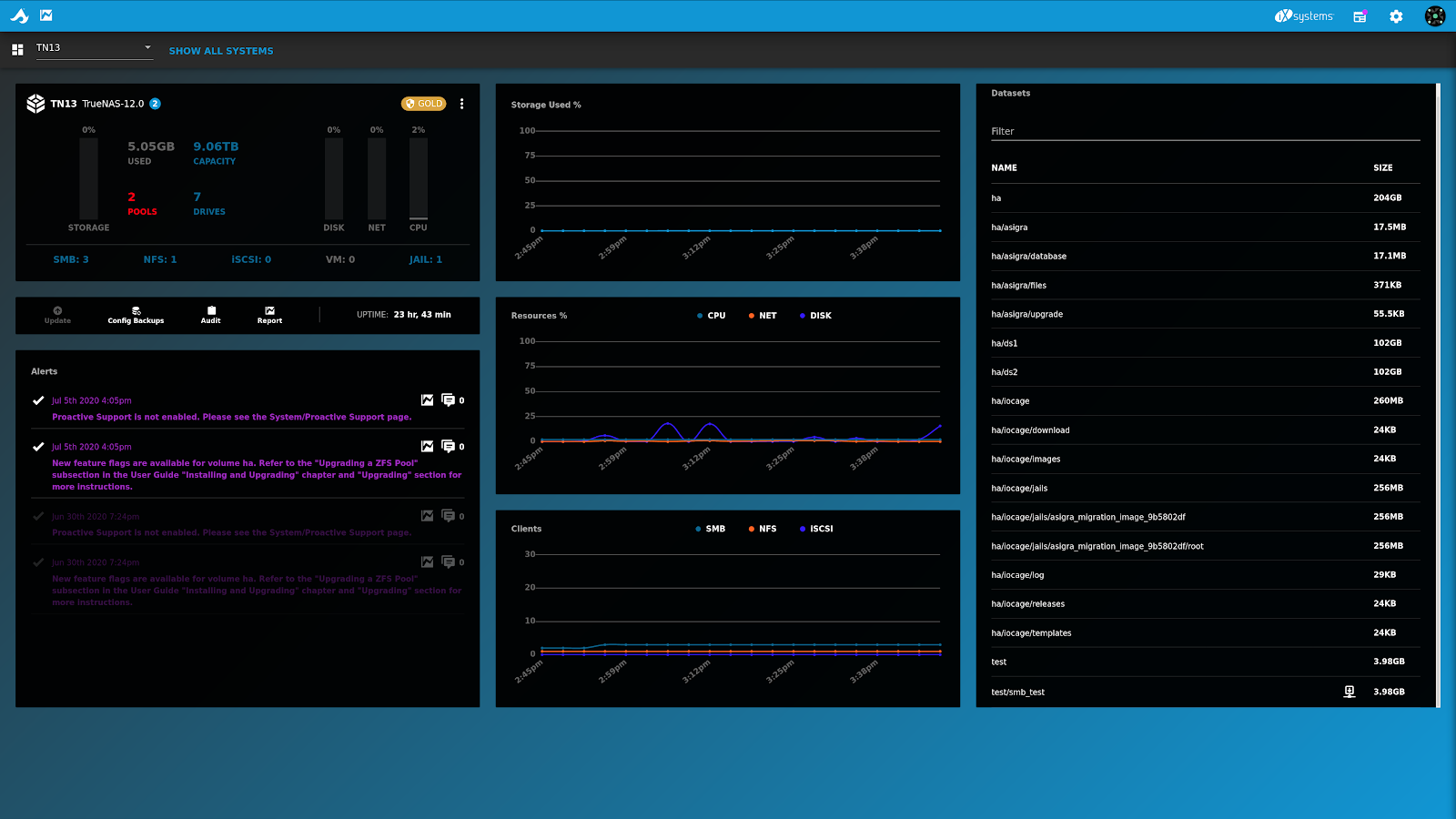 TrueCommand shows TrueNAS resources, alerts, performance, and datasets
TrueCommand 1.3 takes the role of the common management platform for all TrueNAS editions, including CORE, Enterprise, and SCALE. TrueNAS SCALE is a new project in early development and TrueCommand will be integral to managing it. Mixing software, including FreeNAS, to accommodate your specific application and storage needs is greatly simplified. TrueCommand is the single pane of glass for:
TrueNAS CORE: Manage systems on standard servers, Minis, or even AWS.
TrueNAS Enterprise: Manage X-Series and M-Series systems with High Availability.
TrueNAS SCALE: Manage a group of systems running a TrueNAS SCALE cluster. Future versions will simplify the management of hyperconverged infrastructure.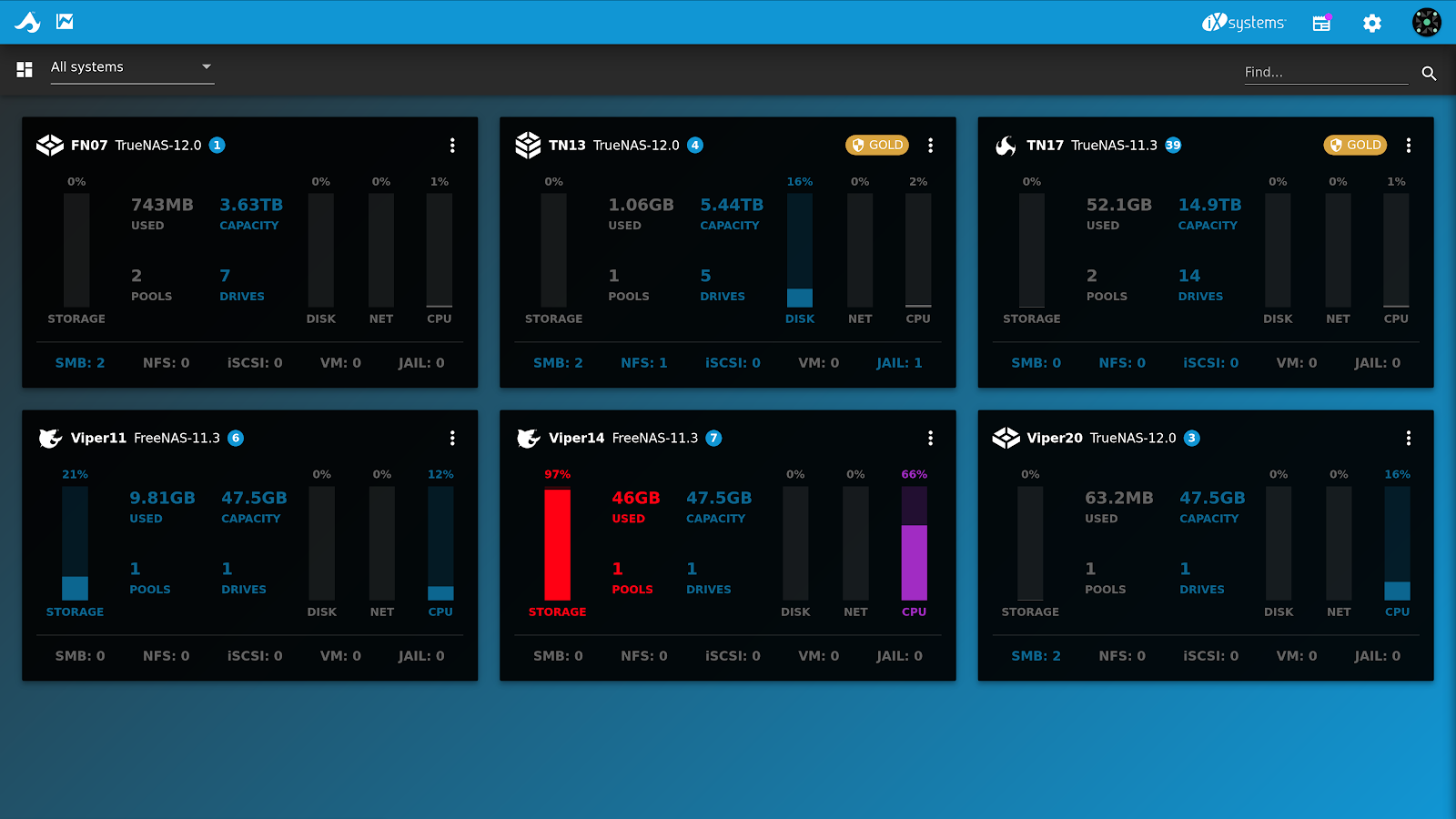 TrueCommand Dashboard provides instant access to high level system status
TrueCommand Cloud is a service that is provided through the addition of WireGuard VPNs to TrueCommand 1.3. Administrators or Managed Service Providers (MSPs) can securely manage many FreeNAS and TrueNAS systems on different sites. TrueCommand Cloud is now in early access status, so please contact us if you need this capability. General availability will be announced later this quarter.
Previous features of TrueCommand have been retained. Below is a list of the more important ones:
Scalability: Simultaneous monitoring of over 500 FreeNAS or TrueNAS systems.
LDAP Integration: Authenticate and authorize users via AD or LDAP.
Single Sign On: Securely administer each NAS via TrueCommand via a web proxy.
Role Based Access Control (RBAC): Define systems a user can monitor or configure.
Predictive Analytics: Predict and alert on events like storage capacity shortages.
Smarter Alerts: Flexible notification services and multi-variable alerting.
Custom Reports: Design reports that suit your organization.
NAS Updates: Initiate and monitor updates to many NAS systems.
Configuration Backup & Restore: Recover from disasters more easily.
Configuration Audits: Logging of any configuration changes and who made them.
Monitoring of other Systems: Stats and alerts are collected via an API.
VM or Docker: Run TrueCommand on VM or container infrastructure, including a Mac or Windows laptop.
You can download TrueCommand 1.3 for free. Deployments with less than 50 drives require no license and are free forever. Once TrueCommand is installed and you have its SystemID, a license can enable more drives. A self-service Portal simplifies the purchase of TrueCommand licenses for less than $2 per drive, annually. The portal also provides free 60-day trial licenses.
We're looking forward to the community feedback on TrueCommand 1.3. Report any issues and suggest features via the community dashboard. For advice on installation and usage of the free version, please use the Community forum.