TrueCommand was launched in 2019 as a single pane of glass management system for FreeNAS and TrueNAS fleets. Since then, it has been adopted by over fifteen hundred organizations to manage their NAS fleets. TrueCommand can be deployed as a VM, or as a Docker container, and is available for Early Access as a Cloud service. Today, we are releasing the TrueCommand 1.3.2 minor update with a brand new logo that compliments the new TrueNAS CORE, Enterprise, and SCALE logo set.



The new icon represents a "C" for Command of TrueNAS. The TrueNAS Enterprise icon is used as the center, which could also represent a small stack of TrueNAS CORE or SCALE systems. The bi-color "C" also has a 3D effect that makes it look like a virtual enclosure or wrapper for TrueNAS. We hope everyone likes the new logo as much as we do!
TrueCommand remains free for users with less than 50 drives and is very affordable for larger organizations. For larger organizations, TrueCommand coordinates a team of admins to manage many systems on a 24 x 365 basis. For smaller systems, it automates backup and restore of configurations, captures historical information, provides Role Based Access Control, audits changes, and delivers more detailed reports and smarter alerts.
TrueCommand 1.3.2 manages TrueNAS CORE, Enterprise, and SCALE and enables hybrid cloud operation and simplifies storage operations. The slide below describes TrueCommand and its role.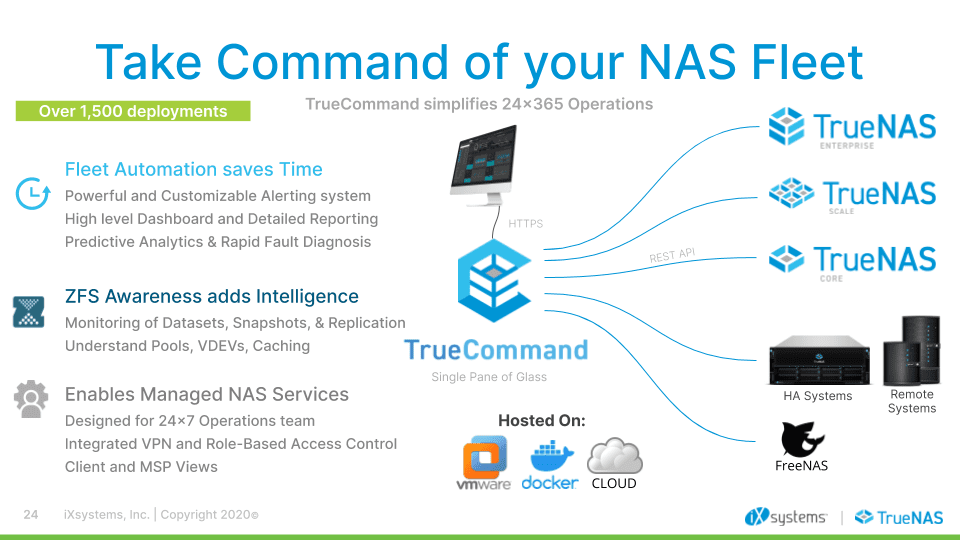 TrueCommand 1.3.2 provides configurable display preferences and color palettes. You can use the user-friendly dark mode (default) or a brighter mode that might be easier to demo to your company. Below are some of the latest screenshots.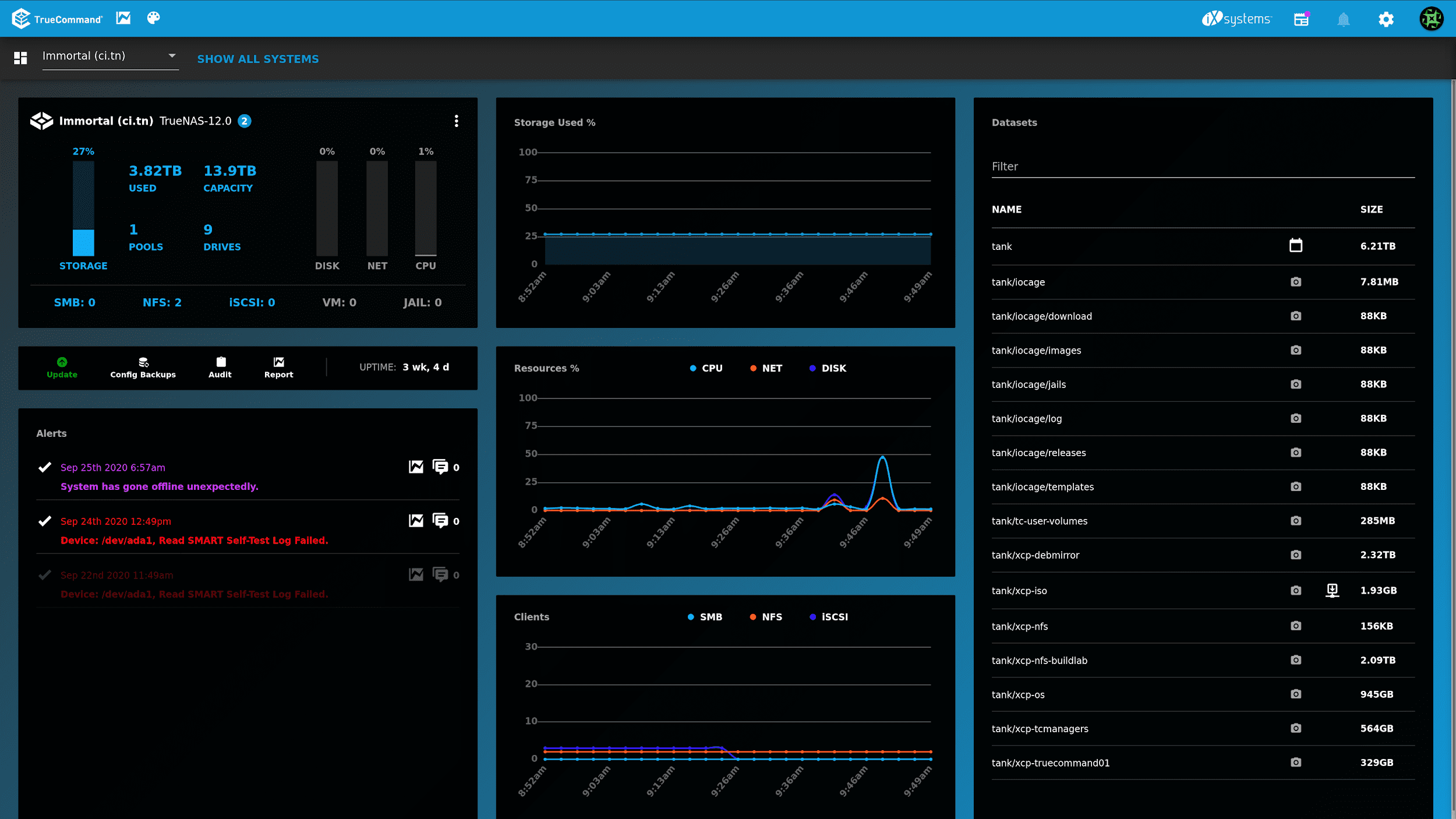 TrueCommand shows TrueNAS resources, alerts, performance, and datasets
TrueCommand 2.0 is in development for release later this year. It will include several enhancements, but some of the biggest ones we expect to deliver are:
Dataset creation: Create datasets and share them via iSCSI and SMB from TrueCommand. Use templates to minimize manual configuration and allow for bulk creation capabilities.
File browser: Provides the storage admin with a way to discover and browse the datasets, snapshots, and files of each NAS. From there, tasks can be performed that assist with storage administration.
TrueNAS SCALE Cluster UI: From TrueCommand, clusters can be formed, cluster datasets can be created and shared, and the whole cluster can be managed and updated.
Below is a TrueCommand 1.3.2 screenshot of some FreeNAS and TrueNAS systems that are being managed as a group. The same approach will be used to manage a TrueNAS SCALE cluster.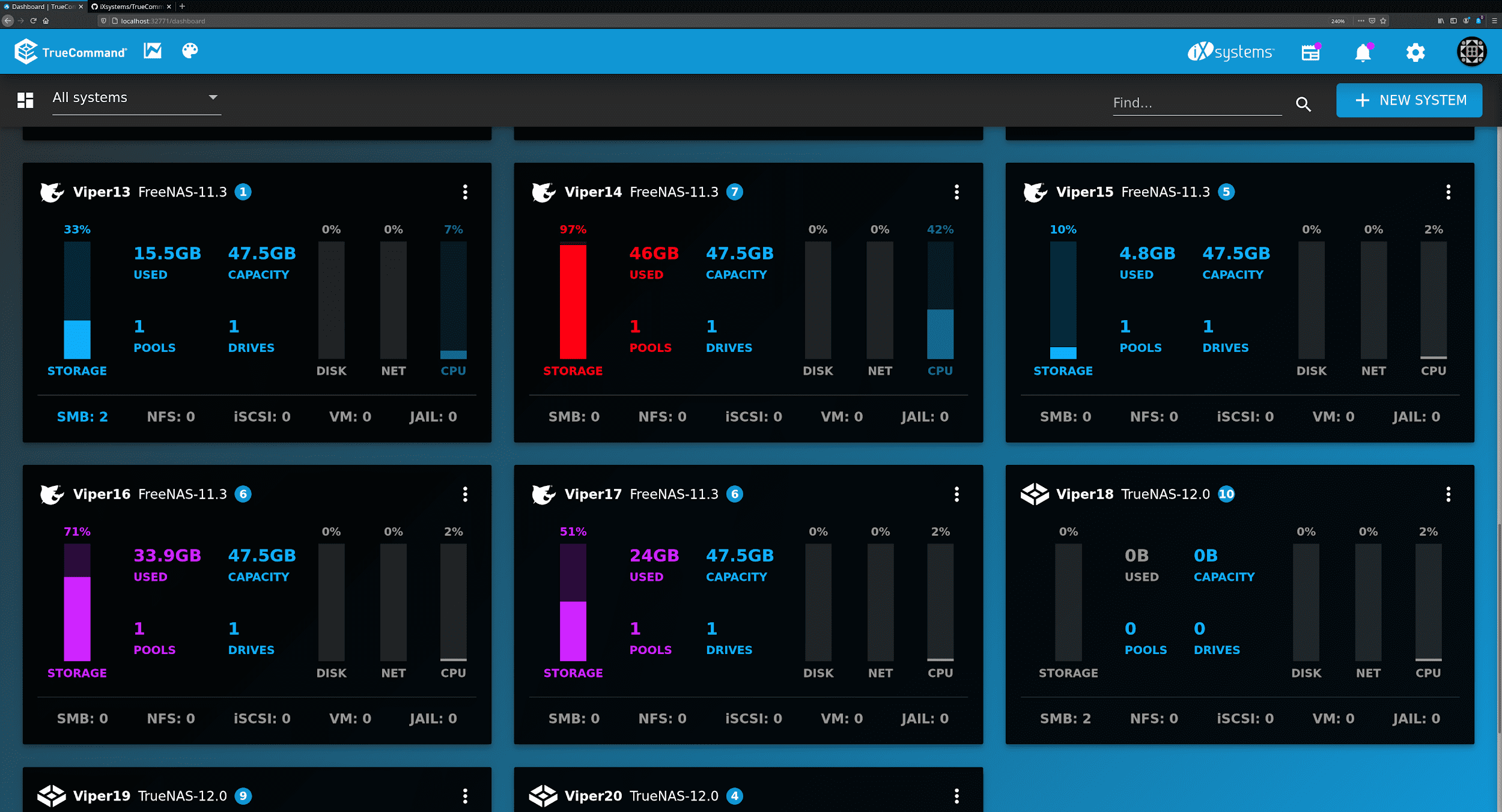 TrueCommand Dashboard provides instant access to high level system status
Previous features of TrueCommand 1.3 have been retained. Below is a list of the more important ones:
Scalability: Simultaneous monitoring of over 500 FreeNAS or TrueNAS systems.
LDAP Integration: Authenticate and authorize users via AD or LDAP.
Single Sign On: Securely administer each NAS via TrueCommand via a web proxy.
Role Based Access Control (RBAC): Define systems a user can monitor or configure.
Predictive Analytics: Predict and alert on events like storage capacity shortages.
Smarter Alerts: Flexible notification services and multi-variable customizable alerting.
Custom Reports: Design reports that suit your organization.
NAS Updates: Initiate and monitor updates to many NAS systems.
Configuration Backup & Restore: Recover from disasters more easily.
Configuration Audits: Logging of any configuration changes and who made them.
Monitoring of other Systems: Stats and alerts are collected via an API.
Scrub and Replication Monitoring: Quickly identify systems with background tasks.
Datasets Monitoring: See all the datasets, their sizes, snapshots, and replication tasks.
API Keys: Use the TrueNAS 12.0 API keys to keep your root passwords more secure.
VM or Docker: Run TrueCommand on VM or container infrastructure, including a Mac or Windows laptop.
Cloud: Run TrueCommand in a cloud with Wireguard VPNs to manage TrueNAS 12.0 systems.
You can download TrueCommand 1.3.2 for free. Deployments with less than 50 drives require no license and are free forever. Once TrueCommand is installed and you have its SystemID, a license can enable more drives. The self-service Portal simplifies the purchase of annual TrueCommand licenses for less than $2 per drive. The portal also provides free 60-day trial licenses.
We appreciate the community feedback on TrueCommand. Report any issues and suggest features via the community dashboard. For advice on installation and usage of the free version, please visit the Community forum.