Well, another conference is on the books. We just wrapped up our involvement at SouthEast LinuxFest 2016 in Charlotte NC, and the general consensus from our staff is that it was a successful and engaging conference.
This year at SouthEast LinuxFest, we had a steady group of visitors at any given moment. The FreeBSD booth in the expo hall was very busy and Ken Moore, Josh Smith, and Joe Maloney gave many demos of FreeNAS, PC-BSD, and Lumina to an appreciative crowd.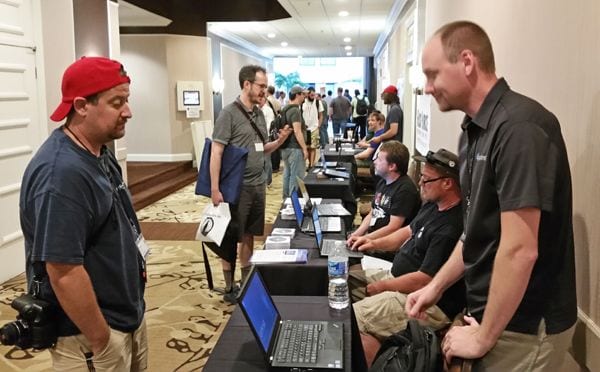 Many visitors had heard of FreeNAS but were unaware that iXsystems also sold hardware. In regards to FreeNAS specifically, attendees were interested in features such as CIFS sharing, ZFS replication, and boot environments which attracted several crowds. A lot of visitors also asked about virtualization and Docker support, which resulted in a lot of positive interest in the upcoming FreeNAS 10. There was also a ton of excitement surrounding Lumina Desktop as we move closer to Lumina's 1.0 release.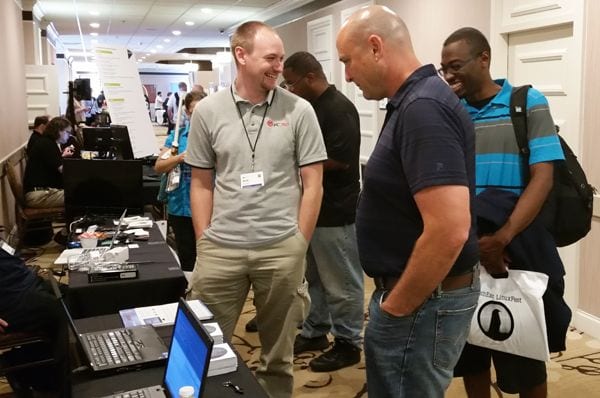 "Interestingly enough, one person asked what our installer for PC-BSD looked like, and I had a PC-BSD install booting in VirtualBox," Joe Maloney recounted. "In about 30 seconds, I was able to help a PC-BSD user get a Lenovo X1 carbon laptop working by writing up an xorg.conf and switching it to use the scfb driver. When this particular person asked when the native Intel drivers could be used, I was able to answer, 'We're building the June testing image to bring us up to Skylake support at this very moment!'"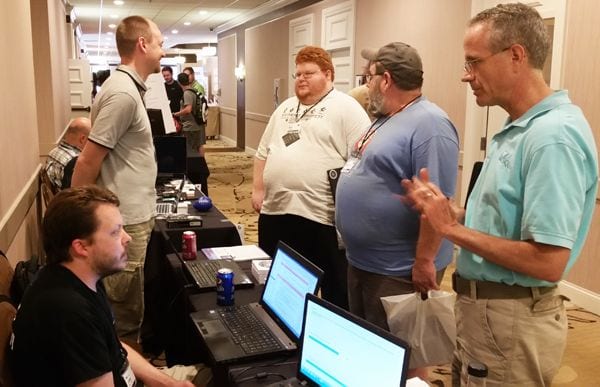 On Friday, Josh gave a general overview of PC-BSD in his talk, "The PC-BSD Advantage", to a good-sized crowd. At a primarily Linux-focused conference, this introduced a lot of attendees to the BSD-side of the open-source community and generated a lot of interest in FreeBSD and PC-BSD at the booth later.
Josh noted, "The talk was basically a look at PC-BSD and Lumina from a Linux user's perspective and it was very well received. There were a lot of questions surrounding Lumina and the direction of PC-BSD specifically."
Ken gave the second presentation on Saturday morning with "Lumina: Lighting the Way to the Future", which was very well received and again, generated a lot of interest at the FreeBSD booth later on. After a talk was canceled, Joe Maloney and Ken co-hosted an impromptu Q&A session to answer questions about FreeBSD. The interest didn't wane and they spoke with the crowd for close to an hour, only ending the conversation because time was running out.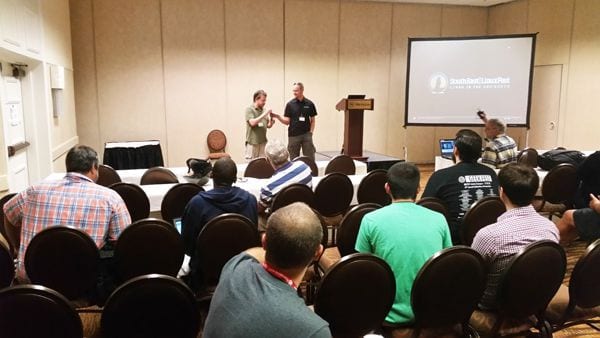 Ken Moore commented, "This informal session was very highly received and covered topics such as VM's and jails, the FreeBSD ports tree and how it relates to packages, the relationships between the various BSD OS's, things a Linux user will find different the first time they use FreeBSD, and other similar topics."
The presence of our team was well appreciated by the community, and it gave us many ideas for future events. Thanks to everyone that came out and made our booth a success at SELF! Overall, this was an amazing conference and the staff highly recommends it to anyone who lives near Charlotte, NC. We'll see you next year!