SCaLE 16x: Open is Still the Answer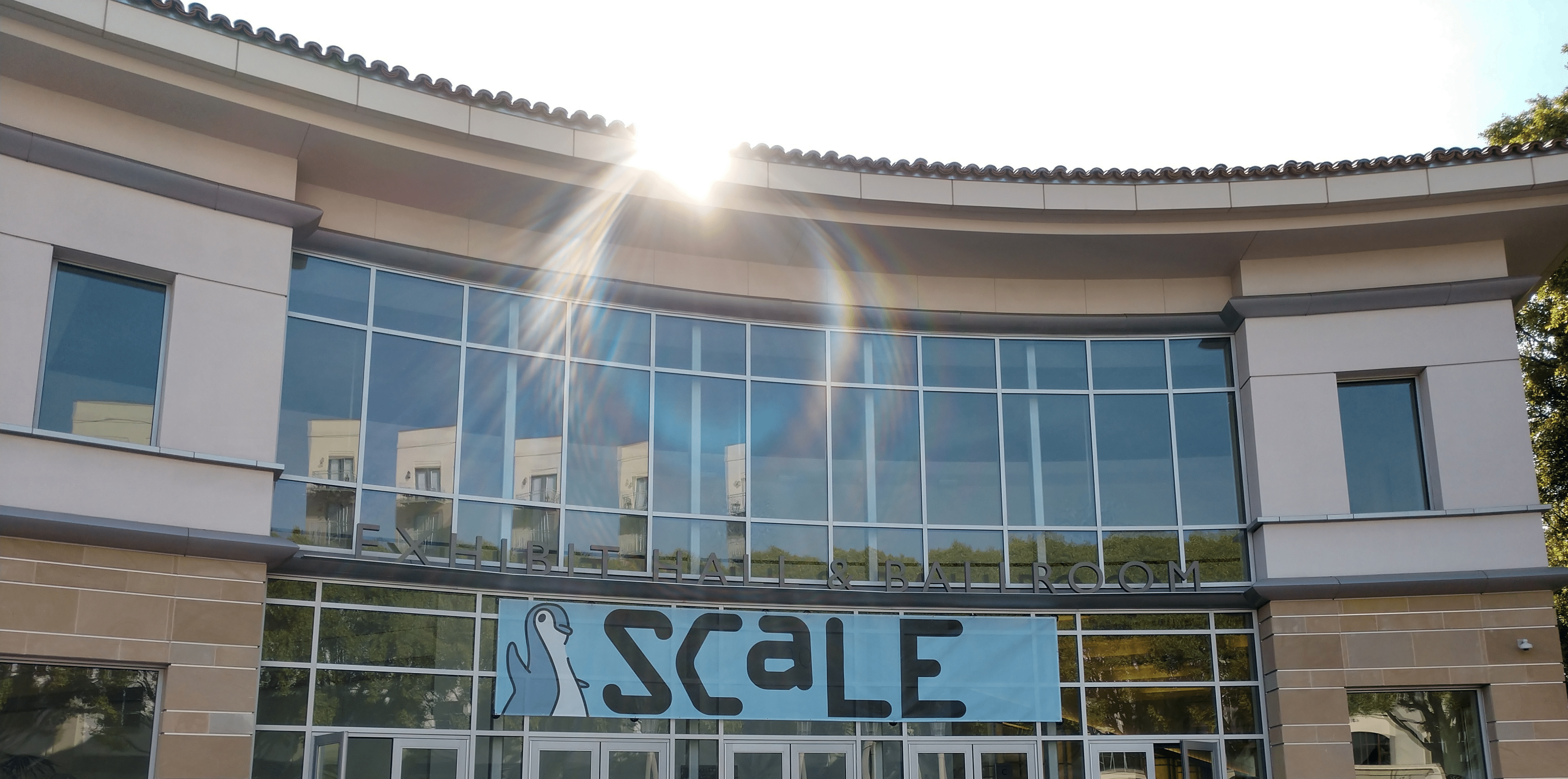 Southern California Linux Expo (SCaLE) wrapped up their 16th annual conference on March 11th at the Pasadena Convention Center and several iXsystems team members were there to help spread the word about FreeBSD, FreeNAS, TrueNAS, and Open Source enterprise storage technologies. Whether your discipline is Linux, FreeBSD, Virtual, or Cloud, iXsystems believes that the open exchange of ideas and code is fundamental to innovation and open technologies. SCaLE 16X delivered in bringing that message to the masses.

Over 3,400 attendees from around the world roamed the exhibit hall and joined lectures on Open Source enterprise strategies, blockchain technologies, development, and system administration techniques, just to name a few of the hot topics at this year's conference. The iXsystems booth drew interest from people ranging from hobbyists wanting to learn more about FreeNAS as a home media center to system admins from all industries: Media & Entertainment, Military & Aerospace, and Healthcare. Attendees were looking for more information on FreeNAS and TrueNAS ZFS-based technologies like instantaneous snapshots and replication. We were excited to see many existing customers and visitors from previous conferences who had discovered the benefits of TrueNAS Storage Arrays with ZFS. Many have implemented TrueNAS as a core piece of their data protection strategy. In our booth, as well as the neighboring FreeBSD Community/FreeNAS booth "schwag" was a hot commodity as always, drawing people from all over the conference with the question: "Where can I get a pair of those awesome blinky horns?"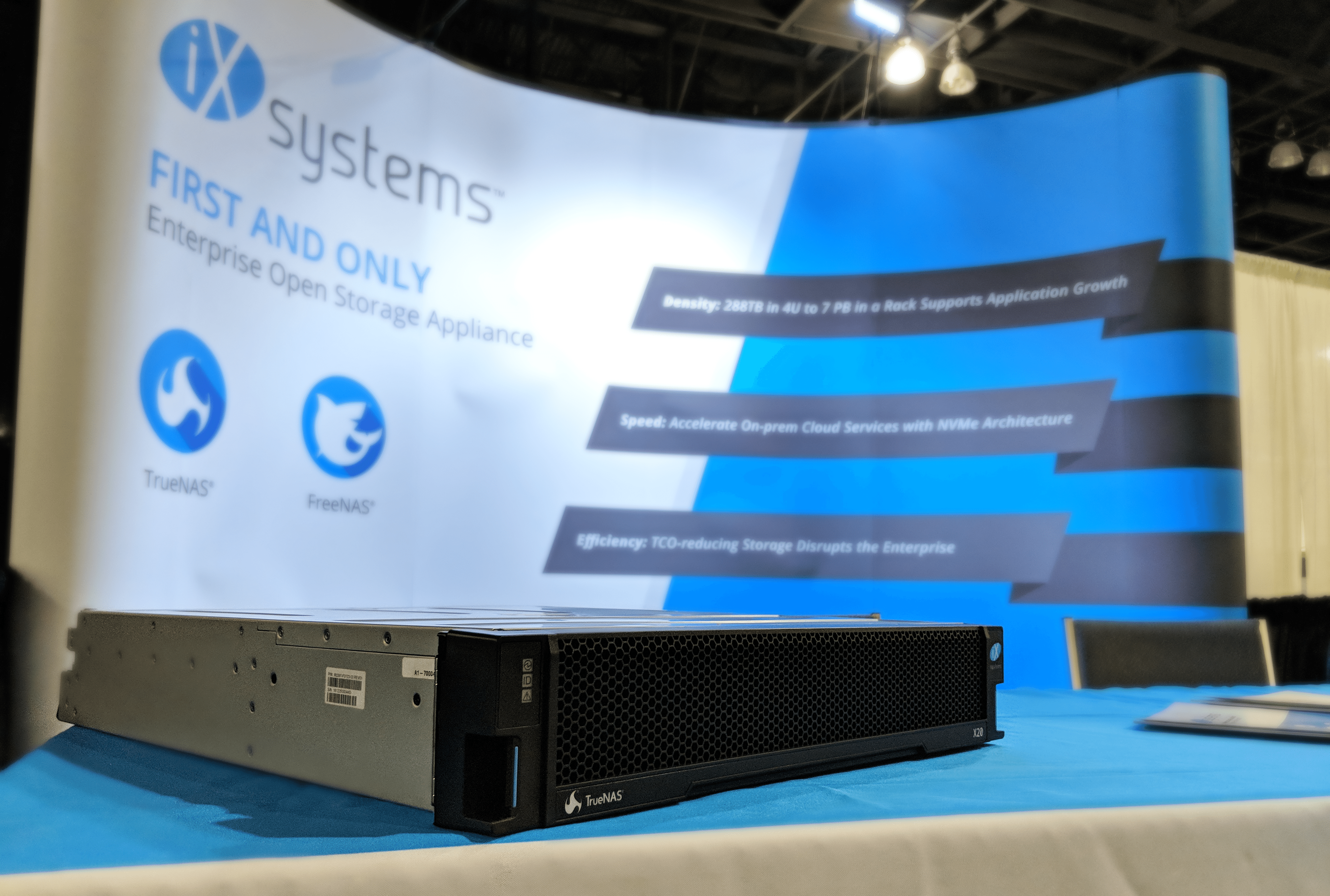 iXsystems featured the new TrueNAS X10 series storage array, designed to be the most cost-effective unified storage solution for small businesses on the market today. The TrueNAS X10 is available as a 2U form factor in single or dual-controller (HA) configurations. The X10 supports up to 360 Terabytes raw capacity and starts under $6,000!
In the FreeBSD booth, we heard many enthusiastic comments about FreeBSD, FreeNAS, and related projects like pfSense. When people were asked if they had heard of FreeNAS, at least half answered that they were already running it at home. We gave away seven boxes of blinky horns, and could have given away more. There were inquiries on how to integrate FreeNAS into a home entertainment system, how to easily install and use FreeBSD as a desktop ("TrueOS!"), jails and bhyve virtualization, the Lumina desktop, and using FreeBSD as a solution for elementary and college computer courses. There was also great interest in TrueOS as an alternative to desktop Linux.
Thanks to everyone that dropped by the booths to learn more about how iXsystems is using Open Source to power the next generation of enterprise storage products while giving back to the Open Source community. Also, congratulations go out to the winner of our Apple HomePod raffle, Khine Theint of Prolacta Bioscience, Inc. in California, USA.
It was exciting visiting with all of you at SCaLE 16x, and we can't wait to see you again next year.
Best,
The iXsystems Team