NOTE: This is historical content that may contain outdated information.
This year's LISA was a huge success and an absolute blast to attend. Despite being in Boston in the middle of December, attendance at the conference was on par with the past few years. We were able to connect with our biggest fans and introduce iXsystems to other attendees for the first time. FreeNAS is still the common thread that ties us together. Even those who were not familiar with iX had heard of FreeNAS.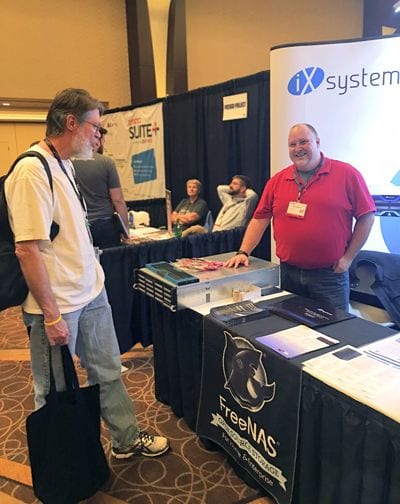 Marty Godsey commented, "This is one of my favorite conferences of the year. This conference is about relationship building and this is evident by the huge amount of people who come by the IXsystems booth just to say 'I LOVE FREENAS!'"
This year we had a TrueNAS Z50 array and a FreeNAS Mini XL on display. Everyone who stopped by our booth was amazed by the quality of our hardware builds. The Mini XL was an especially huge hit. Many people were amazed by the capacity that could be crammed in a desktop unit. Some mentioned they were using Synology or QNAP but after being shown what the Mini XL could do, they decided to look into replacing.
There was additional buzz in the air over FreeNAS 10 and what features will be included in the release. It was the type of community talk one would expect from a group of enthusiasts who love what they do and look forward to tools that will make them more efficient at work.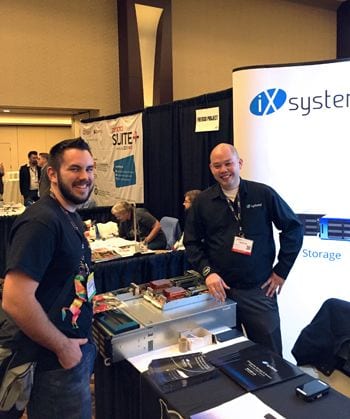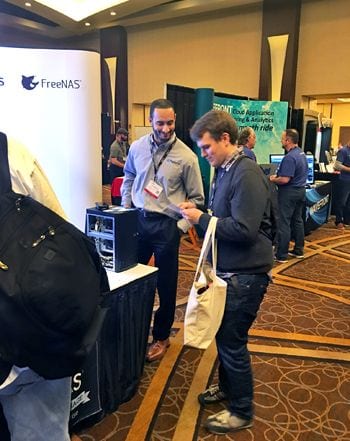 "Going to conferences like LISA is always an honor because the system engineering community truly embraces the work we do and our reputation speaks for itself. When you see people who appreciate the job we're doing as a company, you can't help but leave feeling inspired," said Patrick Bullock.
Dru Lavigne, iXsystems, and Ed Maste, FreeBSD Foundation, staffed the neighboring FreeBSD booth in the Expo area. The booth had a steady stream of attendees who stopped by to chat about FreeBSD, what's new in 11, and to pick up a limited edition print copy of the FreeBSD Journal (the FreeBSD 11 issue). Several of the new brochures and stickers sparked interest, including TeachBSD.org, FreeBSD's involvement in Google Summer of Code, the newly branded TrueOS.org, and the BSD-licensed Lumina.org desktop. Several current and former FreeBSD committers came by to visit. In addition, $300 was raised for the FreeBSD Foundation.
As with every year, we always look forward to LISA and next year is no different. Hope to see you there!