NOTE: This is historical content that may contain outdated information.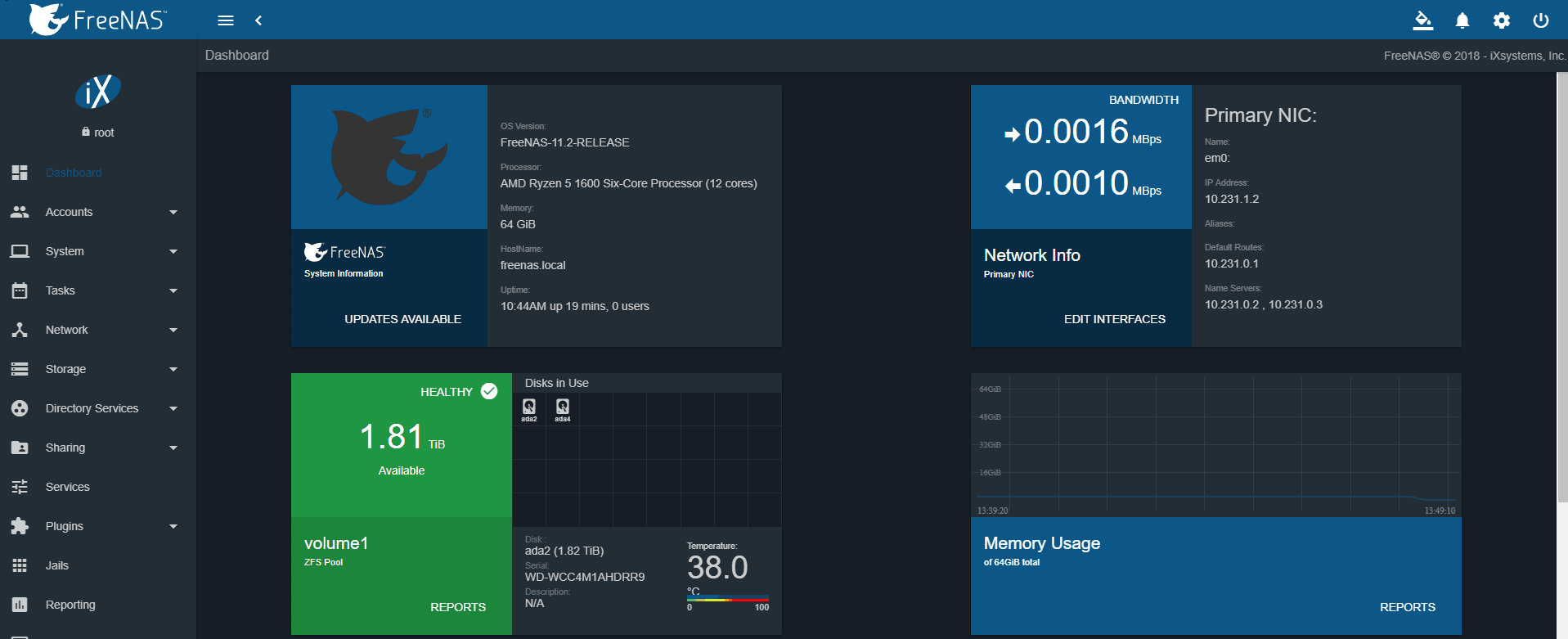 At over 10 million downloads and growing, FreeNAS preserves its position as the world's most popular storage operating system.
December 11th, San Jose, California: Enterprise storage and server vendor iXsystems® has released FreeNAS 11.2, the latest version of its Open Source unified file, block, and object storage OS. FreeNAS is free to download and can be used to convert virtually any x86 hardware into a full-featured storage system.
FreeNAS 11.2 debuts a new Angular-based web interface, making it the first Open Source storage OS to incorporate Google's very popular JavaScript framework. The FreeNAS 11.2 release also introduces new virtualization and container subsystems, plus support for Self-Encrypting Drives (SED) to comply with mission-critical security and privacy regulations.
Modernized Web Interface and User Experience
Proven by Google and many of the world's top websites, Angular now powers the FreeNAS web interface for a responsive, intuitive, and mobile-friendly user experience. Angular provides a device-independent framework that lays the groundwork for future FreeNAS usability enhancements which will soon be included in TrueNAS® enterprise storage solutions. This new web interface will attract an even wider audience of developers to the FreeNAS platform and accelerate its collaborative innovation. FreeNAS 11.2 allows the user to choose between the new and legacy web interfaces, preserving their investment in user training. Advanced users can also manage FreeNAS via its comprehensive REST and WebSockets APIs.
Enhanced Virtualization and Plugins
Included with FreeNAS 11.2 is an updated plugin and virtualization infrastructure that greatly simplifies the integration of third-party applications by leveraging the FreeBSD bhyve hypervisor and iocage Jail management subsystems. FreeNAS is the first Open Source project to provide web interfaces and REST APIs to these virtualization solutions, providing two solid choices for integrating applications into FreeNAS.
Plugins enable FreeNAS to deliver popular application and network services like Bacula, ClamAV, Plex, Nextcloud, Gitlab, Jenkins, and Zoneminder, all with full OpenZFS integration.
Enhanced Cloud Integration
As an integral part of any data storage and backup solution, FreeNAS 11.2 expands its vendor-agnostic CloudSync services integration to include leading cloud services providers such as AWS, Microsoft Azure, Backblaze, Box.com, Dropbox, and Google. FreeNAS 11.2 offers data encryption both in-flight and at-rest with most providers, and can also serve as an Amazon S3 Simple Storage Service-compatible host to provide a private cloud solution.
New Encryption Options to Meet Compliance Requirements
FreeNAS 11.2 also supports Self-Encrypting Drives (SED), allowing FreeNAS compatibility with such government security standards as PCI DSS, HIPAA, and FIPS 140-2. SED support builds upon software-based, full-disk encryption to provide the user with multiple encryption options. More information about FreeNAS and TrueNAS regulation compliance can be found in the TrueNAS Privacy and Security Compliance Features White Paper.
"FreeNAS 11.2's new web interface, Plugins, and APIs represent a huge step forward in usability. We preserved the familiar FreeNAS workflow, while providing a solid foundation for the future of FreeNAS. We are very excited to make your NAS both easier to use and more powerful for years to come."
– Kris Moore, iXsystems VP of Engineering
About iXsystems
Through decades of expertise in system design and development of Open Source software (FreeNAS, FreeBSD, OpenZFS and TrueOS), iXsystems has become an innovation leader in a global marketplace that relies on Open Source solutions, high availability storage and servers, technology partnerships, and expert support. Since its founding in 2002, thousands of companies, universities, and government organizations have come to rely on iXsystems' enterprise servers, TrueNAS Unified Storage, and consultative approach to building IT infrastructure and Private Clouds with Open Source economics. Millions of tech-savvy users also download and deploy our Open Source software each year. More information can be found at www.iXsystems.com.
About FreeNAS
FreeNAS is the leading Open Source software-defined storage operating system. With its proven OpenZFS filesystem, powerful web interface, and full suite of data protection features, FreeNAS can be installed on virtually any x86 hardware platform to create a highly-reliable and efficient storage system that is accessible over block, file, or object protocols. To optimize FreeNAS for specific solutions, an ecosystem of plugins and VMs provide media server, backup management, cloud collaboration and a variety of other network applications.
iXsystems proudly develops and maintains FreeNAS as the Community Edition of the TrueNAS Family. It has been deployed on over a million systems, from homes to Fortune 100 enterprises, and is supported by a vibrant, technical community at www.freenas.org. For organizations that need high-availability, Enterprise support, or best-in-class performance, TrueNAS appliances are available at www.ixsystems.com/TrueNAS.