NOTE: This is historical content that may contain outdated information.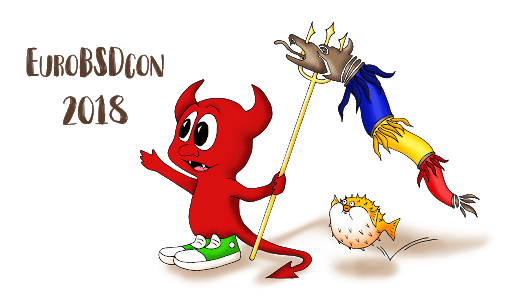 One more EuroBSDCon, but this year I was way more excited than I usually am. There are special historic reasons for me and that is why the EuroBSDCon in Romania was at the top of my BSD conferences list for this year. I will tell you more about that; please get comfortable and join me in this conference recap.
Like other BSD conferences, we usually have a two-day DevSummit followed by a two-day conference. I arrived one day before the DevSummit began. The weather in Romania was pleasant and as soon as I checked my inbox, I got an email from manu@ with an invitation for dinner, which started my first unofficial DevSummit day.
I was pretty excited for this dinner. After 11 years, I could finally meet once again my first mentor on FreeBSD, Ion Mihai Tectu (itectu@). The last time we met, we gave a talk together in the south of Brazil about QAT on ports. At that time we started to work together on a project called ports-sandbox, however fortunately bapt@ came with poudriere and it worked way better than what we had based on tinderbox.
As a southern Brazilian, I have a strong relationship with meat and BBQ, and it felt like home in Romania. itectu@ introduced some nice food.  Dinner was good, and beer was flowing as we all caught up updating each other about the FreeBSD project.
The excitement didn't end there. I was looking forward to the first DevSummit day. So, Thursday morning I headed to University Politehnica of Bucharest  to meet the organizers as well as the students that are working on the bhyve suspend/resume and live migration features. Introductions were made and, as it was really busy during the morning for the organizers, I headed to the DevSummit room to get together with the FreeBSD folks. All morning, most people were hacking on their own stuff, as I hacked on qcow2 support for bhyve.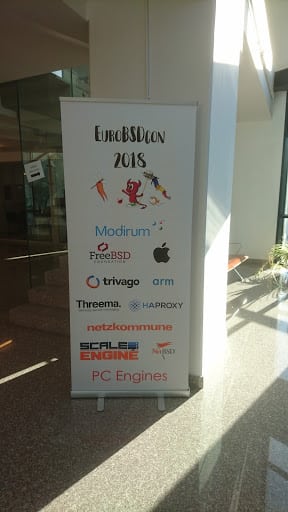 At the end of the morning, we came up with an agenda about topics for the afternoon and for the next day. As everything looked promising and right for the next day, we headed to the first DevSummit dinner. The organizers booked a restaurant for each day of the DevSummit. It was fantastic, as everybody could spend more time together and nobody could get lost. The food was delicious, but basically, the DevSummit day was not over yet as we kept talking during the dinner about different areas of FreeBSD, and a small group decided to go to another place to keep chatting.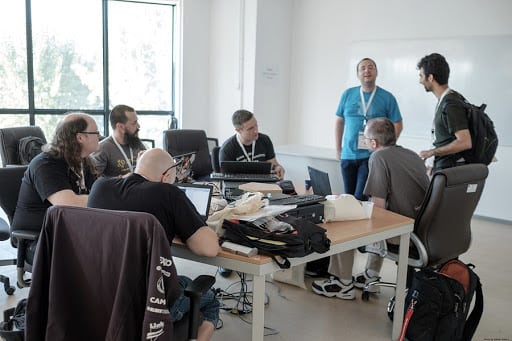 The second DevSummit day we mostly discussed topics  like: "What is next for FreeBSD 13", "git", "bhyve cli", "CI", and "pkg base". We formed small groups with common interests and discussed each topic in more depth.
During the afternoon I was able to visit the UPB lab and talk more closely with the students about the bhyve projects they are working on. They gave a demo of suspend/resume.  The progress of this feature is great; we are moving fast. It is a difficult project from a technical point of view, but there is fantastic progress. We also spoke about the bhyve live migration feature and the technical debts of bhyve, another big challenge for the students. Here I need to say that as I have worked with the UPB students in the past months, they were one of the main reasons I was so excited to travel to Romania this year. Their energy, resilience, and not being afraid of the unknown gave me so much motivation and renewed my energy to keep working on FreeBSD for the next ten years. Thank you guys, for all this great work on bhyve and for sharing all these good vibes.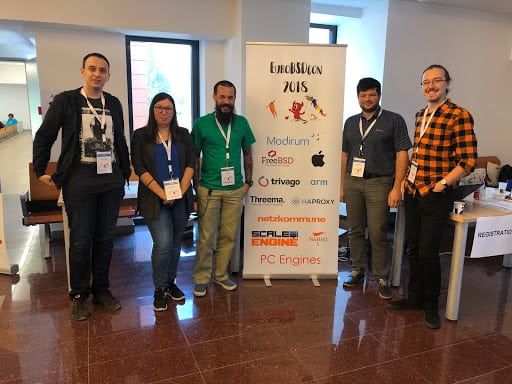 (From left to right: Darius Mihai, Elena Mihailescu, Marcelo Araujo, Mihai Carabas, and Sergiu Weisz)
Again, all the discussions were moved to the dinner that was even better than the previous night.
These two days of the DevSummit were very intense but we were not done yet, the following two days we had amazing presentations. I attended some interesting talks in the first day: "Lightweight virtualization with LightVM and Unikraft"  where I could learn much more in depth about unikernels, and "The Evolution of FreeBSD Governance" by McKusick, which brought back memories from 15 years ago and how we evolved as an open source community. Also Baptiste Daroussin gave a good overview about how difficult it can sometimes be to introduce FreeBSD to a new corporate environment with his talk "Introduction of FreeBSD in new environments". Ron Broersma took us back in time with the second keynote of the day, "Some computing and networking historical perspectives".
Then we headed to the social event! This dinner was special at my table: while we were eating, we were also proposing a new commit bit for an attendee from Brazil. Here is the picture to prove it, but I won't give names as we are still in the voting process.
The last conference day was no less important. The first talk I attended was an interesting approach to FreeBSD livepatching using dtrace by Maciej Grochowski, followed by "FreeBSD/VPC: a new kernel subsystem for cloud workloads" given by Sean Chittenden. During the afternoon, all attention was on a simple question: "Where is the next EuroBSDCon?" I'm excited for the next year as EuroBSDcon 2019 will be hosted in Norway on September 19-22.
For me, EuroBSDCon in Romania was the best BSD conference of this year, but I suspect that is due to my strong ties to Romania. I want to say "thank you" again to all of the people involved in the EuroBSDCon organization. You made not a conference, but instead a great show.
Marcelo Araujo, Software Engineer