TrueNAS SCALE Now Available on TrueNAS M-Series, R-Series, and Minis
TrueNAS SCALE provides scale-out file and object services alongside Kubernetes and other standard TrueNAS storage capabilities
SAN JOSE, CA – October 26, 2021 — TrueNAS SCALE reached an important milestone today when TrueNAS SCALE 22.02-RC1 was released after 12 months of Alpha and Beta testing by over 4,000 TrueNAS Community members. This release includes scale-out file and object (S3) storage services as well as a wide range of containerized applications, supported on a Kubernetes platform. TrueNAS SCALE is now available for ordering and shipping on a wide range of TrueNAS platforms, including the TrueNAS M-Series, R-Series, and even Minis.
TrueNAS SCALE is an Open Source Hyperconverged Infrastructure (HCI) project that began its journey as an Alpha release in October 2020 with the now-delivered promise of:
S

cale-out ZFS

C

onverged Compute and Storage

A

ctive-Active Reliability 

L

inux Containers (Kubernetes) & VMs (KVM)

E

ase of Deployment and Operation
The scale-out capabilities extend to both file (clustered SMB, Glusterfs) and object storage (S3 API with Minio) and do not force users to choose between file and object storage. After 12 months of enthusiastic development and testing, it is now being deployed in many applications and has about 100 PB under management. The Release Candidate (RC) phase is the start of more widespread deployment which will grow as further updates are provided.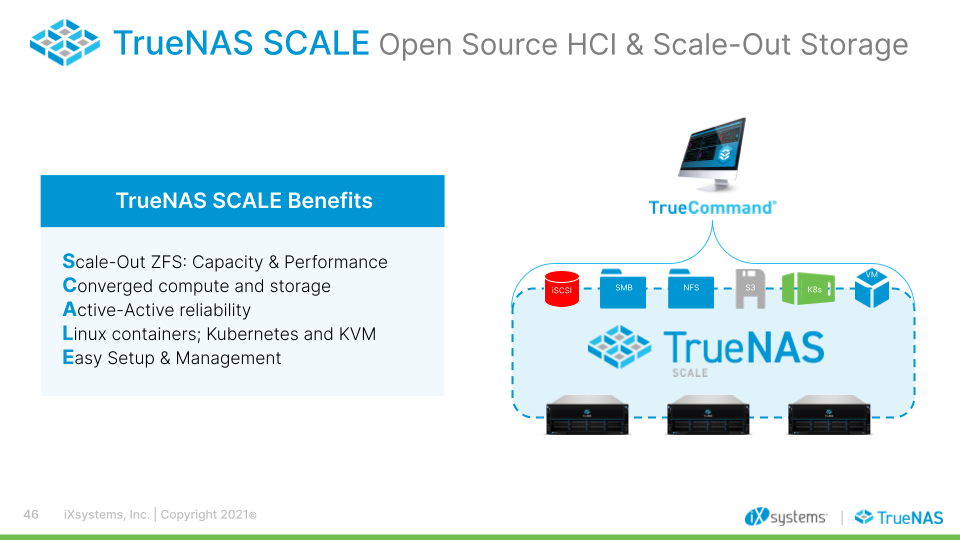 Applications can run on TrueNAS SCALE clusters as either KVM VMs, Docker containers, or Kubernetes pods. There are now dozens of pre-tested and packaged applications including Plex, Nextcloud, HomeAssistant, and many more. Application catalogs enable community contributions such as the extensive and free catalog of applications from Truecharts.org.
TrueNAS SCALE Platforms
TrueNAS SCALE runs on the same platforms as TrueNAS CORE and TrueNAS Enterprise and allows for the migration of workloads. Customers can start with the rock-solid TrueNAS Enterprise and migrate to TrueNAS SCALE when their applications need scale-out capabilities. TrueNAS SCALE software is now shipping on most standard iXsystems platforms:  
Minis: Professionals and Small Businesses

R-Series: High performance clusters

M-Series: High performance clusters (now) and HA systems (Q1 2022) 
The TrueNAS M-Series uses TrueNAS SCALE to deliver unprecedented scalability from 20 Terabytes to 2 Exabytes. The TrueNAS M60 supports up to 20 PB and 20GB/s on a single node. The new TrueNAS M30 extends the M-Series down to start from under $15,000 and with 24 3.5" drive bays. Each TrueNAS M30 can be upgraded to an M40, M50, or M60, protecting the customer investment and minimizing downtime.
Setup and Manage TrueNAS SCALE Clusters with TrueCommand
Version 2.0 of TrueCommand provides the cluster webUI for deploying larger TrueNAS SCALE clusters with useful features like granular stats collection, customizable alerts, predictive analytics, Role-Based Access Control capabilities, and auditing. It can be deployed as a docker container or provided as a cloud service.
"iXsystems has redefined Open Storage with its TrueNAS SCALE edition," said Scott Sinclair, Senior Analyst, Enterprise Strategy Group. "Feature-rich storage that delivers scale-out performance and Hyperconverged capabilities, TrueNAS SCALE is a significant entrant into Enterprise-grade Open Source storage."
"TrueNAS is enabling a new era in Open Storage data freedom for businesses in every sector that have requirements for reliable, secure, and agile data access that goes beyond the status quo," said Brett Davis, Executive Vice President, iXsystems. "TrueNAS SCALE supports this direction with new levels of storage capacity, bandwidth, and hyperconvergence for enterprise customers looking to break free from the confinements of proprietary storage."
To learn more about how TrueNAS can help your organization, contact us via https://www.truenas.com/contact-us/, or give us a call at 1-855-GREP-4-IX.
Tweet This: TrueNAS SCALE Now Generally Available on TrueNAS M-Series, R-Series, and Minis – https://www.ixsystems.com/press-releases/
Additional Resources:
About iXsystems and TrueNAS
Through decades of expertise in system design and development of Open Source software (FreeNAS, FreeBSD, OpenZFS, and TrueNAS), iXsystems has become an innovation leader in high availability storage and servers powered by Open Source solutions. With over one million deployments and backed by the legendary ZFS file system, TrueNAS offers the stability and reliability required for Backup, Multimedia, Cloud Hosting, Virtualization, Hyper-converged Infrastructure, and much more. Since the founding of iXsystems in 2002, thousands of companies, universities, and government organizations have come to rely on the company's enterprise servers, TrueNAS Open Storage, and consultative approach to building IT infrastructure and Private Clouds with Open Source economics.