Accurately predicting storage performance and capacity needs for the next twelve months is a struggle for most customers, let alone predicting it over the entire 5+ year lifetime of a storage system.  To make matters worse, even if it were possible to predict that far ahead, most customers couldn't afford to buy all of the necessary capacity at once.  This can make storage purchases an economically daunting proposition for many IT organizations.   
This is why simple, cost-effective capacity and performance scalability were made primary design principles behind the TrueNAS M-Series enterprise storage systems.  And, with some significant hardware and software improvements released in 2021, the third generation TrueNAS M-Series now makes keeping pace with data growth even simpler while also enabling unprecedented scalability from 20 TB to 20 PB and beyond…all the way to 2 Exabytes! 
M-Series Hardware Scales Up from 20 TB to 20 PB
The original TrueNAS M-Series was released in 2018 and has since delivered rock solid service to thousands of TrueNAS customers. There are three major M-Series models: M40, M50, and M60. Each model has single and dual storage controller options and multiple network options including 100/25Gbe and Fibre Channel.
The TrueNAS M60 is the latest model that began shipping in late 2020. The updated midplane in the M60 chassis supports a 16GByte/s interconnect between controllers as well as 16GByte/s of PCIe bandwidth to four dual-ported NVME SSDs. The combination of M60 controllers, NVDIMMs, and midplane bandwidth enabled over 20GByte/s of storage bandwidth and one million IOPS.
The third generation M-Series models, introduced in March 2021, now all use the very same M60 Chassis. The M60 chassis was introduced at no extra cost to TrueNAS customers and ensures that all M-Series models can be non-disruptively upgraded for additional capacity and bandwidth should their current model approach its performance or space limits. Simply replace one controller at a time while the system remains in service. All data remains available, and all configuration and IP addressing remains unchanged.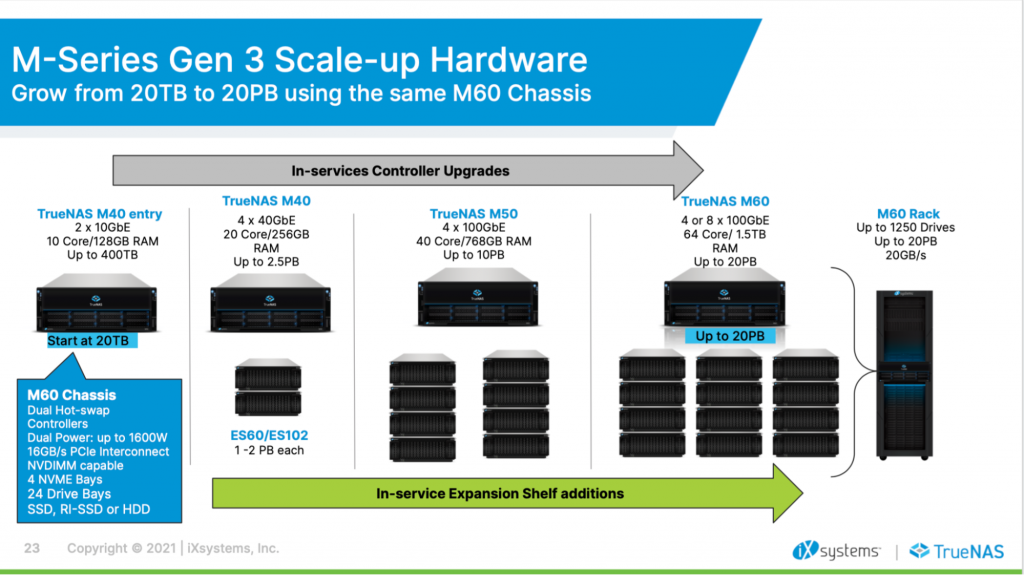 Let's examine these expansion and upgrade capabilities more closely using an M40 as an example.
A new M40 customer can now start with a small number of HDDs or SSDs, even as little as 20TB. If capacity growth is needed, Expansion Shelves (24, 60, or 102 Bays) can be added to grow capacity. The M40 has the CPU/RAM/HBA resources to support two shelves. 
To grow capacity or performance further, the M40 controllers can be upgraded to M50 (4/8 shelves) or M60 (12 shelves) controllers. Additional shelves can then be added to grow the capacity to over 20 PB in a single rack. This can all be done as in-service upgrades with applications seeing only non-disruptive pauses, as if a software update was being done.
This 2021 M-Series hardware change allows the M-Series to address requirements from 20TB to 20PB with in-service upgrades. That's a factor of 1,000x capacity increase.
TrueNAS M-Series can SCALE "out" from 20 PB to 2 Exabyte
A single TrueNAS Enterprise M60 can support over 20 PB of data. This is more than enough for many projects, or even for entire organizations, but there are many applications that need even more than this. Video archives, scientific data, and enterprise backup applications often require hundreds of petabytes with some organizations even requiring an exabyte or beyond.
These massive storage requirements typically need the scale-out architecture that is enabled by TrueNAS SCALE. TrueNAS SCALE provides scale-out capabilities for both file storage (SMB or gluster) and object storage (S3 API). With TrueNAS SCALE 21.08, these capabilities are currently available for BETA testing and will progress to RELEASE in the coming months. TrueNAS SCALE 22.02-RC (available in October) is expected to include single-controller BETA support for the M-Series, with full Enterprise support available next. All of the standard OpenZFS and management capabilities of TrueNAS Enterprise are still provided.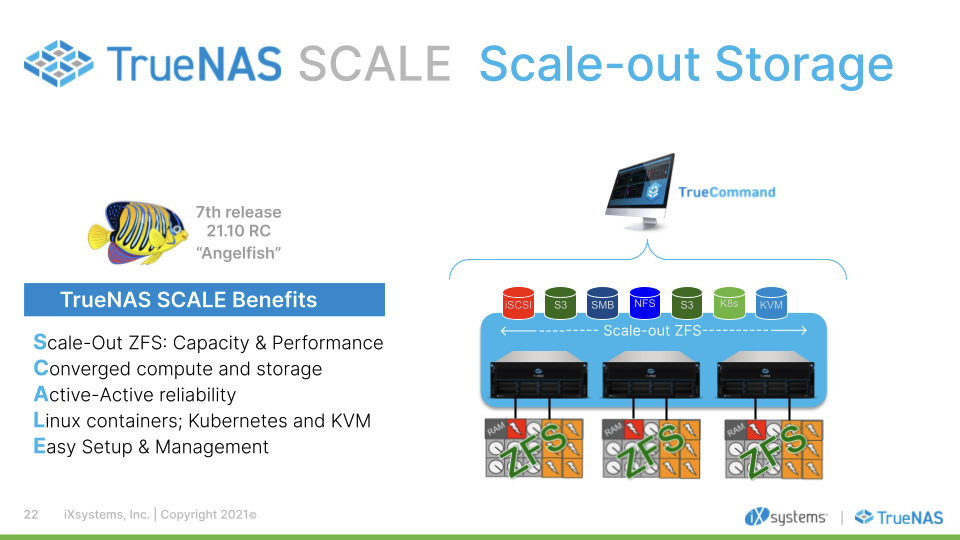 A storage customer can start with a TrueNAS Enterprise M-Series platform, such as an M60 with up to 20 PB. This M-Series platform may grow to occupy a whole rack with its expansion shelves. After a software "sidegrade" to TrueNAS SCALE, data is maintained and then additional nodes/racks can be added to potentially scale-out an S3 cluster to 100 nodes, or nearly 2 Exabytes of capacity.
The Benefits of M-Series SCALE-ability
The combination of third generation M-Series hardware "scale-up" and the TrueNAS SCALE "scale-out" software enables systems to grow from 20 TB to 20 PB and all the way to 2 EB.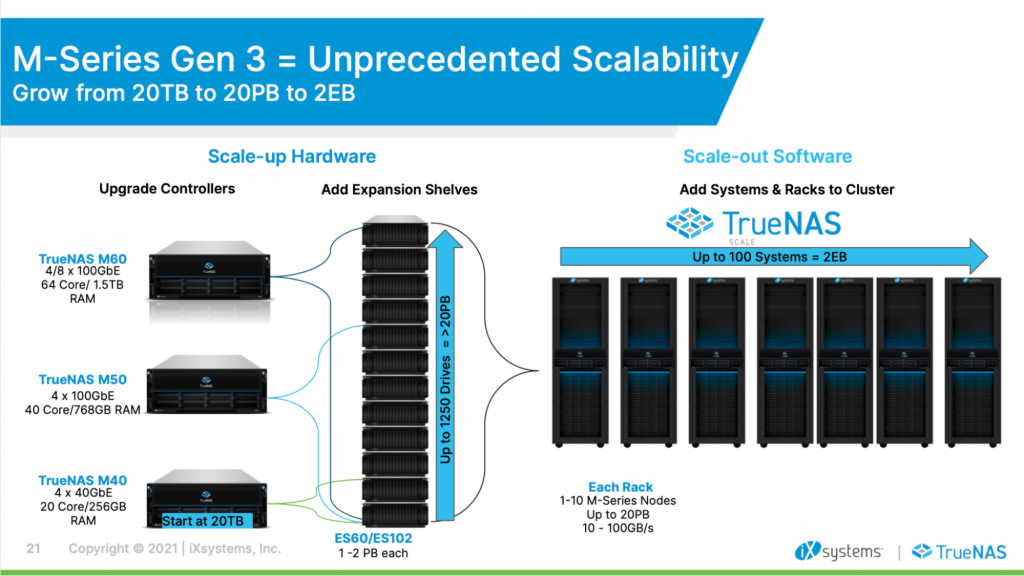 Not everyone needs this massive scalability from 20 TB to 2 EB. However, many storage customers need the ability to grow more than 10X over the lifetime of their investment. The TrueNAS M-Series is designed to adapt to changing requirements by allowing scalability while protecting investments and minimizing any downtime. 
The M-Series scalability is also remarkable in that it is built with Open Source technology and economics. Industry-standard hardware components, along with Open Source TrueNAS software, enable the continued growth of data while keeping the cost of storage affordable. Our goal is to enable data growth while staying within allocated budgets. 
Thank You to Our Customers and Community
We would like to thank all of our TrueNAS M-Series customers for helping us refine the M-Series platform and ensure that we have a solid operational model. Your feedback has been invaluable, and we are committed to your continued support. And, if you have M-Series or other systems from before 2021, please contact us if you need to address your own scalability needs. There are several options available to you.
The TrueNAS community has also been outstanding in its support of the TrueNAS SCALE project. We are excited to complete the ALPHA and BETA phases and start supporting production deployments. Thank you for the feedback, bug tickets, and enthusiastic support. We hope the energy put into SCALE helps you and your organizations in the future. 
If you have any additional questions or need advice on a new project, please contact us. We are standing by to help.