Announcing the Release of TrueNAS 13.0-U1
After testing by over 20,000 users over the last 2 months, the first update to TrueNAS 13.0 (TrueNAS 13.0-U1) is now ready for larger and more critical use cases. Like TrueNAS 12.0, TrueNAS 13.0 is a single unified image that supports either TrueNAS CORE or TrueNAS Enterprise capabilities. Check out the 13.0 Release Blog to learn about the significant components of TrueNAS 13.0.
For information on the improved performance, scalability, and reliability in TrueNAS 13.0-U1, check out our latest blog.
TrueNAS SCALE 22.02.2 Release Notes and Benchmark vs TrueNAS CORE
Lawrence Systems published a video performance-testing TrueNAS SCALE 22.02.2 and TrueNAS CORE. Watch as he covers a series of benchmarks to analyze performance differences between SCALE and CORE.
Exclusive Offer for TrueNAS Users & Customers: All-Flash Starter Kit
iX has models across the entire TrueNAS portfolio that are in stock! For a limited time, we are offering a special promotion on an All-Flash Starter Kit starting with 64 GB RAM and 40 TB of All-Flash capacity. With room for optional cache SSDs and 13 additional drives for expansion, the M30-HA is designed so you can upgrade to a higher-capacity M40, M50, or M60 as you grow.
40 TB All-flash HA Unified storage system = $25,000. Don't miss out on this special price! This exclusive offer is only available through September 23, 2022. Choose between Enterprise or SCALE or start with Enterprise and upgrade to SCALE when the time is best for you.
iXsystems Recognized as a Key Vendor in 2022 MES Matters Award
iX is a medium-sized enterprise company and was recognized on the 2022 MES Matters List of Key Vendors by Midsize Enterprise Services (MES), a brand of The Channel Company. These awards are given to technology providers with proven experience supporting the growth and development of mid-market organizations. iX was selected by MES Matters for its TrueNAS portfolio of Open Source storage software and optimized storage appliances with Open Source economics.
Latest Releases
TrueNAS Stable – 13.0-U1 Release Notes
TrueNAS Legacy -12.0-U8.1 Release Notes
TrueNAS SCALE – 22.02.2.1 Release Notes
TrueCommand – 2.1.1 Release Notes
Become an iXian!
iX is expanding, and we want you along for the ride! Check out our careers page to learn more about how to become a part of our incredible team.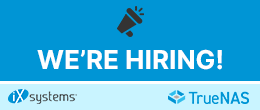 Tech Tip #113
TrueNAS SCALE, when paired with TrueCommand, includes the ability to cluster systems and provide scale-out storage with capacities of up to hundreds of Petabytes. Download SCALE here.
Links of the Month