TrueCommand is a purpose-built management system for TrueNAS systems, whether they are CORE, Enterprise, SCALE, or combinations of all three. It enables 24×7 automated operations of many NAS systems by an individual or a global team. The latest release, TrueCommand 2.1, is now available.
TrueCommand 2.0 was a major step for TrueCommand with significant improvements in the underlying foundation. The statistics gathering process has been improved to increase the data points with minimal impact on TrueNAS operations. The integration of the storage navigation and cluster management features showed the power of multi-NAS management. TrueCommand Cloud was improved dramatically with a cloud-friendly database. With all these improvements and reliability, user adoption of TrueCommand has increased significantly with an annual growth rate in excess of 140%. There were over 5,000 TrueCommand users in Q4 2021.
TrueCommand 2.1 builds on this foundation and adds user management and inventory management (also in TC 2.0.2) to the ever-growing list of capabilities. The primary goals of TrueCommand are to automate and simplify operations of one or more TrueNAS systems.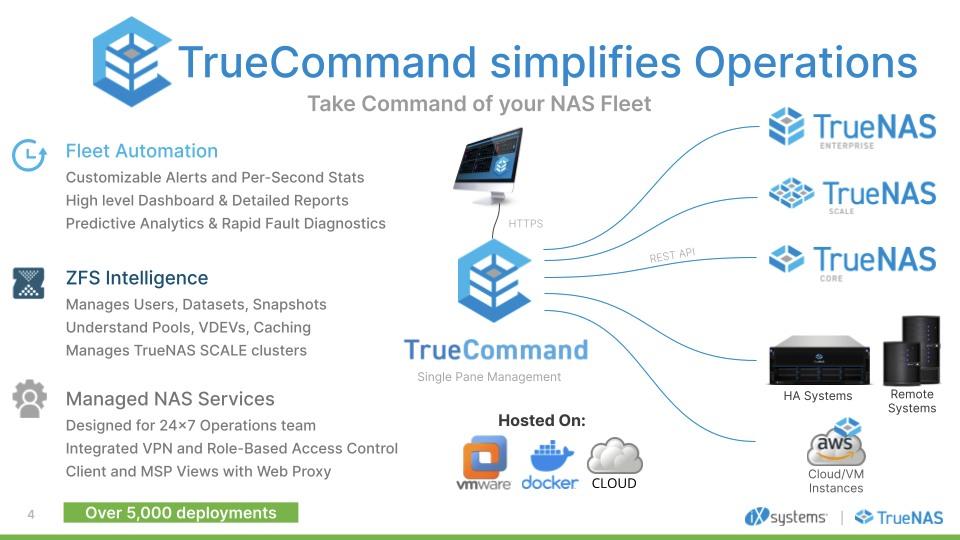 Overview of TrueCommand 2.1
The inventory management capability has been getting applause from TrueCommand users. It simplifies the management of valuable hardware assets, including systems and drives. Users can quickly check their whole fleet for specific drive models or generate inventory reports of all hardware deployed.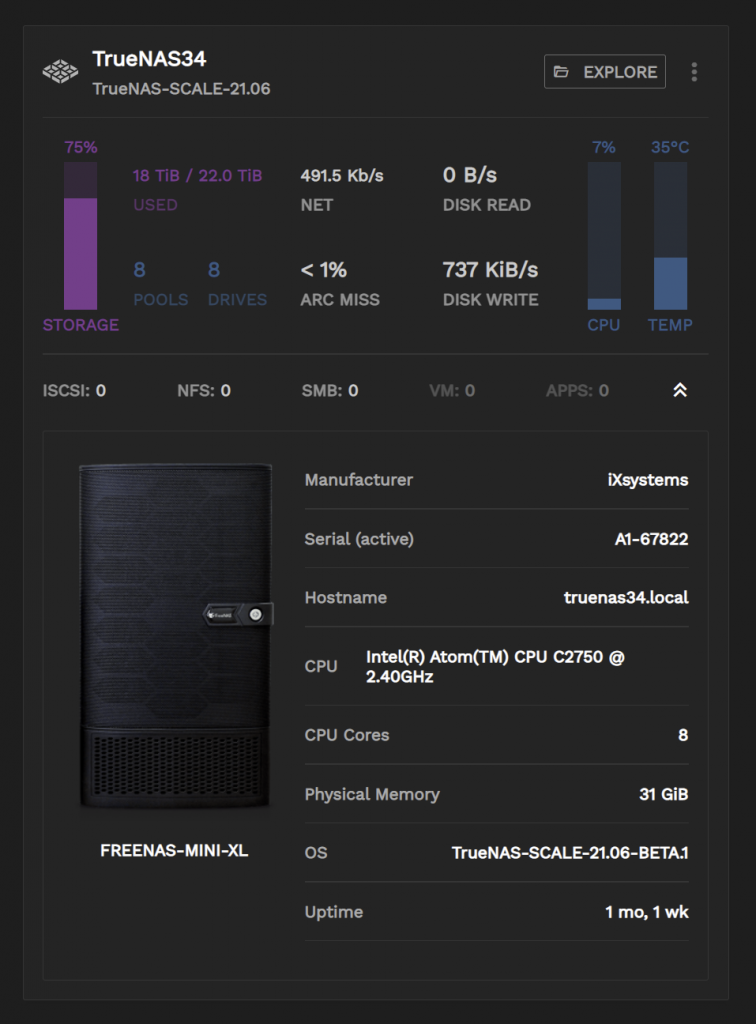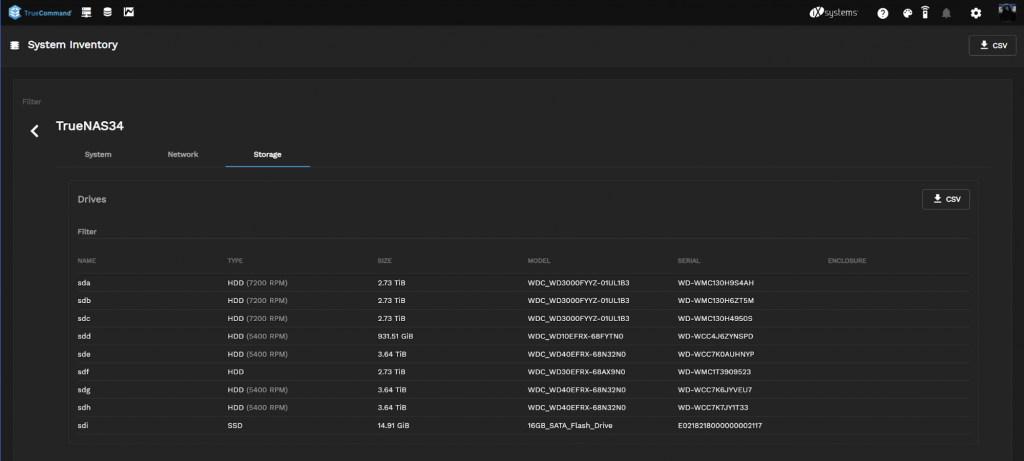 Inventory Management Screens in TrueCommand
Getting Started with TrueCommand
You can download TrueCommand for free. Deployments with fewer than 50 drives require no license and are free forever. Once TrueCommand is installed and you have its SystemID, a license key can enable more drives. The self-service portal simplifies the purchase of TrueCommand licenses for less than $2 per drive annually. The portal also provides free 60-day trial licenses. 
Important Note for Upgrading:

Updating to TrueCommand 2.1 from TrueCommand 2.0.x is available. Follow the documentation and all configuration and statistics will be preserved. Upgrading from TrueCommand 1.x must be done via TrueCommand 2.0.
We're looking forward to the community feedback on TrueCommand 2.1. Report any issues and suggest features via the community dashboard. For advice on installation and usage of the free version, please use the community forum.
TrueCommand Background
TrueCommand was launched in 2019 as a single pane of glass management system for TrueNAS fleets. TrueCommand is deployed as a Container, as a VM, or as a Cloud service (aka TrueCommand Cloud). Previous features of TrueCommand have been retained. Below is a list of the more important ones:
Smart Dashboard: Monitor the performance of many systems from one screen.
LDAP Integration: Authenticate and authorize users via AD or LDAP.
Single Sign-On: Securely administer each NAS via TrueCommand via a web proxy.
Role-Based Access Control (RBAC): Define systems a user can monitor or configure.
Predictive Analytics: Predict and alert on events like storage capacity shortages.
Powerful Alerts: Flexible notification services and multi-variable, customizable alerting.
Custom Reports: Design reports that suit your organization.
NAS Updates: Initiate and monitor updates to many NAS systems.
Configuration Backup & Restore: Recover from disasters more easily.
Configuration Audits: Logging of any configuration changes and who made them.
Scrub and Replication Monitoring: Quickly identify systems with background tasks.
Datasets Monitoring: See all the datasets, their sizes, snapshots, and replication tasks.
API Keys: Use the TrueNAS 12.0 API keys to keep your root passwords more secure.
Scalability: Simultaneous monitoring of over 500 TrueNAS systems.
Real-time Stats & Analysis: Efficiently collect, analyze, and visualize NAS data.
Storage Navigator: Create, manage, and delete datasets on many NAS units.
iSCSI Manager: Automate the creation of large numbers of LUNs.
System-Down Alerts: Distinguish between network events and system down events.
TrueNAS SCALE cluster UI: Create and manage the SCALE cluster from one screen.
VM or Docker: Run on VM or container infrastructure, including a laptop.
TrueCommand Cloud: Secure web-based SaaS for managing multiple sites/systems.
TrueCommand Cloud is a cloud service (SaaS) that is provided through the addition of WireGuard VPNs to TrueCommand. Administrators or MSPs can securely manage many TrueNAS systems at different sites through firewalls and NATs. TrueCommand Cloud is now available so please subscribe via the portal or contact us if you need this capability.