TrueCommand Gets Dockerized with v1.2 Release
TrueCommand 1.2 is now available as a VM or a Docker image and will soon be available as a cloud service. 
TrueCommand was launched in June 2019 as a single pane of glass management system for FreeNAS and TrueNAS fleets. Since then, it has been successfully adopted by approximately one thousand organizations to manage their NAS fleets. Until now, TrueCommand has generally been deployed as a VM.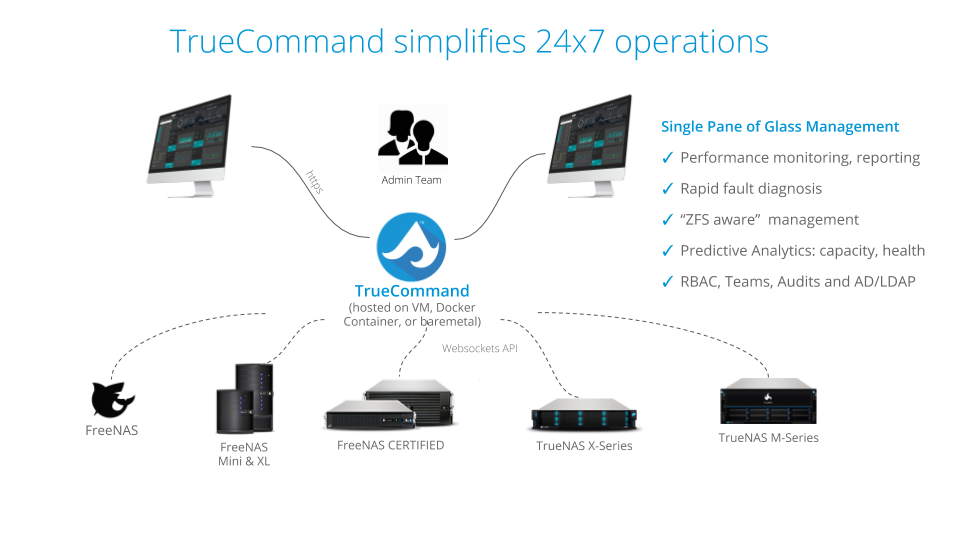 TrueCommand 1.1 was released in November 2019 and added significant enhancements for production users:
Scalability:

Simultaneous monitoring of over 500 FreeNAS or TrueNAS systems

LDAP Integration:

Authenticate and authorize users via AD or LDAP

Web Proxy:

Securely administer each NAS via TrueCommand with Single Sign-On

Improved Alerts:

Expanded notification services and multi-variable alerting

Custom Reports:

Design reports that suit your organization

NAS Updates:

Initiate and monitor updates to many NAS systems

Configuration Backup & Restore:

Recover from disasters more easily

Configuration Audits:

FreeNAS 11.3 API enables logging of any changes

Monitoring of other Systems:

Stats and alerts are collected via an API
TrueCommand 1.2 enables deployment through several other packaging options. TrueCommand has been "containerized" to run as a Docker container on any infrastructure. The image is available in the Docker Hub and can be automatically deployed by container management platforms like Kubernetes, RedHat OpenShift, and Rancher. A TrueCommand container can even run on a Mac or Windows machine. 
TrueCommand 1.2 VM is deployed as a Virtual Disk Image (VDI) that can be hosted on any modern hypervisor. Updating from TrueCommand 1.1 to 1.2 requires a one-time straightforward migration. The updated VM disk image software includes the TrueCommand container. Future updates will be simplified by the use of containers.

TrueCommand Cloud is based on the same TrueCommand container with the addition of WireGuard VPNs. This cloud service allows administrators or Managed Service Providers (MSPs) to securely manage many FreeNAS and TrueNAS systems that are not on a single site or VPN. There is no need to setup a reliable VM. The WireGuard capability enables communication through firewalls in a secure manner and provides remote management.
TrueCommand Cloud is currently in internal development within iXsystems Engineering. If you'd like an opportunity to be an early tester or adopter of this new platform, please contact us.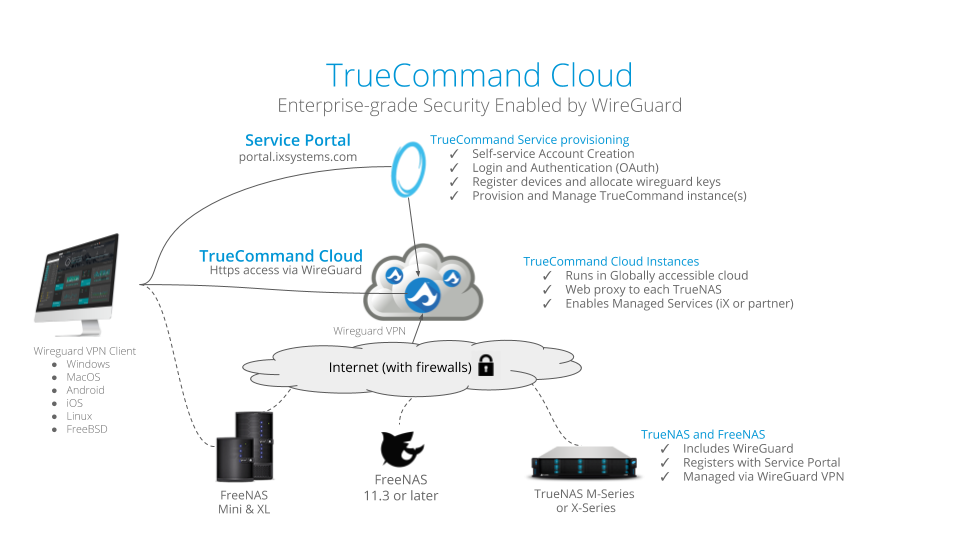 TrueCommand remains free for deployments with up to 50 drives. TrueCommand 1.2 simplifies smaller deployments by including the configuration save and restore feature, without the need for a license key. 
For larger deployments, a self-service Portal which simplifies the purchase of TrueCommand licenses is now available. TrueCommand licenses with email support are $199 per 100 drives, paid annually via a secure credit card billing system. The portal also can be used to request 90 day or other Trial licenses for TrueCommand as required. Request a trial license today to assess the benefits for your organization. 
The iXsystems Engineering Team is now working on future versions of TrueCommand with the ability to perform configuration tasks without directly configuring each FreeNAS and TrueNAS system. This will simplify the administration of distributed deployments of FreeNAS and TrueNAS. If you have specific needs along these lines, please suggest features.
We're looking forward to the community feedback on TrueCommand 1.2. Report any issues and suggest features via the community dashboard. For advice on installation and usage of the free version, please use the Community forum.
TrueCommand Screenshots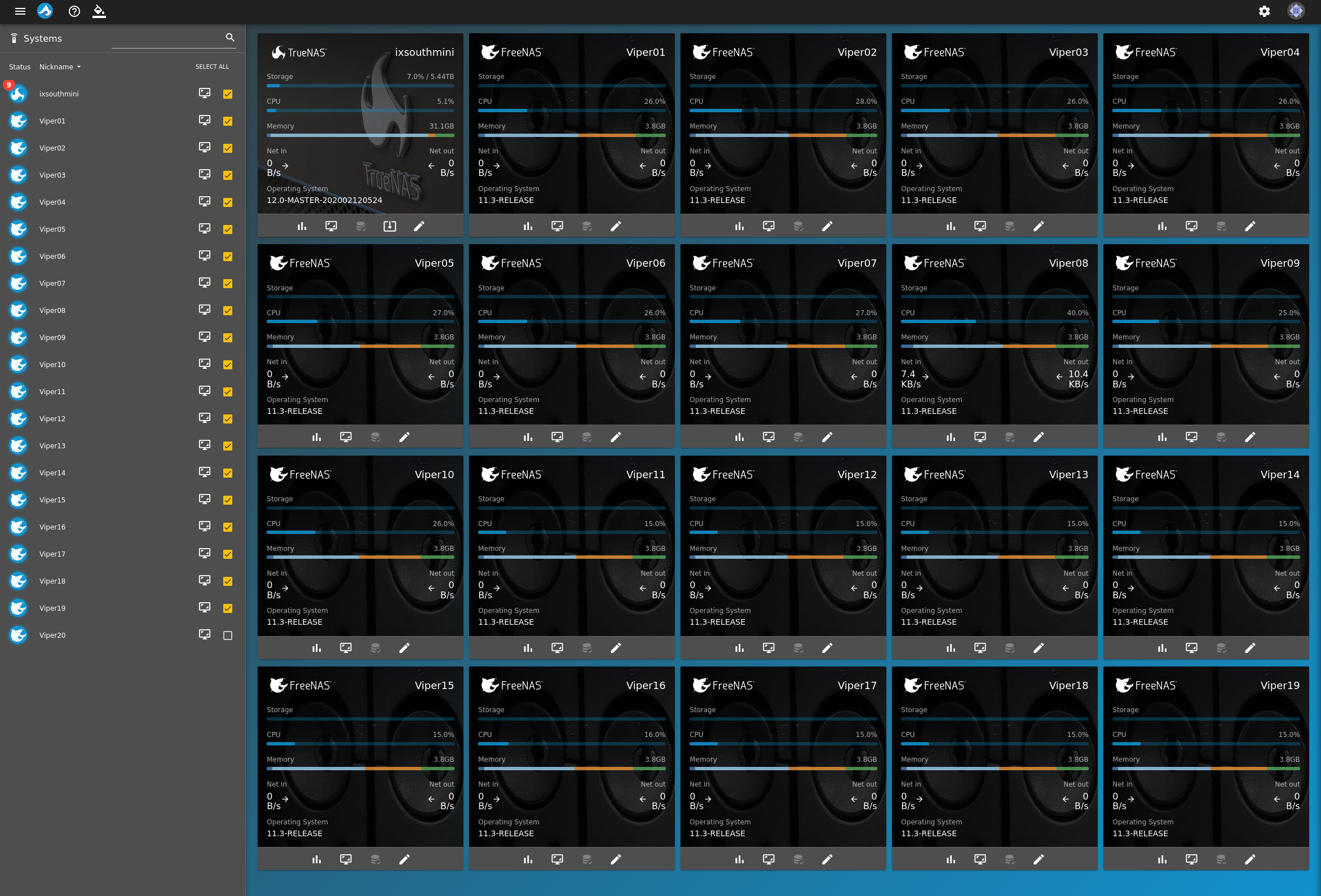 The dashboard provides instant access to high-level system status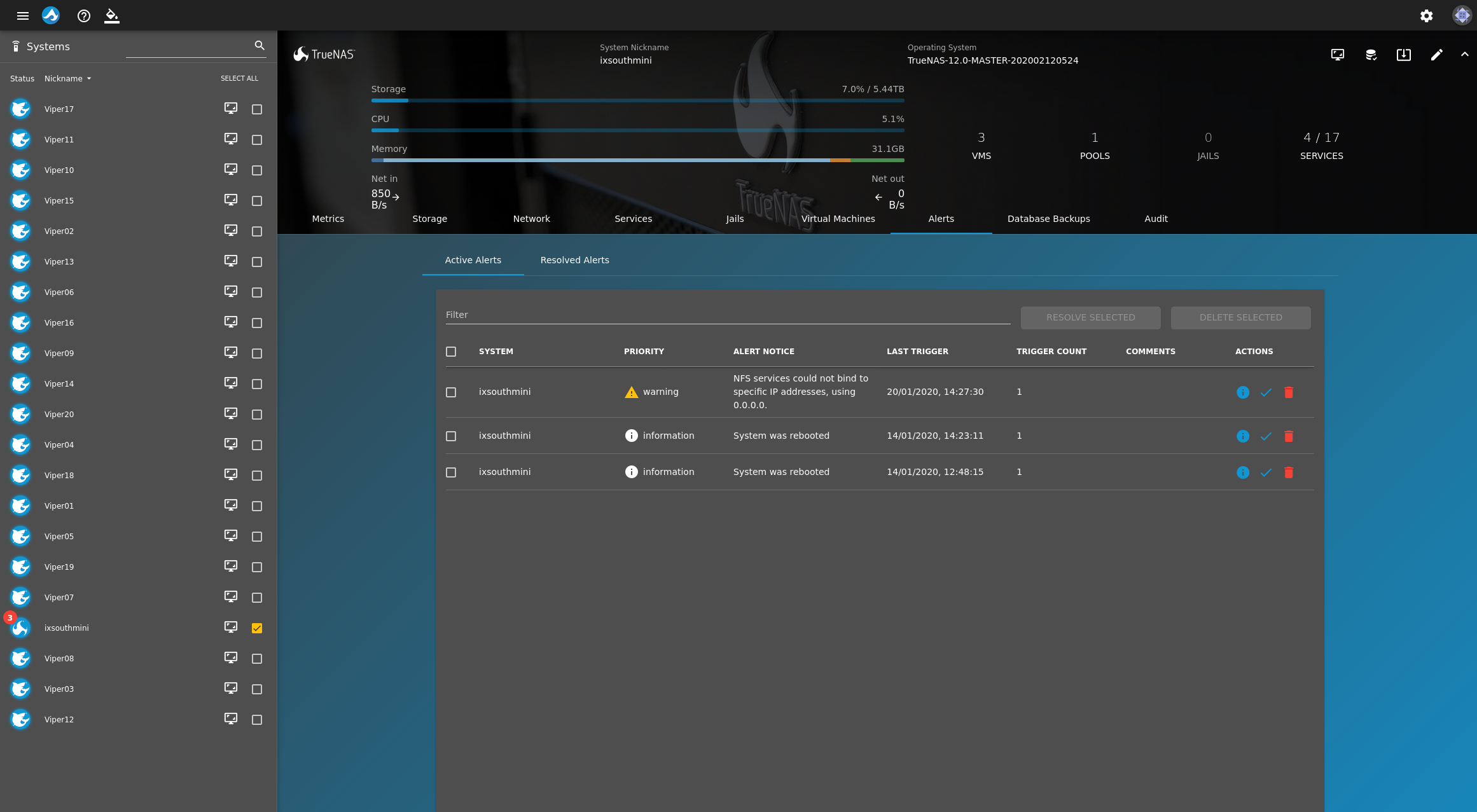 Alerts can be systematically managed across all FreeNAS and TrueNAS systems