Supercomputing 13 Recap
This past November, Thomas Pham, David Valencia, John Hixson, and Jeremy Quinn made the trek to Denver, CO for Supercomputing 13. The unanimous consensus was that the event was a great success! The team came back excited and full of stories to share.
The event saw the debut of our newest backdrop dedicated to FreeNAS. We thought about how best to spread awareness of the software when we decided, "Hey, why not free beer?" The booth was highly anticipated and we made sure to publicize this at the event. In the spirit of Open Source, we changed the booth from the more closed arrangements we had in previous years and opened up the floor so more people could access and enter our area. This was a great decision on our part because we had almost non-stop traffic the entire event.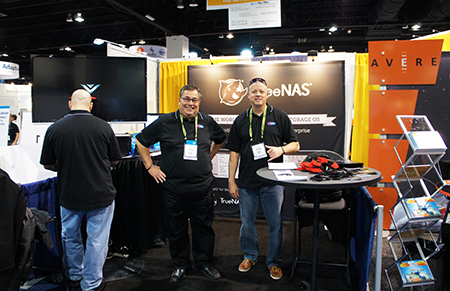 Our booth was very popular, partly because so many people were already familiar with and using FreeNAS and also because of the general atmosphere. It was a very low-pressure, relaxed and inviting atmosphere. Many people were already using the software and the team saw it as a perfect opportunity to spread awareness of FreeNAS's new features and capabilities.
On Tuesday and Wednesday, the free beer came out. It proved immensely popular and soon attendees crowded over at our booth for some Blue Moon. As the afternoon wore on, iX and FreeNAS co-branded cups littered the conference floor, a testament to the great time that was had by all. The combination of free beer and open booth space were huge contributing factors to our success. I think Thomas said it best, "FreeNAS, FreeBeer, FreeYourself!"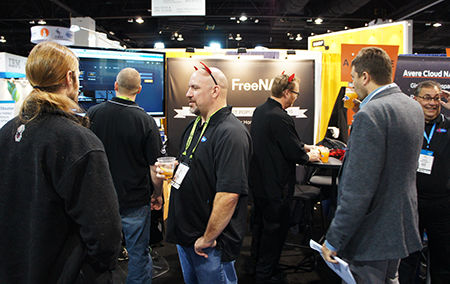 We sent a ton of schwag to this show: FreeNAS bottle openers, FreeNAS wristbands, installation CDs, and of course, our iconic FreeBSD horns. The conference hall lit up with red blinking lights and lucky attendees were also offered a special coupon that gave them a special event discount towards a future system purchase.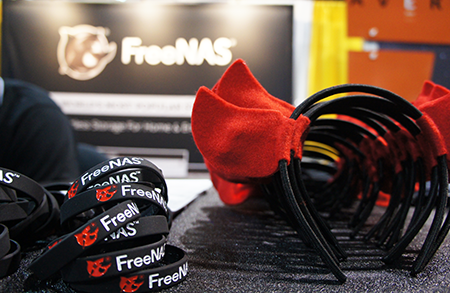 Many of our partners made an appearance at the show including Intel, Hitachi, and Super Micro. On the third night at the Intel/IBM party, the lead singer of the band that was playing even wore our horns!
Once the show was over and the team got back, it was down to business and everyone's already buzzing with ideas to make next year's Supercomputing even better.
Supercomputing was a great place to show off FreeNAS and we loved that it was so well received. The free beer helped too, of course. A big thanks to the entire team for their thoughts and help with the last tradeshow of 2013. We'll see you next February for SCaLE 12x!
Annie Zhang
Marketing Assistant