The ninth annual OpenZFS Developer Summit took place November 8th and 9th online with iXsystems proudly returning as a Gold sponsor. The OpenZFS community remains vibrant and is continuing to develop features at a rapid pace. This blog summarizes some of the more interesting talks.
Matt Ahrens provided his annual "State of OpenZFS" recap of the progress made in OpenZFS since the 2020 Developer Summit, including the OpenZFS 2.0 release with the breakthrough features like the persistent L2ARC, sequential resilvering, Zstandard compression, and countless performance improvements. These OpenZFS 2.0 features are integrated into TrueNAS CORE and SCALE. 
The TrueNAS Team contributed many performance improvements as well as the major task of ensuring FreeBSD and Linux share a compatible, well-supported common code base. Alexander Motin (iXsystems) gave an eye-opening talk at the November FreeBSD Vendor Summit in which he provided additional detail about the performance and reliability improvements the TrueNAS Team has been steadily adding.
OpenZFS 2.1 included more performance improvements and dRAID (distributed RAID). TrueNAS SCALE 22.02 and TrueNAS 13.0 use OpenZFS 2.1.1, with official releases expected in the first half of next year. dRAID pools can be created via the CLI, but requires more development and testing before enabling via the TrueNAS API and WebUI. 
The upcoming OpenZFS 3.0 release roadmap was introduced along with its exciting candidate features including RAIDZ expansion, OpenZFS on S3 Object Storage, plus enhanced macOS and Windows support. The capabilities provide some terrific opportunities for future TrueNAS editions in 2023 and beyond.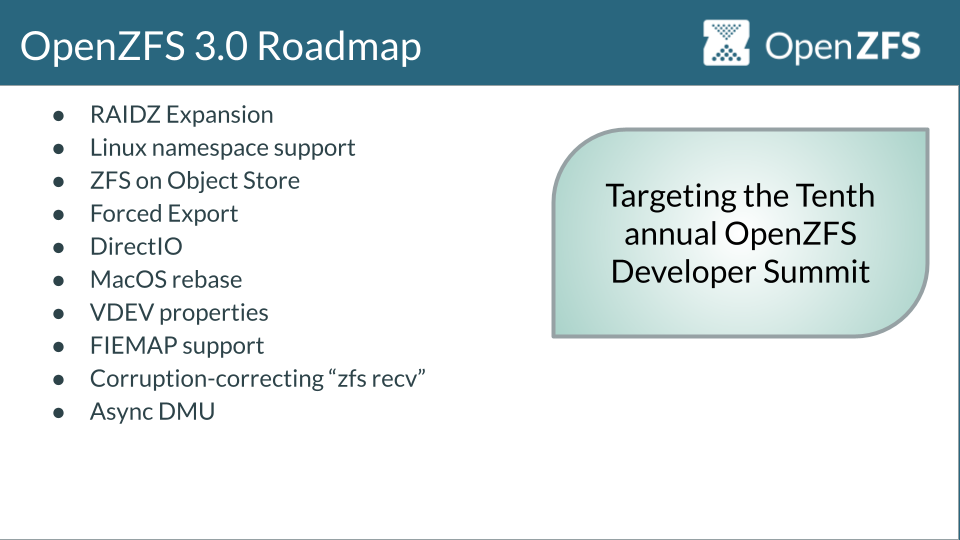 DirectIO for ZFS provides an unbuffered write path for high-performance flash-based systems by bypassing the adaptive read cache (ARC). Up to a 3X improvement in write, performance was reported with write-mostly workloads that do not heavily leverage the ARC. DirectIO behavior is controlled by the "direct" dataset property with the options being standard, always, and disabled, inspired by the "sync" property.
A New ZIL That Keeps Up With Persistent Memory Latency described another proposal for optimizing the ZFS Intent Log for use with persistent memory NVDIMM devices like those used in the TrueNAS M-Series. The New ZIL or DirectIO could increase write performance for all TrueNAS editions.
ZFS on Object Storage is a new vdev type and agent that maps to S3-API storage for cloud-backed OpenZFS. There was also a talk on ZettaCache: fast access to slow storage, a caching mechanism designed to work with ZFS on Object Storage. These capabilities could greatly enhance TrueNAS hybrid cloud options. 
VDEV Properties give VDEVs detailed reporting and configuration properties similar to those available with datasets. These tools would be very useful for larger TrueNAS systems with multiple generations of storage devices. 
Improving ZFS send/recv centered on using controlled prefetching for higher send/receive performance. As datasets keep growing, TrueNAS users are always looking for increased replication performance.
ZFS performance on Windows described recent performance improvements in the OpenZFS on Windows project which is receiving usability refinements such as integration with the Windows Performance Monitor. This work brings Windows one step closer to being a first-class OpenZFS platform. With this, windows servers would be able to natively replicate data directly with TrueNAS, as well as make OpenZFS a more universal filesystem across traditional operating system boundaries with TrueNAS CORE and SCALE.
The second day of the OpenZFS Developer Summit was dedicated to hackathon projects and one that stood out was the Block Reference Table (BRT) work which will enable file-level cloning, rather than only dataset-level and ZVOL-level cloning. This work would enable TrueNAS to clone virtual machine disk images or large video files, without depending on an enclosing dataset. 
The smaller usability improvements in conjunction with major new features demonstrate the true maturity of OpenZFS and the dedication of its development community to moving forward in unison. iXsystems and the TrueNAS development team are committed to continuing our integral role in the OpenZFS community. We look forward to the OpenZFS 3.0 release and the 2022 Developer Summit!