iXsystems is unique in many ways, one of them being that we are a bootstrapped company. In short, it means that before we spend a dollar on anything, we must first earn that dollar. Without VCs or Wall Street zapping our energy, it allows us to focus solely on what matters: making users and customers successful.
In addition to other metrics we measure ourselves against, we pay very close attention to our "Net Promoter Score" (NPS) from our TrueNAS Enterprise customers.  Over the past four quarters, they have rated iXsystems with a NPS of 77.5, with a 80.8 in Q3 of this year.  We take tremendous pride in the fact that these scores put us among only the truly elite providers in our industry.
The Net Promoter Score is the world's most-used metric for measuring customer loyalty and their likelihood of recommending a product or service to a colleague. At iX, we provide customers with a NPS survey after they've experienced an issue that required an interaction with our Support Staff.  We think this is a critical juncture in the customer relationship.  Why?  Well, as anyone who manages IT infrastructure knows, encountering technology issues is part of daily life. It's typically not a matter of 'if' you'll have an issue, but 'when'; and, at iXsystems, we believe the true measure of a company is how they respond when things don't go as planned.  So, we select the point after which an issue is resolved to ask customers about that experience.
All iXians take uncommon pride in delivering a world-class service experience, and take satisfaction in having earned an NPS score that has consistently improved and today is among the very highest in our marketplace. An industry-leading score of 80.8 is particularly noteworthy given that the technology industry's average score hovers around 60. In this context, any score above 50 is regarded as excellent.
How NPS is Calculated
After a technical support or service case is reported and ultimately resolved, each customer is asked to submit a quick survey rating on how likely they are to recommend TrueNAS on a 0-10 scale, with 0 being least likely to recommend and 10 being the most. Scores of 9 and 10 fall into the positive category, while those from 7 to 8 are considered neutral. Negative scores encompass the range from 0 to 6.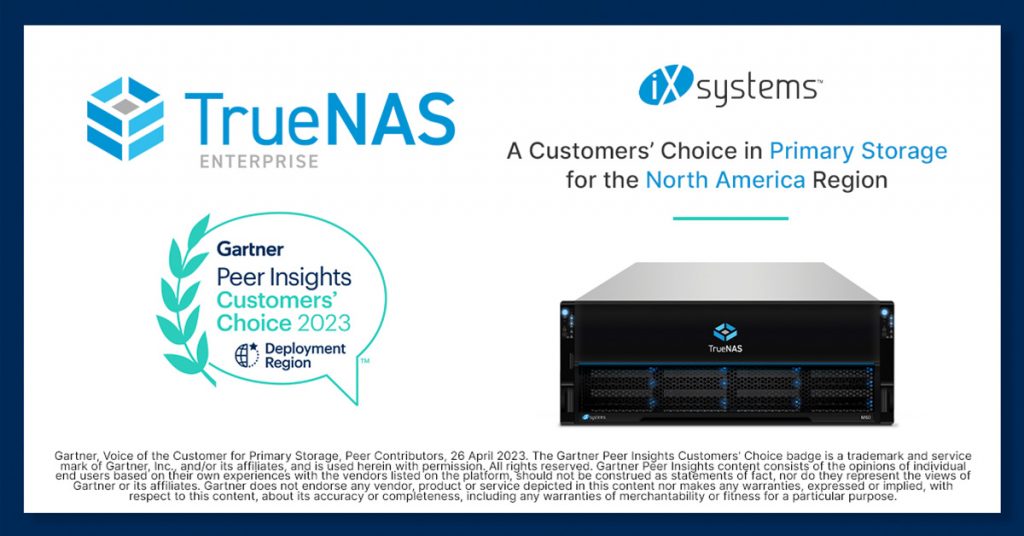 The percentage of negative scores is then subtracted from the percentage of positive scores to come up with the NPS rating.  It's worth emphasizing that the total scores can range from -100 to 100, with 100 representing a perfect score..
Customer experience can also be measured through verified customer reviews. TrueNAS Enterprise was named a North America Customers' Choice for Primary Storage in Gartner Peer Insights™ Voice of the Customer Report, based on overall ratings reaching 4.9 of 5 stars, again a score that has consistently improved and today is among the highest in the data storage market.
According to one customer review, "I've been a customer of iXsystems and TrueNAS products for over 8 years and two companies. Everything from their sales team to their implementation and support teams are top notch individuals. I highly recommend them to other colleagues as well when they are looking for a reliable, lower cost storage platform with all the major bells and whistles of the larger players."
One of our guiding principles at iXsystems is our core value of the "pursuit of kaizen", or continuous tiny improvements daily add up to massive improvements over time. Like the verified ratings and reviews on Gartner Peer Insights, NPS scores are evidence that the company's focus and effort toward pursuing kaizen have proven successful. It not only allows us to stay ahead of the curve but also empowers us to proactively address our customers' needs and preferences, ensuring their continued success and satisfaction.
TrueNAS: Shining Bright with Your Support
TrueNAS also continues to receive amazing reviews from users. One example is TrustRadius, where TrueNAS is rated 4.7 out of 5 and was awarded "top rated" for the entire Network Attached Storage category. It's all thanks to the support and feedback from across the entire TrueNAS Community. Community engagement enhances the overall experience of TrueNAS Enterprise, and it works both ways. Share your own experiences with TrueNAS on any of the community review platforms featured on the TrueNAS website.
If you have found TrueNAS to be a valuable solution for your storage and data management needs, consider sharing the TrueNAS SCALE Evaluation Guide with your friends and colleagues. No sales pitch here. Our mission is to spread the benefits of open source infrastructure and true data freedom.