MEGACORE: FreeBSD Foundation and iXsystems collaborate to further the cause of FreeBSD Development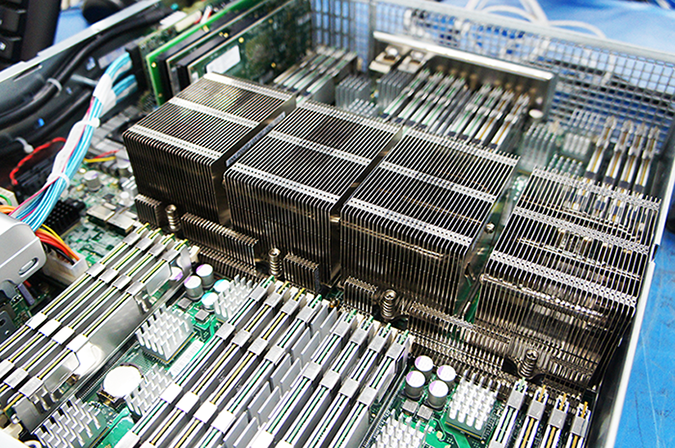 Never seen anything like this before? This is what one terabyte of RAM and 80 logical CPU cores looks like!
For the curious, here are the specs of this monster:
Quad Socket System with Dual 10GbE Network
Powered by 4 x Intel Xeon 10-Core E7-4850 with Hyper-Threading
1 TB of RAM (32 x 32GB) 1333Mhz ECC Registered DIMMS
Populated with 6 x Samsung 512GB 840 Pro SSD in a RAID 10
Redundant 1400W Power Supply (Gold Level – 90% – Efficiency)
What makes this monster server (code-named MEGACORE) interesting isn't its scale (it's a fairly common server we build) but rather its purpose. It was recently built by iXsystems for the FreeBSD Foundation, and will be used to test and push FreeBSD to its limits. The FreeBSD Foundation plans on making it available to FreeBSD's developers and committers for the purposes of addressing SMP, memory, and general performance scalability. It will be the most powerful machine in the Project's possession to date.
iXsystems and the FreeBSD Foundation would like to thank the thousands of people and organizations who donate to FreeBSD every year for making this and so much more possible. Building and providing hardware like this for the FreeBSD Foundation at zero profit is one of several ways iXsystems contributes to the FreeBSD Project. iXsystems is also proud to support the Project by employing FreeBSD core committers, sponsoring FreeBSD development efforts, sending staff to FreeBSD/open source-centric tradeshows and conferences all around the world, and by donating a portion of its proceeds to the FreeBSD Foundation on an annual basis.
Join us and the likes of What'sApp, Netflix, and Netapp, and help keep FreeBSD going strong with a donation at https://www.freebsdfoundation.org/donate today!