The RELEASE of TrueNAS 13.0 is here! As the successor to TrueNAS 12.0-U8, TrueNAS 13.0 has all the same services and middleware of TrueNAS 12.0 with enhancements to security, availability, quality, and performance. Notable areas of improvement on TrueNAS 13.0 include OpenZFS 2.1, FreeBSD 13.0, Samba 4.15, and more. 
Learn more in the TrueNAS 13.0 RELEASE blog
TrueNAS 13.0 Q&A Livestream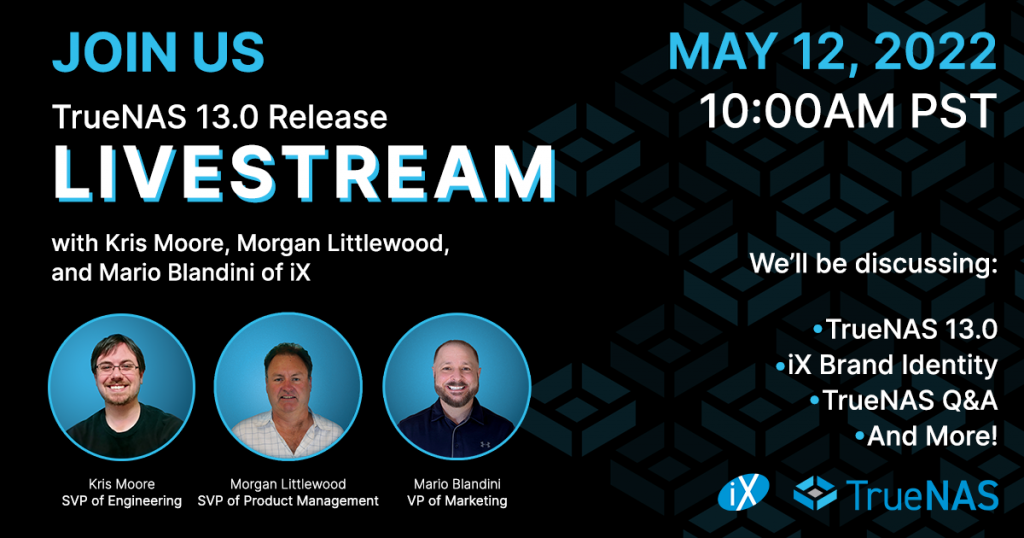 Watch iX experts Kris Moore and Morgan Littlewood as Mario Blandini hosts a community Livestream Q&A on TrueNAS 13.0 and its improvements. Click here to view the VOD.
First Major Update to TrueNAS SCALE 22.02.1 Improves Quality and Reliability
TrueNAS SCALE "Angelfish" has reached its first major update (22.02.1) and includes over 270 bug fixes and improvements. Tested across 16,000 user environments, this update is a step up in enhancing quality and reliability. The growth of TrueNAS SCALE has been extraordinary with over 100% system count growth per quarter since the start of the BETA process. We are excited to see widespread adoption by experienced Linux admins and look forward to working with more users and contributors. 
Learn more in the TrueNAS 22.02.1 blog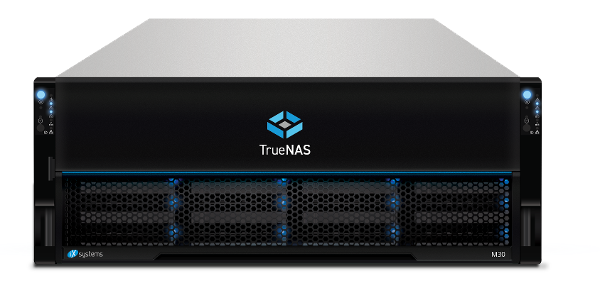 Exclusive Offer for TrueNAS Users & Customers: High Availability Storage at a Great Price
Don't let the "lead time blues" get you down. iX has models across the TrueNAS portfolio in stock! For a limited time, we are offering a special price on our TrueNAS M30-HA starting with 64 GB RAM and 396 TB of capacity. With room for optional cache SSDs, the M30-HA is designed so you can upgrade to a higher-capacity M40, M50, or M60 as you grow. 
396TB * $100/TB = $39,600. Don't miss out on this special price! This exclusive $100/TB offer is only available through June 24, 2022.
https://www.truenas.com/2022-q2-m30/
TrueNAS CORE: Configuring Shares, Permissions, Snapshots, and Shadow Copies
Lawrence Systems shows you how to start using powerful features like snapshots and shadow copies in TrueNAS CORE, as well as tips on configuring shares and permissions to better organize and manage data.
16 SSDs IN 1U! All-Flash TrueNAS Enterprise R10 Review!
In their first All-Flash review, 2GuysTek prepared this 6-minute installment, looking at how the R10 makes for an affordable option for users seeking the higher IOPS of an all-flash array. Watch as they dig into the hardware details of the system.
Latest Releases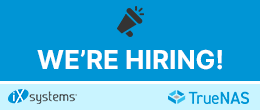 Become an iXian!
Check out our careers page for our latest postings and share them with anyone who loves Open Source.
TrueNAS Community Store
Know someone who loves TrueNAS? Maybe that someone is you. Check out our TrueNAS Community Store and show off your TrueNAS pride!
Tech Tip #110
TrueNAS SCALE can be installed on physical machines and on all virtual machine solutions (VMware, VirtualBox, Citrix Hypervisor, etc) because it is built and provided as an iso file.

Learn more about installing SCALE
Links of the Month