iXsystems Turns to a Channel-First Approach to Meet Demand for Its TrueNAS and FreeNAS Enterprise Storage Products
Channel Partners Key to Reaching Global Enterprise Data Storage Customers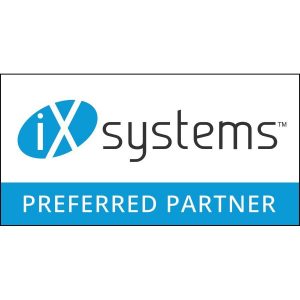 SAN JOSE, CA–(Marketwired – October 11, 2016) – iXsystems, the industry leader in Enterprise Storage and Servers powered by Open Source, today announced that it plans to implement a 100% channel and partner sales model for all its rack-based storage products. For over 20 years, iXsystems has used a hybrid direct and channel sales model to build a worldwide brand and user base for its rack-based product lines. To meet increasing demand for its award-winning TrueNAS Enterprise Storage, iXsystems is launching the iXsystems Partner Program (iXPP) and is moving to a channel-only sales model for TrueNAS and FreeNAS storage arrays, while continuing to offer its server product line through its existing hybrid direct and channel sales model.
The iXPP enables partners to enhance their portfolio and bottom line by partnering with the leader in Open-Source-powered solutions. The iXPP gives partners access to the following tools, benefits, and perks:
Pre-Sales Engineering: Access to iXsystems Solutions Architects and Sales Engineers to help determine your customer's full requirements.
Joint Sales Calls: Leverage our Channel Sales Team's knowledge, expertise, and experience for a higher closing percentage.
Deal Registration: Register your Sales Opportunities and protect against open bidding while gaining higher margins.
Sales Leads: Take advantage of Sales Leads generated by iXsystems' Marketing efforts.
Sales Training: Let the experts at iXsystems train your Sales Teams. Get a leg up on the competition and win more deals.
Marketing: Use our library of Case Studies, Product Briefs, White Papers, and Videos to help drive awareness and product knowledge. You may be asked to join iXsystems at Trade Shows, Conferences and participate during Webinars, and other lead generation activities.
Product Training: The iXPP Product Training helps Partners take their product knowledge to the next level.
Access: Partners offer the enterprise-grade TrueNAS storage arrays and FreeNAS Certified products to their customers. iXPP Partners can also offer a hands-on 30-day trial of these products that includes involvement with our Engineering and Tech Support Departments during the trial period.
The iXPP enables Channel Partners to increase their bottom line by providing current and prospective customers with a TrueNAS enterprise-grade storage array that industry analysts say is the best value of any enterprise storage array available.
"iXsystems' TrueNAS Z35 stands out in this Buyer's Guide as the best value in iSCSI SAN utility storage arrays. It offers the lowest cost per TB ($142/TB) and the highest density (110 TB/RU) of any Recommended array. It further enhances that density through deduplication and compression-the only Recommended array to do so. The TrueNAS provides both data efficiency features in-line, powered by 32 processor cores and 256GB of DRAM cache. TrueNAS is also the only Recommended array that implements all five of the flash-based caching options that DCIG measured, including write journaling, block I/O acceleration and NAS acceleration," said Ken Clipperton, DCIG Managing Analyst, in the DCIG iSCSI SAN Utility Storage Array Buyer's Guide.
iXsystems Channel Partners include some of the world's largest distributors as well as hundreds of resellers focusing on specific vertical markets, such as manufacturing, hosting, and healthcare. Many have years of experience solving complex computing and storage issues, and are a trusted advisor to their clients. The iXPP enables Channel Partners to increase their bottom line by providing current and prospective customers with a TrueNAS enterprise-grade storage array.
"iXsystems is committed to our customers and to growing our partner relationships. Working together is crucial in capturing enterprise storage opportunities," said David Valencia, iXsystems' Channel Sales Manager. "Driving this is TrueNAS, our incredibly flexible, reliable, secure, and affordable Enterprise Storage platform, that is ideal for solving many of the challenges faced by IT organizations. We help partners sell more enterprise storage by accelerating the adoption and integration of TrueNAS into larger and more complex environments worldwide, which reduces a client's need for additional IT resources."
iXsystems is actively recruiting additional VARs and Resellers looking to enhance their portfolio and bottom line by partnering with iXsystems. Partners and VARs can go to www.iXsystems.com/reseller-network/ to view reseller information, or can contact David Valencia via email: david@ixsystems.com or via phone: (408) 943-4100 x135 to learn more about enjoying the benefits of a partnership with iXsystems.