Globally Distributed Storage (GDS) is a Web3 decentralized storage capability where each piece of data is stored redundantly across many globally distributed storage nodes. In the event of a failure, whether an individual node or even an entire geographic region, no underlying data is lost, and access to that data is not interrupted. The durability of data stored in GDS is also higher than single-region AWS S3 and other cloud solutions that store data redundantly across data centers, while also providing faster access to data and completely secure, trustless ownership.  
Founded in 2014, Storj is a pioneer and innovator in Web3 storage. They are the leading provider of enterprise-grade globally distributed cloud object storage, and iX has selected them as the TrueNAS partner for GDS. The service, known as iX-Storj, is now available and integrated into TrueNAS SCALE. The first release of TrueNAS with iX-Storj is TrueNAS SCALE Bluefin BETA. iX-Storj will be available in forthcoming releases for TrueNAS SCALE Angelfish 22.02.4, as well as TrueNAS 13.0-U3 for CORE and Enterprise users.
OpenZFS + GDS  for Redundancy, Backup, and Disaster Recovery
OpenZFS (ZFS) is the technology used by TrueNAS to provide highly reliable data storage across pools of drives within a single storage system. ZFS has legendary resilience and even portability for single systems. However, any one facility or region is vulnerable to risks of fire, flood, earthquakes, or major operator errors. Data must be backed up to another site to be reliably stored. Data professionals also recommend a third site for added durability.
GDS provides another option for 2nd or 3rd locations for data, particularly for organizations that do not operate multiple sites. Fundamentally, this GDS solution has the multi-region capability and reliability to be the 2nd and 3rd copies of data. It is the ideal complement to a ZFS-based storage system that provides high-performance and reliable storage within a data center, office, or home.
Like ZFS, the iX-Storj service is inherently secure with CloudSync 256-bit encryption for both data-at-rest and data-in-flight. Most importantly, the keys are controlled by the TrueNAS administrator. Unlike many cloud storage services, neither iX nor Storj can access user data without those security keys.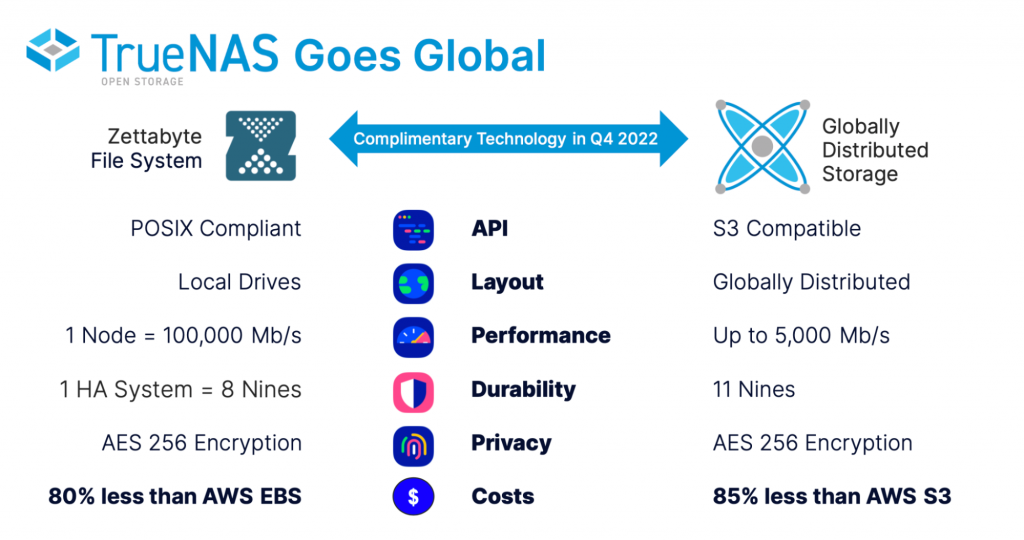 GDS adds compelling Capabilities to TrueNAS
TrueNAS systems can now act as either the client that uses the iX-Storj service or "Storj Nodes" that provide storage to GDS. The same TrueNAS storage system can even do both, storing data for other systems while also protecting its own data with the iX-Storj service.
Users can quickly and easily sign-up for the iX-Storj service with a free account via their browser, submit their payment info, get their license key, and add it to TrueNAS where it can then be enabled via Cloud Sync. With a Pro account, the first 150 GB of storage and bandwidth are free, and only $4/TB for storage and $7/TB for bandwidth thereafter*. GDS with iX-Storj is a simple Storage-as-a-Service.
Additionally, TrueNAS users can even recuperate some of the costs of using the service by configuring their TrueNAS systems as "Storj Nodes" and allocating unused storage capacity to participate as a provider to the Storj network.
There are many use cases for the iX-Storj service. One example would be syncing a dataset on a local TrueNAS automatically iX-Storj in the background. This will provide 11 nines durability and a high-performance S3 recovery option, while also providing disaster recovery to another site.
Key benefits of iX-Storj over AWS S3
A Fraction of the Cost

– The iX-Storj service is identical to the standard Storj service at $4 per TB per month*. This compares with single-region AWS S3 at $25 per TB per month. Bandwidth (egress) prices for iX-Storj are $7/TB* compared with AWS at $90/TB. 80% lower in price, or for the same price, store 5X the data with iX-Storj with the added value of multi-region durability.

Double the Bandwidth

– The iX-Storj services leverages the aggregated bandwidth capabilities of globally distributed storage. Read and Write bandwidth of GigaBytes per second is possible from a well-connected data center. Performance is typically more than double that of AWS S3, which enables much faster restoration of data.

11 Nines of Durability

– This level of data protection equates to the probability of data being retained for a year at 99.999999999%. To put it in context, if storing a Petabyte of data, one object might be lost every 1,000 years. This is extremely high in durability and suitable for both backup and long-term archive applications, much like AWS S3. If the data is also stored on a TrueNAS system, the durability is orders of magnitude higher than single-region AWS S3.
Ahead of TrueNAS 13.0-U3 and SCALE 22.02.4, users eager to test and evaluate the iX-Storj service are encouraged to do so, following these easy steps: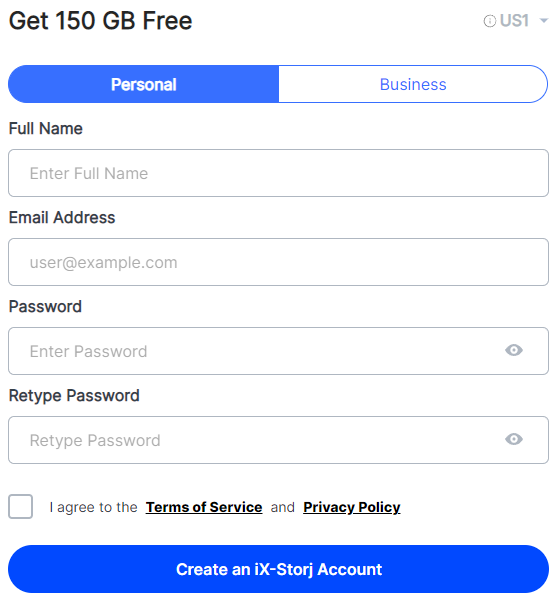 Download TrueNAS (CORE 13.0-U3 or SCALE 22.02.4)

Install and Configure your NAS 

Create an iX-Storj account (

https://ix.storj.io

)

Create a bucket and keys

Upload Keys to

TrueNAS Credentials Page

Create a

Cloud Sync task

using the new iX_Storj credentials 
The first 150 GB of storage is free and can be used for testing, as well as backup for key documents and files. Users can consider storing more data for an affordable monthly cost.
What's Next?
This is the first step in the iX-Storj partnership. We look forward to updating TrueNAS users and customers once GDS is ready to be evaluated on additional TrueNAS Editions.
There are many more exciting opportunities to partner and collaborate, to simplify major data management tasks. For example, TrueNAS snapshot tasks could be automatically enabled on NFS, SMB, iSCSI, or S3 datasets with replication to the iX-Storj service.
We hope you are as excited about the possibilities as we are. For more information on TrueNAS or the iX-Storj Globally Distributed Storage, please contact iX.
* – Pro Accounts: Additional per-segment fee of $0.0000088 applies. A segment is a file or a 64 MB segment of a larger file. This "metadata" fee equates to 14c per TB for larger files
We also recently took part in a Q&A Livestream with Storj CEO, Ben Golub,  where our communities asked us questions about what is to come from the partnership. There is a Thread in the Storj Sub-Forum where you can ask more questions that you may have!