Compelling new NVMe and virtualization platforms now available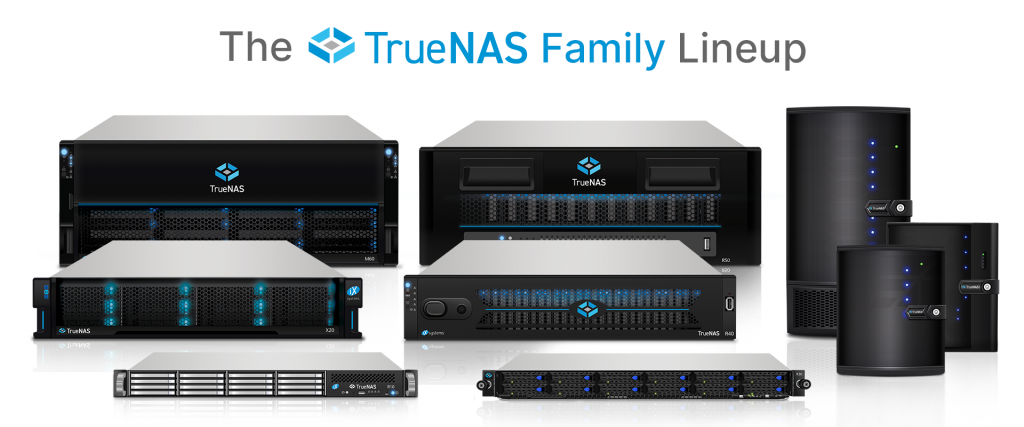 TrueNAS appliances deliver unified storage and Apps in a pre-configured system with technical support services from iX. These appliances offer additional software capabilities such as high availability (HA), enclosure management, advanced security, and automated support. TrueNAS appliances have earned exceptional ratings among customers from businesses of all sizes, and are an ideal choice for anyone needing a well-supported and trouble-free environment.
The TrueNAS M-Series is the flagship HA system. It scales from 100TB to over 20PB in a single system and rack. The TrueNAS X-Series provides HA storage and is a small, quiet, and low power 2U system. The TrueNAS R-Series and Minis are non-HA systems for a wide range of use cases. Today iX has announced the addition of two new platforms to the TrueNAS appliance family.
TrueNAS R30 Delivers 30GB/s in 1U with NVMe Storage
TrueNAS R30 is designed for extreme performance density with 16 NVMe drives in a compact 1U chassis. Typically configured with 32 Cores, 256GB of RAM, and up to 240TB of NVMe Flash, this system is ideal for the most demanding analytics and video editing workloads.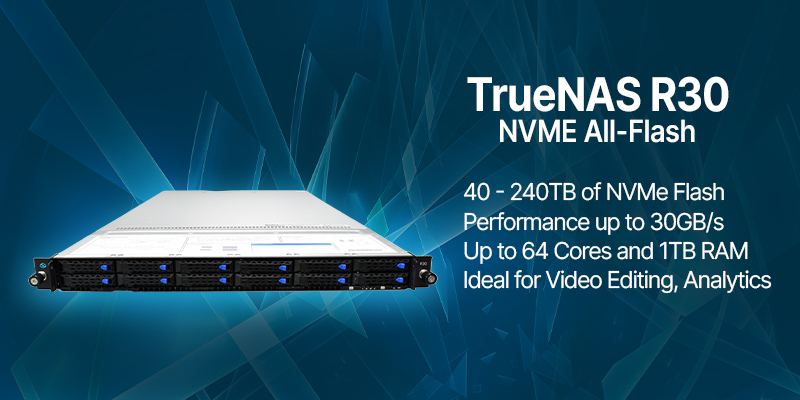 With 16 NVMe Gen4 SSDs per system and 2 dual-port 100GbE NICs, each node is capable of over 30GB/s bandwidth in a 1U 800W envelope. When configured in clusters, the R30 will provide extreme rack-level bandwidths for cluster file and object workloads.
The TrueNAS R30 is enabled by TrueNAS SCALE "Bluefin" which is now generally available. TrueNAS SCALE Bluefin provides improved clustering, better App support, and a well-proven ZFS implementation that delivers performance and reliability.
AX-1212 Virtualization Server simplifies VMware TrueNAS Deployments
AX-1212-64C is a 64 Core 1U server designed for virtualization and is certified for VMware. Typically configured with 512GB of RAM and 8 x 25 GbE ports, these servers deliver lower cost per vCPU and high bandwidth per VM.
These AMD Milan servers can be bundled with TrueNAS M-Series storage to support a turnkey virtualization environment with high density and power efficiency. These virtualization bundles are supported by iX and deliver significant savings with much simpler operations, including VAAI support and a vCenter plugin.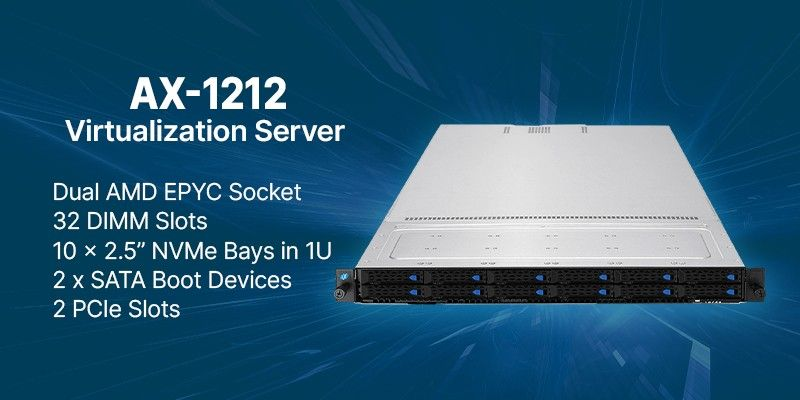 Small virtualization solutions with 4 servers and M-Series storage are available at less than $100K and support up to 500 VMs.
Announced earlier in October, the TrueNAS R50 (Gen 3) is a 4U system with 48 HDD bays and 4 NVMe drives. It has a modular controller that can be swapped and upgraded without taking the full system out of the rack. It is ideally suited to high-capacity clusters where each node can be easily serviced and upgraded without moving data. A single R50 can now support up to 1PB of capacity and 2 x 100 GbE ports.
All of these products are available immediately. For more information on these new TrueNAS appliances or our other products, please contact iX.