As TrueNAS continues to grow and evolve, new users are finding and trying TrueNAS for the first time. These users often seek independent user reviews as their primary source for information. The better and more comprehensive the reviews, the more confidence these users have in trying TrueNAS, which is the first step in joining the TrueNAS Community and the Open Storage Era.
In July, we asked the TrueNAS Community to share their experiences in online reviews, offering awesome prizes to make it fun. Western Digital pitched in with five 14 TB Western Digital WD Red Plus NAS Drives for the TrueNAS Mini X grand prize. Congratulations to TrueNAS Community member Marino L. from New Jersey USA as the grand prize winner! In all: 299 new reviews were posted between July and September on G2, Capterra, TrustRadius, and Distrowatch.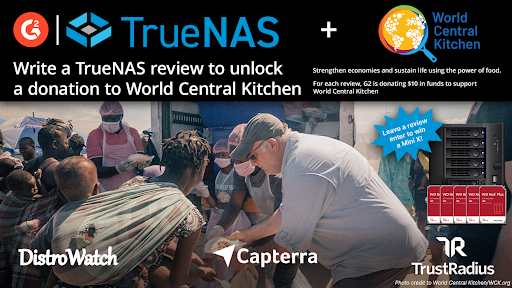 As part of the campaign, we partnered with G2 Gives with the goal of raising $500 for World Central Kitchen, an organization that provides meals during humanitarian, climate, and community crises. For each review on G2, they donated $10. The TrueNAS community exceeded this goal, raising $1,210 for World Central Kitchen with G2 by contributing 121 reviews. In recognition of the time invested by our community members, iX is also matching the donation amount and sending a total of $2,420 to World Central Kitchen.
The G2 Gives part of the campaign is still available. For any community members that have not left a review, you can leave one using this link and unlock a $10 donation to World Central Kitchen.
We at iX expected the nearly 300 reviews to be positive, and could not be happier about how positive the shared Open Source user experiences were. Compared to other proprietary storage products in the market, TrueNAS does the same job and is more highly rated: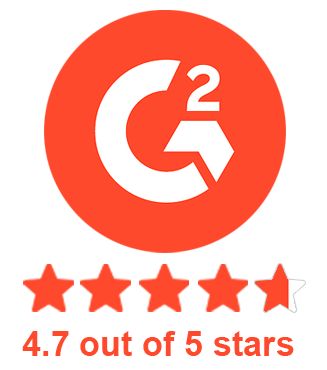 TrueNAS has the highest rating and most reviews on the site for All-Flash Arrays (AFA), passing Pure Storage Flash Arrays, IBM FlashSystem, Dell EMC All-Flash Arrays, NetApp AFF A-Series, and HPE 3PAR.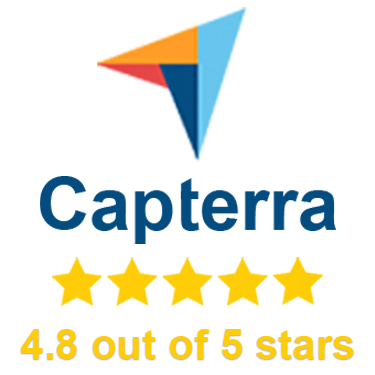 With no primary storage category on the site, TrueNAS is rated alongside iX friends Backblaze, Resilio, Rubrik, Storj, and Veeam in the backup software category, with more reviews than storage from Qumulo and VMware VSAN.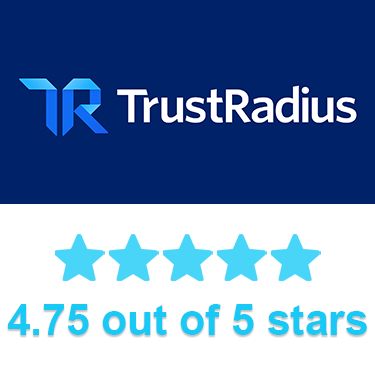 Shown here on a scale of 5, TrueNAS has the highest rating and most customer-verified reviews on the site for Network Attached Storage, passing IBM Storwize (now part of FlashSystems), NetApp FAS series, HPE 3PAR StoreServ Storage, and Dell EMC PowerScale (EMC Isilon).
Want to see what others are saying about their TrueNAS experiences? Check out our updated reviews page, and consider sharing your experiences on any of the review sites to keep the momentum growing for the Open Storage Era!