Announcing Second Major Update of TrueNAS SCALE with SMB Clustering
On "Twosday" 2/22/22, TrueNAS SCALE 22.02.0 officially reached RELEASE status. Four months later, on 6/22/22, TrueNAS SCALE reached its second major update (22.02.02). With previous versions of SCALE deployed on over 20,000 active systems, this update provides support for SMB clustering and VM and Container workloads.  
This release is complemented by new functionality in TrueCommand which provides wizards for creating SMB clusters. TrueNAS SCALE continues with system count growth at over 100% per quarter since the start of the BETA process in mid-2021. 
As TrueNAS SCALE has matured, there has been widespread adoption by experienced Linux admins and excellent feedback. You can download SCALE here and try it yourself. 
TrueNAS Enterprise Scores 4.8 out of 5 Stars in Verified Reviews on Gartner® Peer Insights™
100% of Reviews recommend TrueNAS Enterprise, with a rating of 4.8 out of 5 stars on Gartner® Peer Insights™, an online IT software and services reviews and ratings platform. While these reviews come from our TrueNAS Enterprise customers, we are proud to share them as a positive endorsement of the hard work we put into TrueNAS for all users!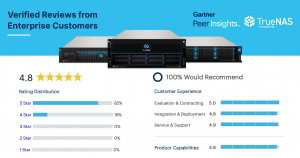 Video: R-Series Product Overview
The TrueNAS R-Series delivers high-value performance and accelerates your demanding workloads at a budget that works for everyone. The R-Series family of storage appliances features Single Controllers that can be scaled up using TrueNAS CORE, TrueNAS Enterprise, or TrueNAS SCALE. The R-Series line consists of four models: the R10, R20, R40, and R50. Check out the video to learn more about each model's unique features.
Latest Releases
Become an iXian!
iX is expanding, and we want you along for the ride! Check out our careers page to learn more about how to become a part of our incredible team.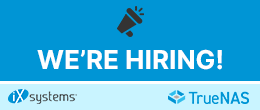 Tech Tip #112
TrueNAS CORE runs on virtually any x86_64 system and provides a broad set of features for many users. Plugin applications like Plex, NextCloud, and Asigra allow the functionality of a system to be customized for many use cases.
Learn more about installing CORE
Links of the Month