27. Contributing to FreeNAS®¶
FreeNAS® is an open source community, relying on the input and expertise of its users to help grow and improve FreeNAS®. When you take time to assist the community, your contributions benefit everyone who uses FreeNAS®.
This section describes some areas of participation to get you started. It is by no means an exhaustive list. If you have an idea that you think would benefit the FreeNAS® community, bring it up on one of the resources mentioned in Support Resources.
This section demonstrates how you can:
27.1. Translation¶
Not everyone speaks English, and having a complete translation of the user interface into native languages can make FreeNAS® much more useful to communities around the world.
FreeNAS® uses Weblate to manage the translation of text shown in the FreeNAS® graphical administrative interface. Weblate provides an easy-to-use web-based editor and commenting system, making it possible for individuals to assist with translation or comment on existing translations.
To see the status of translations, open https://weblate.trueos.org/projects/freenas/, as shown in Figure 27.1.1.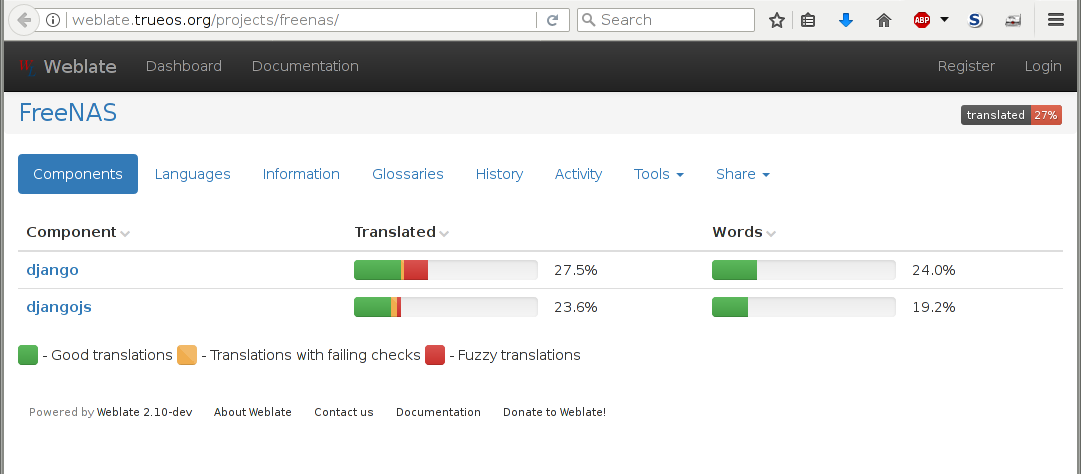 To assist with translating FreeNAS®, create an account by clicking the Register button. Enter the information requested, then a confirmation email will be sent. Follow the link in the email to set a password and complete the account creation. The Dashboard screen is shown after logging in:

Click Manage your languages to choose languages for translation. Select languages, then click Save. Click the Dashboard link at the top of the screen to go back to the dashboard, then choose Your languages from the drop-down menu: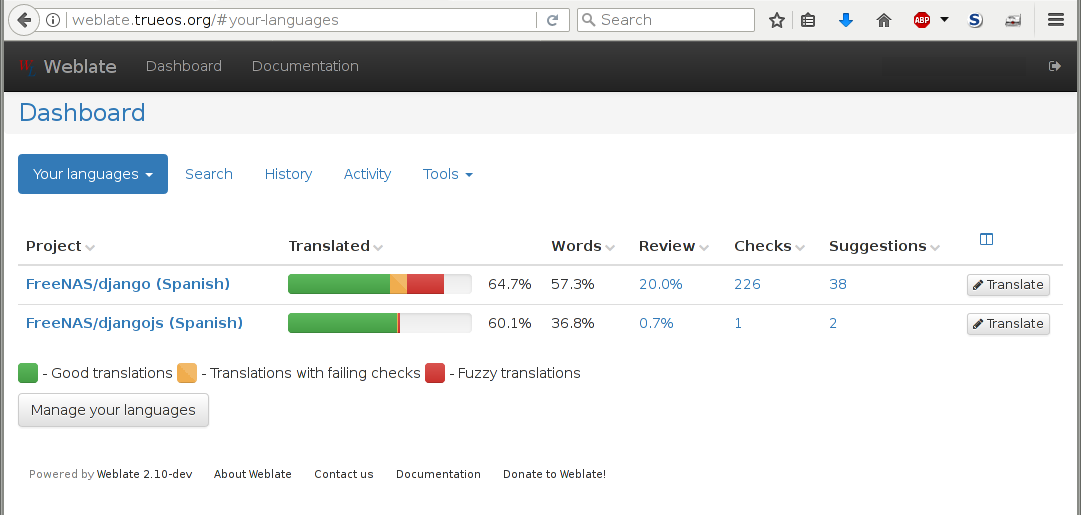 Projects are a collection of text to be translated. In this example, the Django and DjangoJS projects have both been partially translated into Spanish. Click one of the entries under Project to help translate that project.
The Overview screen shows the current translation status along with categories of translatable strings: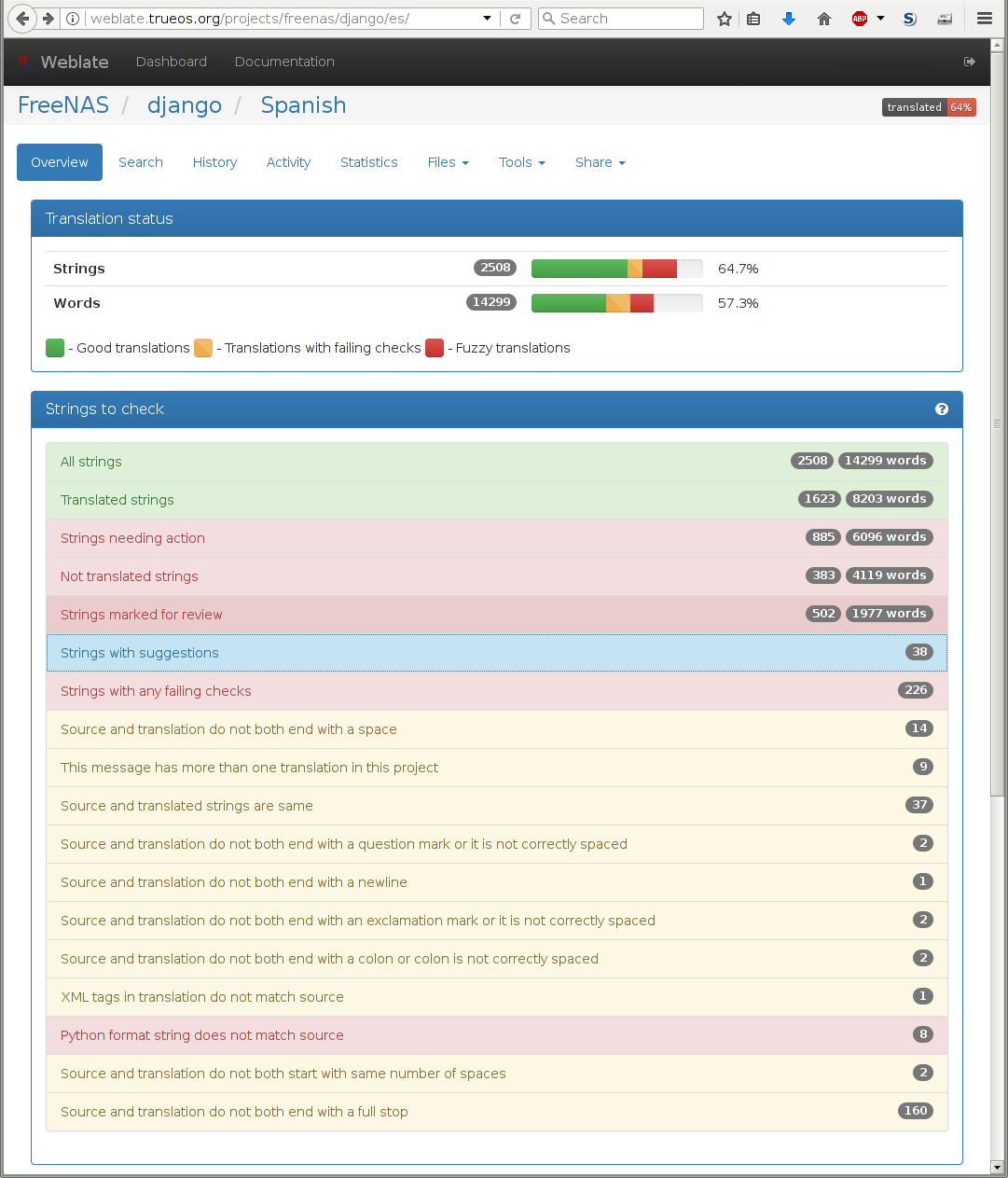 Click on a category of string, like Strings needing action, to see the translation screen: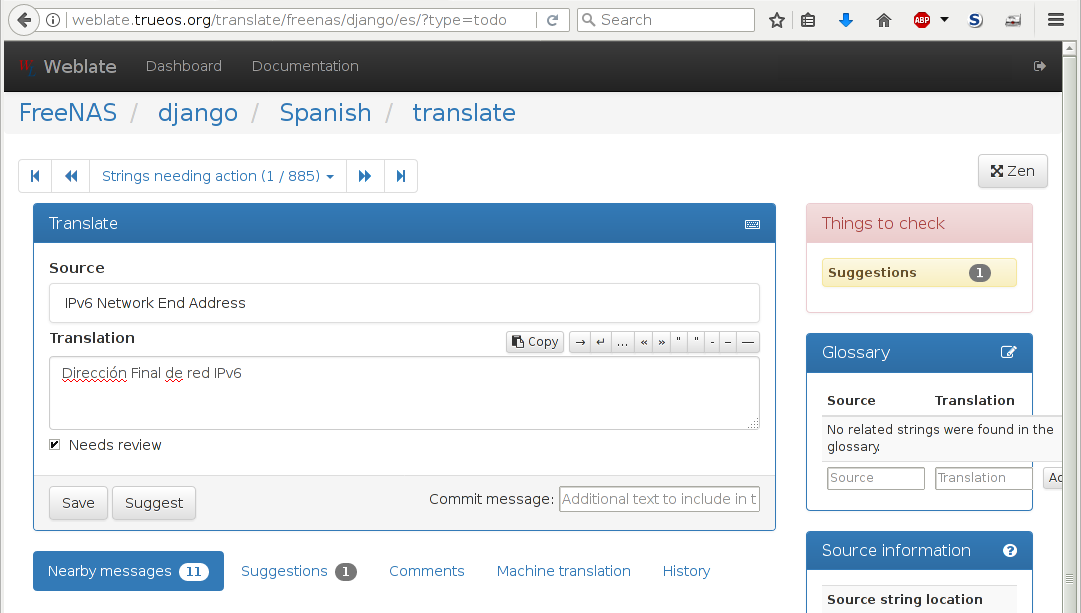 Enter translations here, clicking Save to save the work. The controls at the top of the screen can be used to skip forward and back in the list of strings to be translated. Click Dashboard at the top of the screen to return to the Dashboard.
All assistance with translations helps to benefit the FreeNAS® community. Thank you!