Introducing The TrueNAS Unified Storage X10 (part 2 of 2)
Four Use Cases for the TrueNAS X10
In this second and concluding post, I am going to discuss four of the many use cases supported by the TrueNAS X10. This is to help organizations work more effectively and efficiently and to provide the rationale on why the X10 may be perfectly aligned with your IT environment.
If you read part one of this blog on the TrueNAS X10 published a couple of weeks ago, you will recall that it focused mainly on the technical aspects of this new IXsystems platform. If you did not get a chance to read it, I highly recommend you go ahead and do so now and then return to this blog afterwards.
File Serving
In organizations small and large, there is a requirement to deliver reliable and continuous data access to users and applications through a wide variety of protocols. The X10 is designed to be a high performance general purpose filer providing users with simultaneous file data access critical for the successful performance of their business and work tasks. The X10 platform supports all the common file protocols including NFS, SMB and AFP. That means that if your organization has Linux or Unix desktops, the X10 has you covered. If your users connect via a Windows computer, you are covered. Even Apple systems can connect to data storage resources through AFP. iSCSI block access is also available for platforms such as Windows and VMware as well as various backup solutions.
Standard directory services, such as Active Directory, NIS, Open Directory, and LDAP, support authentication and network resource services within multi-OS environments. Administrators can prevent users and specific user groups from consuming extremely large amounts of storage through the quota facility. And there is a myriad of data protection services available to safe-guard data. For example, if a user inadvertently deletes some important files, these files can be restored within a matter of minutes.
The X10 runs TrueNAS and supports a High Availability option to ensure data access is continuously available. Users and applications can expect uptimes of 99.999%, meeting or exceeding even the most rigorous of service level agreements.
Disaster Recovery (DR)
For local data protection, many storage administrators rely on snapshots. The TrueNAS operating system is unique in that snapshots happen nearly instantaneously and take up little to no space, so you can take many snapshots per hour without worrying about exhausting a snapshot pool. Also, TrueNAS does not impose any restrictions on how many snapshots can be taken; my general guidance to customers has been to take and keep as many snapshots as you can manage. Michael Dexter, a colleague of mine, recently wrote about how the snapshotting capability of TrueNAS can help you recover if you find yourself infected with a ransomware virus.
Remote replication is the process of copying or replicating data to another device, typically at a different location. A source system located in San Jose, California can replicate data to a secondary system located in Evanston, Illinois. Should some unforeseen disaster occur to the source system, the secondary system will have a complete backup of the data, allowing the business to restore their business operations more quickly. A TrueNAS X10 can replicate data to another TrueNAS system or any other OpenZFS-based system. TrueNAS replication uses snapshot-based technology. After the initial baseline replication from a source to a target, only "changes" are replicated afterwards. This greatly decreases the size of the backup window and results in lower associated network cost because less bandwidth is consumed.
Cloud sync is a new capability that was introduced earlier this year by iXsystems. This is a TrueNAS built-in software feature that allows an administrator to use the Amazon S3 storage as a backup target. Specified data sets on a TrueNAS X10 can be replicated to an S3 cloud. Should something catastrophic occur, data can be restored from the S3 cloud back to a TrueNAS appliance. The Amazon S3 storage cloud is both resilient and persistent. The cloud provider reports that the S3 is designed to provide 99.999999999% (11 9s if you are counting) durability of objects over any given year. This means that for every 10,000 objects that are stored, one object will be lost every 10,000 years – on average. In realistic terms, the odds of data loss occurring on the Amazon S3 is astronomically small.
There is even a use case for group collaboration and file sharing using the Cloud sync feature where file data can be shared amongst geographically dispersed teams and groups working on the same projects (see graphic below).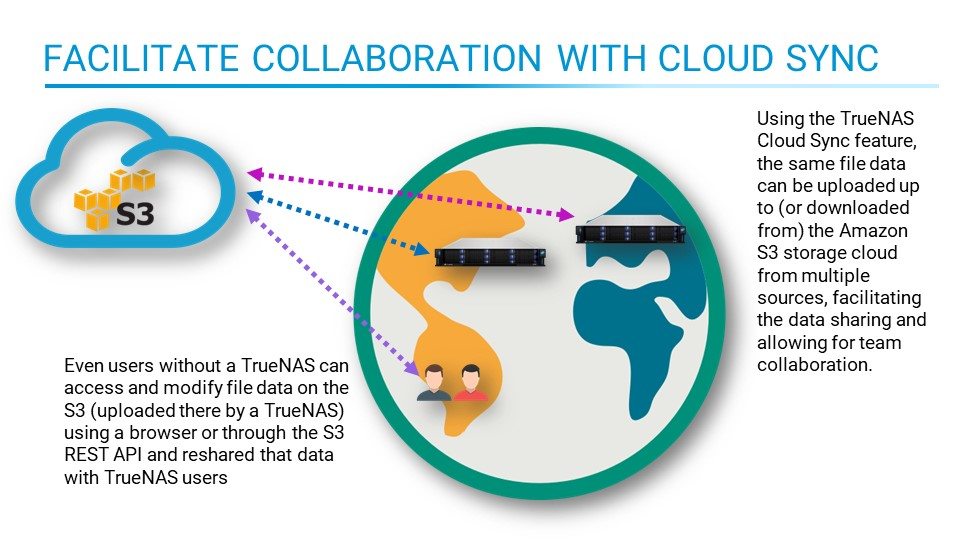 Backups
The TrueNAS X10 is designed to keep TBs of backup images. Its low cost per GB, in-line compression, and support of up to 360TB of raw capacity helps to improve ROI and makes the X10 a cost-effective platform for use as a replication and/or backup/archiving target. Additionally, the OpenZFS file system was designed for data integrity and can self-heal itself, which keeps backup images safe. File system integrity is verified with checksums and if inconsistencies are found, those inconsistencies can be repaired automatically.
Edge to Core Applications
Many organizations have satellite or remote offices, sometimes called RoBos. These facilities often maintain and manage their own IT infrastructure and run local services. The challenge for many of these organizations is how to equip their smaller environments with enterprise-ready storage solutions without having to compromise on a consumer-class solution.
A fully configured TrueNAS X10 with 20TB of enterprise storage starts at less than $10,000 (street pricing), striking the ideal balance between cost and capabilities. And as discussed in the DR section, data from a TrueNAS X10 appliance at a corporate satellite office can be replicated back to another TrueNAS at the corporate data center.
We discussed four use cases where the TrueNAS X10 excels. Businesses looking for a cost-efficient, fully enterprise-ready storage solution which supports a variety of use cases and aligns with their budgetary requirements should take a closer look at the TrueNAS X10.
Steve Wong, Director of Storage Product Management