Video Surveillance Storage that Scales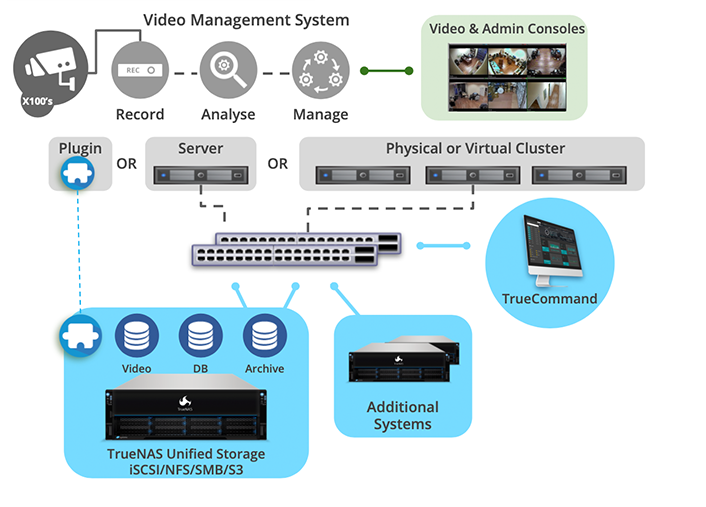 Open Source Video Storage
Surveillance protects people and assets, but storing and protecting the video footage and associated metadata is a critical and often overlooked element of a complete surveillance system. Advances in Video Management Systems (VMS) have enabled the monitoring of thousands of cameras with high camera resolution and frame rates. This combination creates massive amounts of video data that now needs to be stored, indexed, analysed and protected.
Over 30% of surveillance system costs are typically related to storage. By utilizing Open Source economics, TrueNAS delivers industry-leading total costs of ownership (TCO) to help build more affordable and scalable storage solutions for security video systems. TrueNAS seamlessly integrates with the VMS to act as a Network Video Recorder (NVR) and can also store archival footage and VMS metadata. With TrueNAS providing the video storage, security systems can be built for homes, offices, campuses, and even entire cities at significantly lower cost.

Video Storage Solutions at Every Size
TrueNAS provides the capacity and bandwidth for high resolution IP security cameras with high data rates (e.g., 30 Mbps). With compression, reduced frame rates, and motion detection, VMS systems typically store over 300 GB/month per camera, and the storage capacity and bandwidth grows linearly with the number of cameras. The FreeNAS Mini supports tens of cameras and can even run ZoneMinder as a built-in plugin application. The TrueNAS M50-HA scales to thousands of cameras when coupled with a clustered VMS that scales processing. If you need more than 10PB of storage, just use multiple TrueNAS M50 systems and manage them with TrueCommand.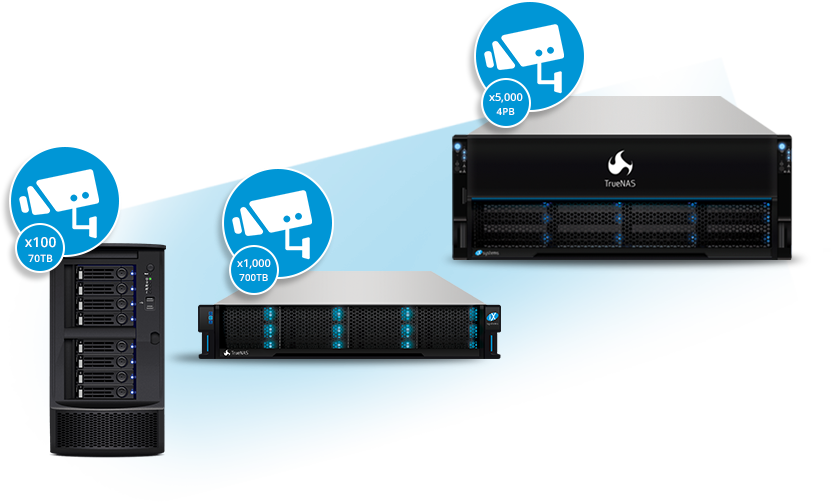 Over 99.999% Uptime
Surveillance video systems can't afford to go offline or have database corruption issues. TrueNAS high-availability systems make sure that doesn't happen while also simplifying setup and operations. Redundant storage controllers provide top-to-bottom redundancy and are synced via a continuous heartbeat to keep your VMS and NVR running. TrueNAS systems can expand capacity without disruption. ZFS data scrubbing ensures that video integrity is not compromised by disk errors. Snapshots and replication are also available to preserve or archive video and metadata in response to a security event or VMS software upgrade.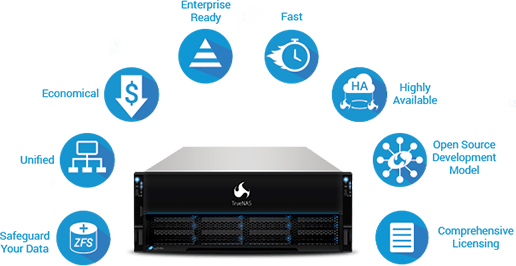 Simple Integration and Operation
TrueNAS supports iSCSI, Fibre Channel, SMB, and S3-API protocols for storing video and associated metadata for most of the major VMS software suites that support private onsite storage. The TrueNAS family with OpenZFS has been installed over 1 million times in environments ranging from simple homes to complex enterprises. Every TrueNAS system comes with an all-inclusive license which includes features like snapshots, replication, and non-disruptive growth. iXsystems Support is available to assist you every step of the way.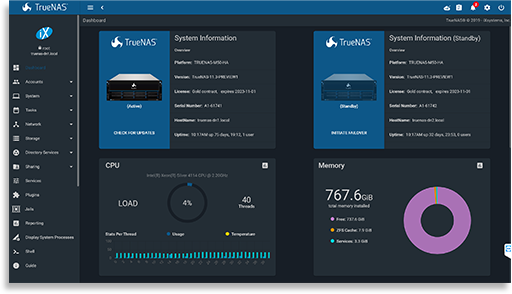 Wide Variety of Use Cases
Protect your Business
The FreeNAS Mini and TrueNAS X-Series are ideal platforms for smaller video surveillance deployments. The TrueNAS M-Series scales for larger organizations. Estimate the number of cameras for your system and then decide how to deploy.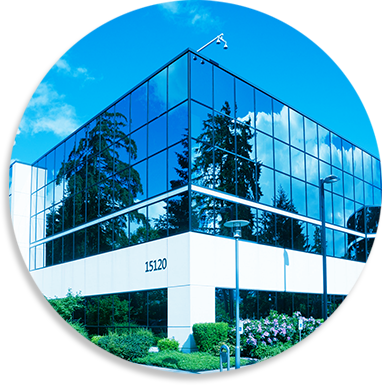 Protect a School or College
Schools can protect their students, staff, and buildings with high-resolution cameras that monitor unexpected intruders. A single VMS efficiently monitors multiple sites 24×7. The same TrueNAS and TrueCommand software can be used across any campus, no matter the size and budget.
Body Cameras
Body cameras on active-duty officers record their video feeds to a wearable SSD. Upload the video to a TrueNAS system for reliable storage, rapid analysis, and archiving. Use the savings for other IT tools needed to keep citizens safe.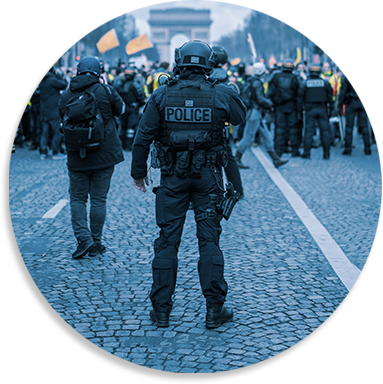 – Daniel Erlendson, Nevada Department of Corrections
Take Command with TrueCommand™
TrueCommand is a ZFS-aware platform designed to help teams manage one or more NAS systems while providing improved systems security and reliability.
NAS Fleet Dashboard
Single Sign-on with Role-Based Access Control (RBAC) to all NAS units
Customized Alerts and Reports
Rapid Fault Management and Diagnosis
Real-Time Data Collection and Analysis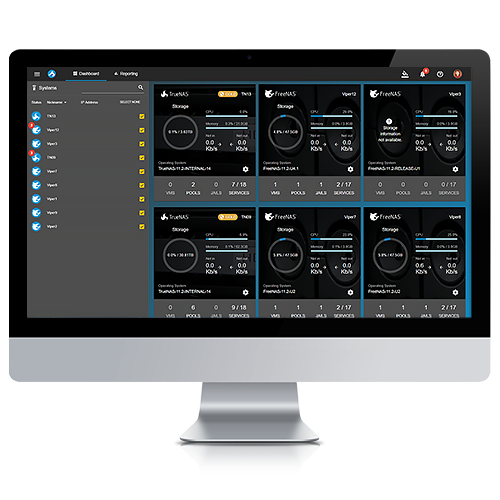 Speak with a Storage Expert