We Bring Gifts: New BTSync Plugin Rocks! FreeNAS 9.2-RC & More
Hello FreeNAS users!
Oh the weather outside is frightful, so we're bringing you something delightful. How does the FreeNAS 9.2-RC and a massive plugin update sound? If that's not enough, we also have some other things we think you'll like including an interview with Josh Paetzel, a tutorial on using git, a look back at Supercomputing 13, a FreeNAS walkthrough from Computer Power User magazine, and a few more goodies to bring you holiday cheer.
So sit back, grab a hot cup of tea, and read on! We wish you the best this holiday season and we'll see you in the new year.
Cheers,
The FreeNAS Team

---
 FreeNAS 9.2-RC is Now Available
The latest update to hit the net is FreeNAS 9.2-RC. With the RC out, FreeNAS 9.2-RELEASE is just around the corner. For now, here's a quick look at some of the features you can expect in FreeNAS 9.2:
Based on FreeBSD 9.2 with added features and hardware support
Improved performance of encrypted ZFS volumes
Jails templates allow quicker deployments of copies of a model jail
Shell button added to jails – makes it easier to access the Shell from Jails
Linux jail support
Full release notes can be found here. If you'd like to try out FreeNAS 9.2-RC, the iso can be downloaded here.
---
 Massive Plugin UPDATE
A record-breaking fifteen-plugin update was recently added to FreeNAS! This update includes several completely new plugins and changes to existing ones. The update to the Plex plugin now allows you to access it from different subnets. Be sure to check out the full list to see what new functionalities you can add to your system. Users of FreeNAS 9.1.x can manually download the plugins here. Plugins will automatically show up in the GUI of FreeNAS 9.2 and later.
Here's a full list of the plugins that were affected:
| | | |
| --- | --- | --- |
| CouchPotato | BTSync | Maraschino |
| Sickbeard | crashPlan | MiniDLNA |
| Firefly | Gamez | Mylar |
| Bacula-SD | HTPC-Manager | OwnCloud |
| Plex Media Server | SABnzbd | Transmission |
---
 Featured Plugins: BTSync
We'd like to feature one of the plugins from that update that we think you'll find incredibly useful. The BTSync plugin for FreeNAS is brought to you by Joshua Parker Ruehlig, who wrote several other plugins for FreeNAS 8.x.
In case you haven't heard by now, BTSync comes from the makers of BitTorrent and has been making waves for a while now. This plugin allows you to sync your files across all of your devices by sharing them using BitTorrent. No more third-party cloud-based services! With BTSync on FreeNAS, your data is saved on your devices and shared on your networks. For more information about BTSync, check out this BitTorrent blog post.
---
 Interview with Josh Paetzel
Why is the FreeNAS logo a shark? For the official answer to that question and many more, check out the 15th episode of BSD Now! Titled "Kickin' NAS", the episode featured an interview with Josh Paetzel who dressed as Santa. Josh covered the past, present, and future of the FreeNAS project and spoke about the upcoming FreeNAS 9.2 release and the people on the FreeNAS team who help make the project what it is.
After the interview, Allan Jude and Kris Moore ran a demo of FreeNAS and featured its reporting and plugin features.
---
 Tracking FreeBSD in FreeNAS by Using Git for Newbies by Alfred Perlstein
On November 7, 2013, the FreeBSD Vendor Summit took place at Yahoo! Headquarters in Sunnyvale. Alfred Perlstein gave a talk on the subject of git and afterwards, he wrote up a tutorial based on that talk so that anyone can access it.
If you'd ever like to help commit code to FreeNAS, you should give Alfred's article a read. The things he covers are very relevant and the article includes diagrams and code examples to help you understand. A PDF version of his article can be accessed here.
---
 Supercomputing 13 Recap
As we mentioned in the November edition of the newsletter, we had a FreeNAS booth at Supercomputing! When we got there, we found that many people were already familiar with FreeNAS and we had a lot of fun educating people about the newest features. The plugins were a huge hit and people were very impressed by our demo. And to think, that was before we brought out the free beer!
Check out our photos from Day 1 & Setup, Day 2, and Days 3 & 4 .
If you missed out on the fun and or would like to relive the event, a recap of our time can be found here.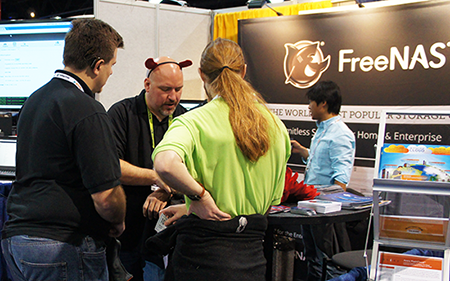 ---
 Network World Stacks FreeNAS Against Other NAS Software
Network World reviewed FreeNAS in comparison to other free or open source NAS software. To quote: "If you're looking for an open source solution that doesn't limit your storage space and provides easy NAS encryption, you should look into FreeNAS."
The article runs through the features of FreeNAS including its supported protocols and the ZFS filesystem. The full review can be read here. It's insider-only access, but sign-up is free.
---
 Computer Power User Magazine's FreeNAS Walkthrough
Thanks to our friend, Michael Dexter, for sending this one in. Computer Power User Magazine recently released an article about using FreeNAS to set up a home NAS. The article is well-written and up to date for FreeNAS 9.x and later. It covers hardware and memory recommendations and even touches on FreeNAS security. Be sure to give this one a read if you'd like to gain a stronger foundation of knowledge for FreeNAS.
---
Tech Tip #1
If you are upgrading FreeNAS from 8.x to 9.x you can upgrade your pool from v28 to v5000, however this is not done automatically. Run zpool upgrade -a from the CLI to upgrade your pools. This step is irreversible, but it's necessary to get some of the new features of ZFS, such as LZ4 compression.
---
 Links of the Month
FreeNAS 9.x setup with Samba fileshares, OwnCloud, Bittorrent and Plex* via YouTube
Consumer HDs as Reliable as Enterprise Hardware via PC Pro
Setting up BTSync on FreeNAS 8 via Bittorrent Blog (PS: there's a plugin for this now.)
*The author is using ZFS with 3GB of RAM. We recommend using 4GB at a minimum.
---
Connect with Us
If you need help with your FreeNAS setup or would like to show off your configuration, share your plugins, or just talk with like-minded people, join the conversation on our community forums.
For video tutorials, check out our YouTube channel.
Want real-time updates as they happen? Like us on Facebook, follow us on Twitter, or add us to your Google+ circle!