TrueNAS Updates for VMware vSphere
TrueNAS Unified Storage is always improving its support of virtualization and private clouds. Pairing the reliable and scalable performance of ZFS with all-flash and hybrid-flash configurations, TrueNAS is a natural fit for the virtual storage backends of VMware ESXi®, Microsoft® Hyper-V®, XenServer®, or KVM hypervisors. 
Unlike most virtualization storage solutions, TrueNAS is also flexible enough to provide file, block, and object protocols with the performance to work as both a VM datastore and file share in mixed environments. 
TrueNAS 11.1-U7 (January 2019) strengthened support of the VMware VAAI protocol and enables an enhanced TrueNAS vCenter plugin for easier management. TrueNAS 11.2 inherits the same improvements.
TrueNAS optimized for VMware vSphere 6.5 and 6.7
In a vSphere environment, TrueNAS acts as a high performance ESXi datastore using either iSCSI, Fibre Channel (FC), or NFS. Storage capacity and performance can be independently scaled, and the appliance can be managed natively in vCenter, via the TrueNAS vCenter plugin. 
Key TrueNAS optimizations for VMware include:
"VMware Ready" Storage Certification with vSphere for TrueNAS High Availability configurations. Details are available in the

VMware Compatibility Guide

.

Enhanced Integration of VMware vSphere Storage APIs – Array Integration (VAAI) for efficient performance on iSCSI or FC block storage.

Updated TrueNAS vCenter plugin supports the new APIs in vSphere 6.5 and 6.7-U2. The plugin enables admins to manage storage and provisions from within the vCenter web interface. Existing customers can contact

support@ixsystems.com

to gain access to the plugin. More information about the TrueNAS vCenter plugin functionality is

available here

.
TrueNAS systems start with capacities as low as 10 TB and scale to 10 PB and 800K IOPS. Organizations of any size can configure one or more platforms to fit their capacity, performance, and budgetary needs.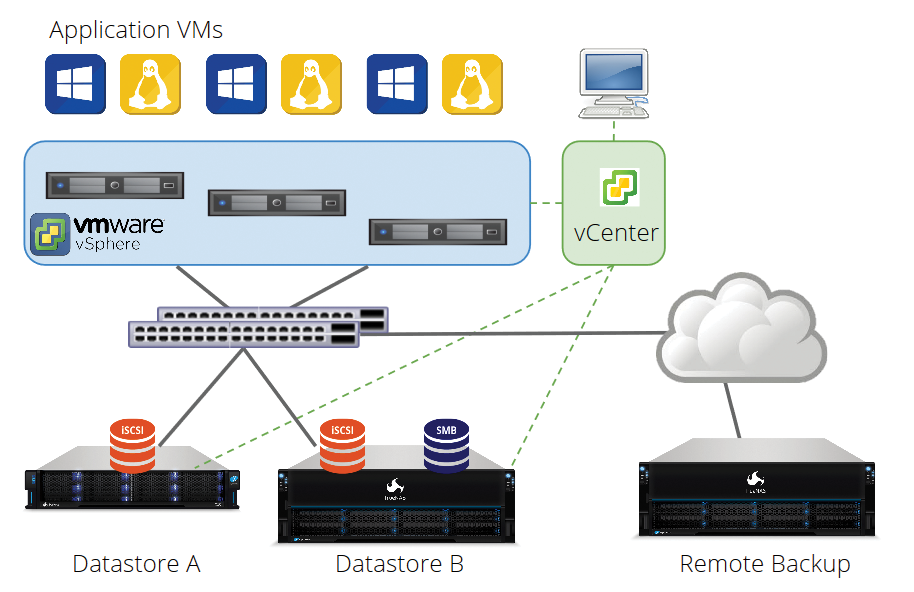 Hybrid and All-Flash Performance
TrueNAS supports both all-flash and hybrid (disk + flash) configurations, with the ability for all-flash and traditional pools to operate on the same system. All-flash configurations deliver sub-millisecond latency and increase VM density and performance for latency-sensitive workloads, such as VDI. 
With native ZFS pool/dataset replication, unlimited snapshots, and built-in Rsync file replication, TrueNAS makes data migration and pool upgrades easy. Users can scale their all-flash pools or hybrid drive pools independently, at any time. As virtual environments evolve, TrueNAS can evolve with them to support changing IT needs and additional capacity. The ability to scale compute and storage independently can save significant costs in virtual environments.
Many Backup Options
Business continuity is a key advantage of virtualization. Backups and snapshots are essential to protect against malware, viruses, and natural disasters. Traditional backup solutions require multiple servers and storage silos, each with different hardware, software, and user interfaces. TrueNAS simplifies backup and provides the tools to replicate and backup data to another TrueNAS system with the same software and user interfaces. Each TrueNAS system can be configured and cost-optimized for the performance and capacity needed. Unlimited snapshots, replication, and recoveries make it easy to protect your data.
Enterprise backup software can enable a central repository to backup many sites and servers with global deduplication. TrueNAS can act as the central repository (backup target) and is certified with Veeam and Asigra. Asigra DS is offered as a native service option built-in to TrueNAS. 
Talk to iX
Find out more from our VMware certification press release or visit the iXsystems virtualization page. For any questions, please schedule a call with one of our TrueNAS experts, and we can help configure, size, and price a system that meets (and exceeds) your needs.