TrueNAS Performance Gets Praise from ESG
Everyone knows that performance matters. The trouble is that it can be complex to quantify. For example, everyone wants to know the horsepower of their car, but that number isn't meaningful unless it's accompanied by 0-60 times or top speeds. After all, most 250 horsepower cars will run circles around a 600 horsepower semi-trailer truck! Similarly, top speeds are also very sexy numbers, but not super useful to determine the duration of your bumper-to-bumper commute in your new Lamborghini. Knowing your dad's top sprinting speed, downhill with the wind at his back, would also make it difficult to ascertain how long it took him to walk five miles to school every morning (through the snow and uphill both ways!).
It's a universal principle that performance measurement requires an understanding of several variables and the task at hand. At iXsystems, we are always very careful when discussing performance, focusing less on "best case" measurements and more on the needs of a customer's application and how we can design or tune a system to best meet them. TrueNAS and ZFS storage is designed to perform well with a broad range of workloads and with many features enabled by default; thin provisioning, compression, encryption, and snapshots are not optional features in many environments. The performance you get with real-world workloads and features enabled is much more important.
So how fast is TrueNAS? Well, a TrueNAS M50 can deliver more than 800,000 IOPS… if the workload is designed to showcase the M50 performance. However, most users aren't running workloads that are based on 4K I/O sizes.
To take an honest look at performance and assist our users in sizing and selecting their TrueNAS systems, we collaborated with ESG to provide independent validation of the TrueNAS M50 in a comprehensive report. Enterprise Strategy Group (ESG) is a well known IT Technology industry analyst with deep experience and knowledge of how storage is actually used in real-world enterprise environments. ESG's review concluded that iXsystems can typically offer up to double the performance at half the cost of its major competitors.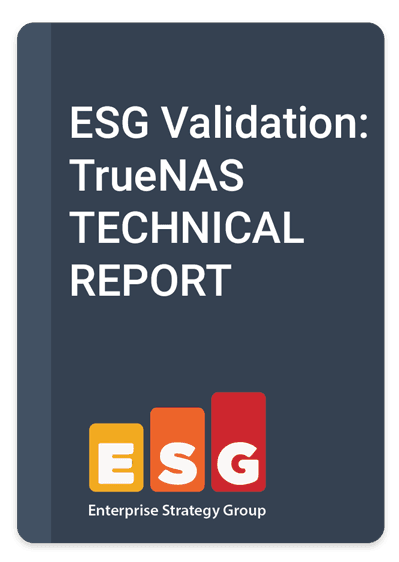 The ESG tests were performed with a reference configuration of a TrueNAS M50 with 24 SSDs. The typical cost of one of these mid-range flash systems would be $60K – $130K. Larger systems with 72 SSDs would actually perform better but would be less representative of a typical system configuration of less than 200TB.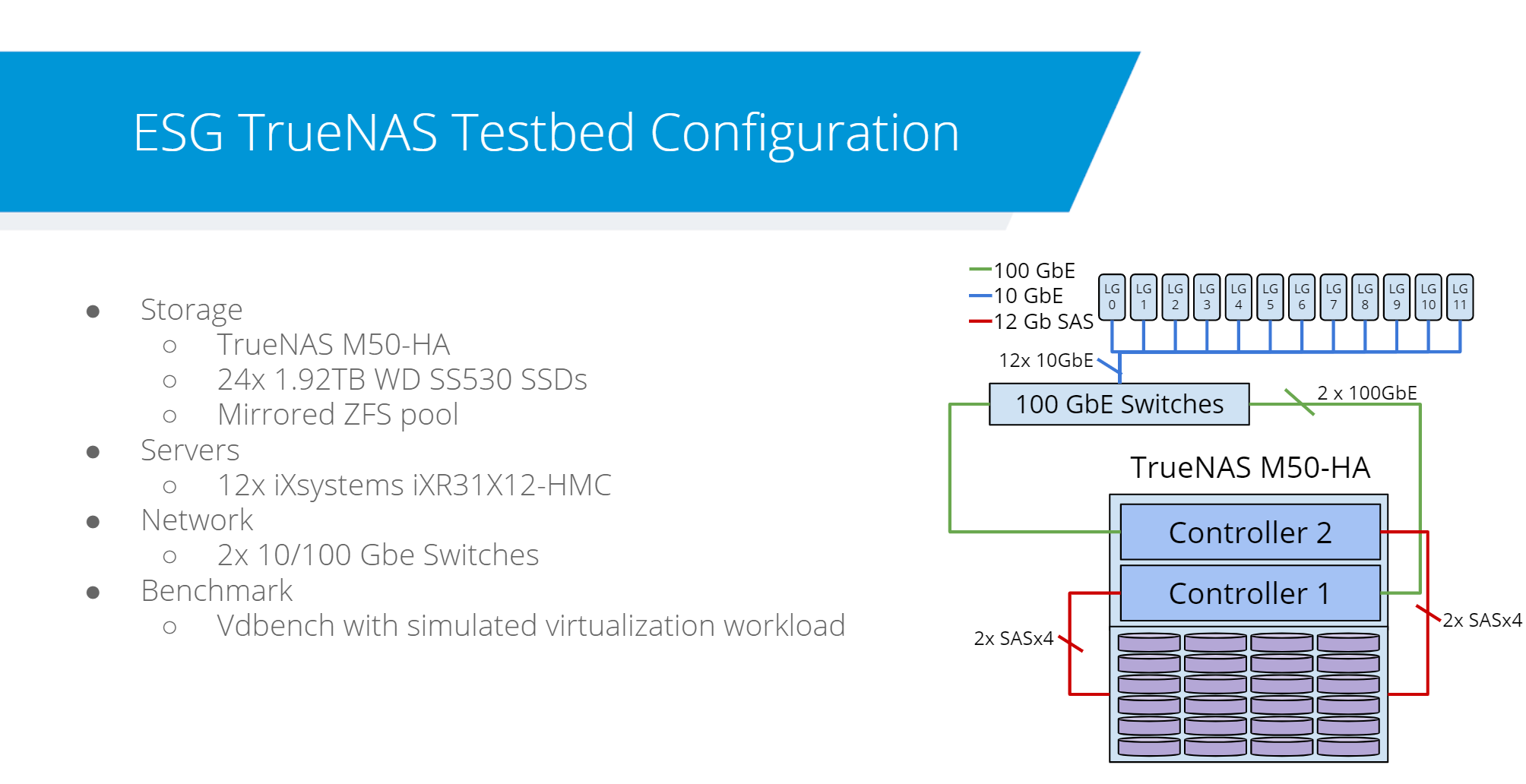 The performance graphs, workloads, and testing methodologies are in the report, but some of the key results for this TrueNAS M50 configuration with only 24 SSDs were:
In a virtualization environment, the system could sustain over 100K IOPS averaging 24KB in size. This is around 2,600 MB/s with 70% writes and over 4,000 IOPS per SSD.
Typical latency under 1ms below 60,000 IOPS. This workload would be typical for systems with over 3000 VMs and 50 hosts.
In a file-sharing environment with large files, the system could provide over 4,000 MB/s with any mix of Reads and Writes.
The impact of enabling compression and snapshots was near zero. Encryption, using SEDs, can also be provided with no performance impact.
NFS, SMB, and iSCSI demonstrated high bandwidth. Each could deliver performance that was appropriate for their respective applications.
The same TrueNAS can simultaneously deliver NFS, SMB, and iSCSI services to many clients. When one protocol is less active, the performance is available for the other protocols. This is a major performance and cost advantage of TrueNAS unified storage.
The performance of TrueNAS depends heavily on the workload and the specific network and storage configuration that is being used, which is also why TrueNAS systems can all be easily configured and tuned based on the application performance need. Reports like these help us gain more insight into performance characteristics and how we can both estimate and improve them.
The TrueNAS combination of flexible performance and Open Source economics helps our customers meet performance targets with lower capital costs, less complexity, and technical support they need for reliable infrastructure.
If you have a performance workload, let us know what its characteristics are, and our team can help design a TrueNAS system that delivers the performance you need so that we make sure you don't mistakenly buy a Peterbilt to run a quarter mile or a Lambo to drive in LA traffic.
To read more about ESG's technical performance report on the TrueNAS M50, download the full technical review here.