The TrueNAS Mini X and Mini X+ are here!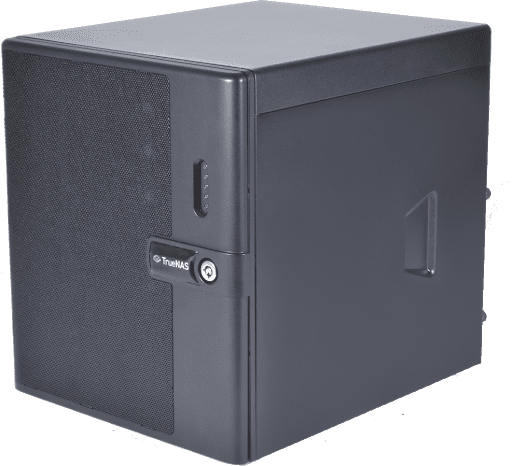 Wait a minute… TrueNAS Mini? Yes, you read that correctly! As part of our unification of FreeNAS and TrueNAS, the compact yet powerful FreeNAS Mini storage systems, known for bringing professional grade storage to the home, office, and edge, have been reborn as the TrueNAS Minis. So, the FreeNAS Mini E and Mini XL+ are now the TrueNAS Mini E and TrueNAS Mini XL+. But, what's even more exciting than the name change is the new model joining the current lineup of Minis! After reviewing customer feedback and requests, we developed the TrueNAS Mini X and Mini X+ while also adding higher capacity drive options (14TB) to the entire TrueNAS Mini lineup!
Quick Specs
The TrueNAS Mini X case is a completely new design, featuring five 3.5 inch hot-swappable bays and two 2.5 inch hot-swappable bays for a total of seven hot-swappable bays in this mini-but-mighty case!
The base Mini X model has four 1GbE ports and four CPU cores. The high-performance Mini X+ model has two 10GbE ports and 8 cores. Below is a reference chart for comparison between the entire TrueNAS Mini Family. For a full specification table, please visit our Mini page on TrueNAS.com.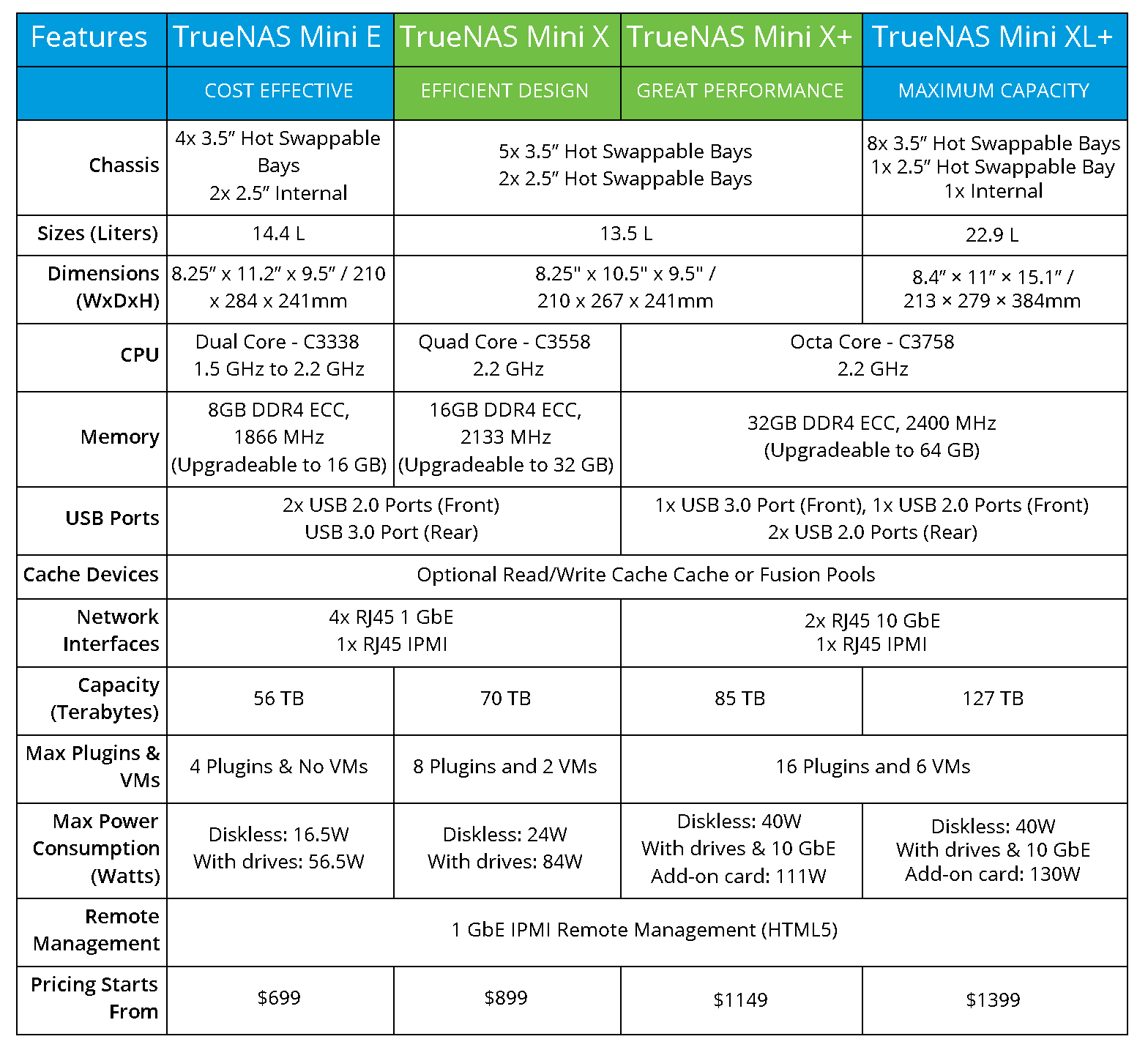 The TrueNAS Unification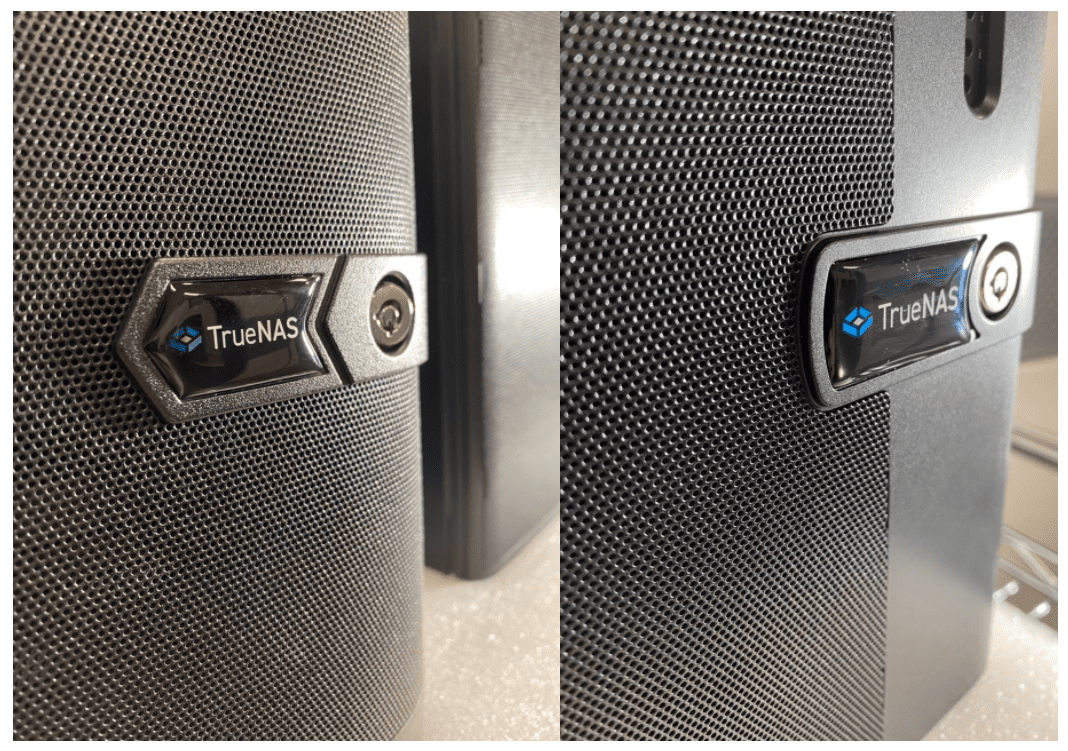 FreeNAS and TrueNAS are uniting as one software with a common brand name. A blog and video featuring iXsystems Engineering VP and TrueNAS Project Lead, Kris Moore, details the unification of FreeNAS and TrueNAS and the significant benefits to software quality and release schedules. To find out more information regarding TrueNAS 12.0, and why it's a big deal, please visit this blog.
So, what does this entail for the newly rebranded TrueNAS Minis? Well, new door badges for one! More importantly, we improve the user experience by adding capabilities like visual enclosure management within the UI.
The Breakdown of the Mini X
Building on the success of the Mini E, the TrueNAS Mini X adds some significant performance improvements, as well as increased overall capacity. For those who need even more performance and 10GbE networking but want a smaller form factor than the Mini XL+, look no further — the TrueNAS Mini X+ is the sweet spot!
Form Factor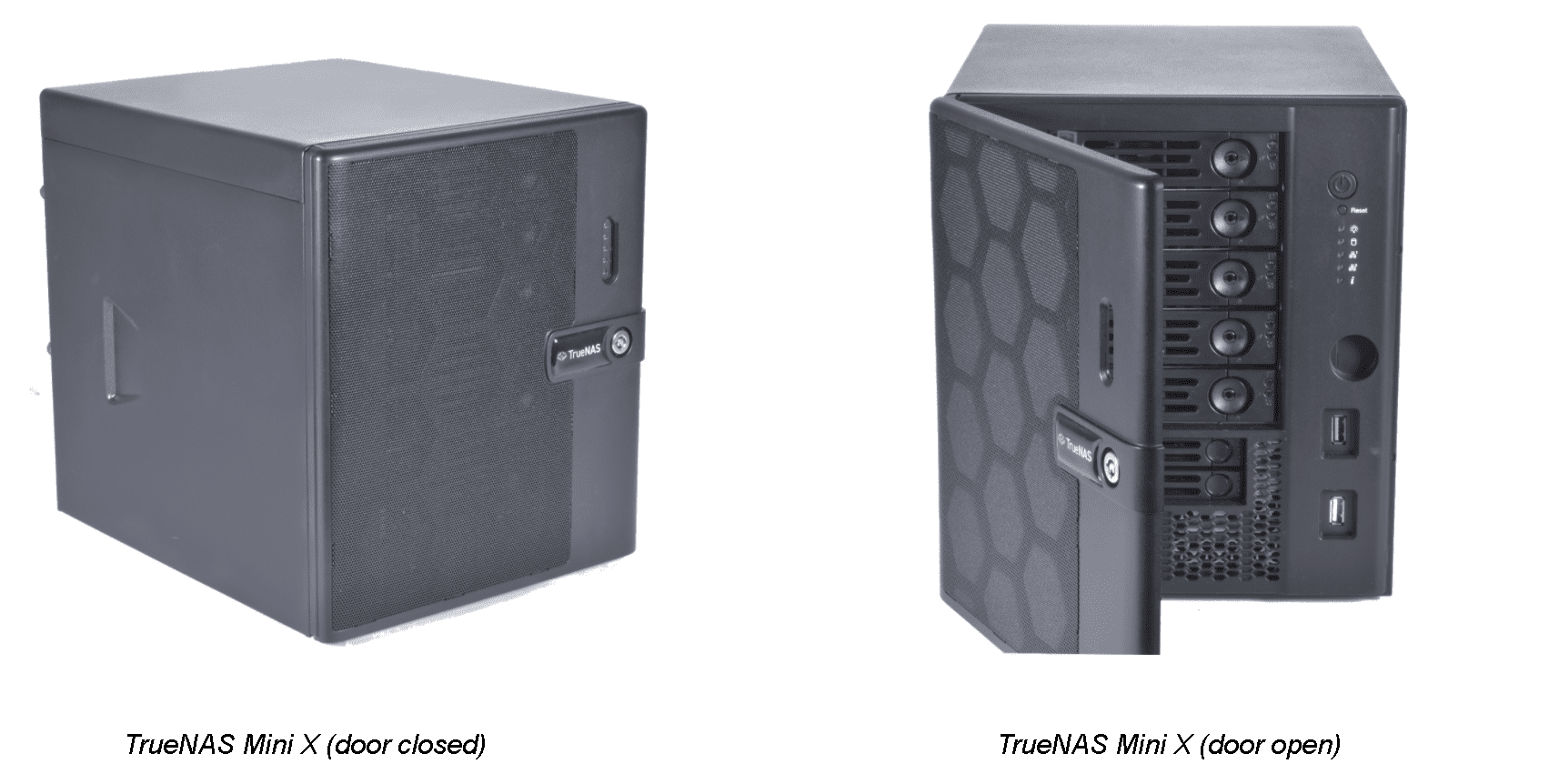 The TrueNAS Mini X is actually slightly smaller in size than the four bay Mini E; however, we designed the Mini X to hold an additional 3.5" hot-swappable drive bay, and convert the two internal 2.5" drive bays to external 2.5" hot-swappable bays. This makes for easy cache and SSD upgrades for Fusion Pools.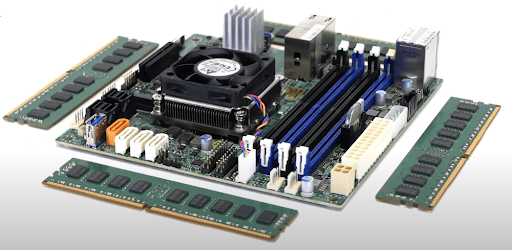 Despite the entry-level price, all components are server-grade.
Motherboards & Processors
The TrueNAS Mini X includes an integrated quad core Intel® Atom CPU with a base frequency of 2.20 GHz. This highly-efficient processor is powerful enough to perform two simultaneous 1080p transcodes in applications like Plex.
Its motherboard includes four gigabit RJ45 data ports with full LACP support, four ECC DDR4 DIMM slots , one rear USB 3.0 port, two front-mounted USB 2.0 ports, gigabit IPMI remote management port, UID switch, an RS232 serial port, and a VGA port. Although the motherboard has a PCIe slot, it is disabled to allow for maximal SATA device connectivity.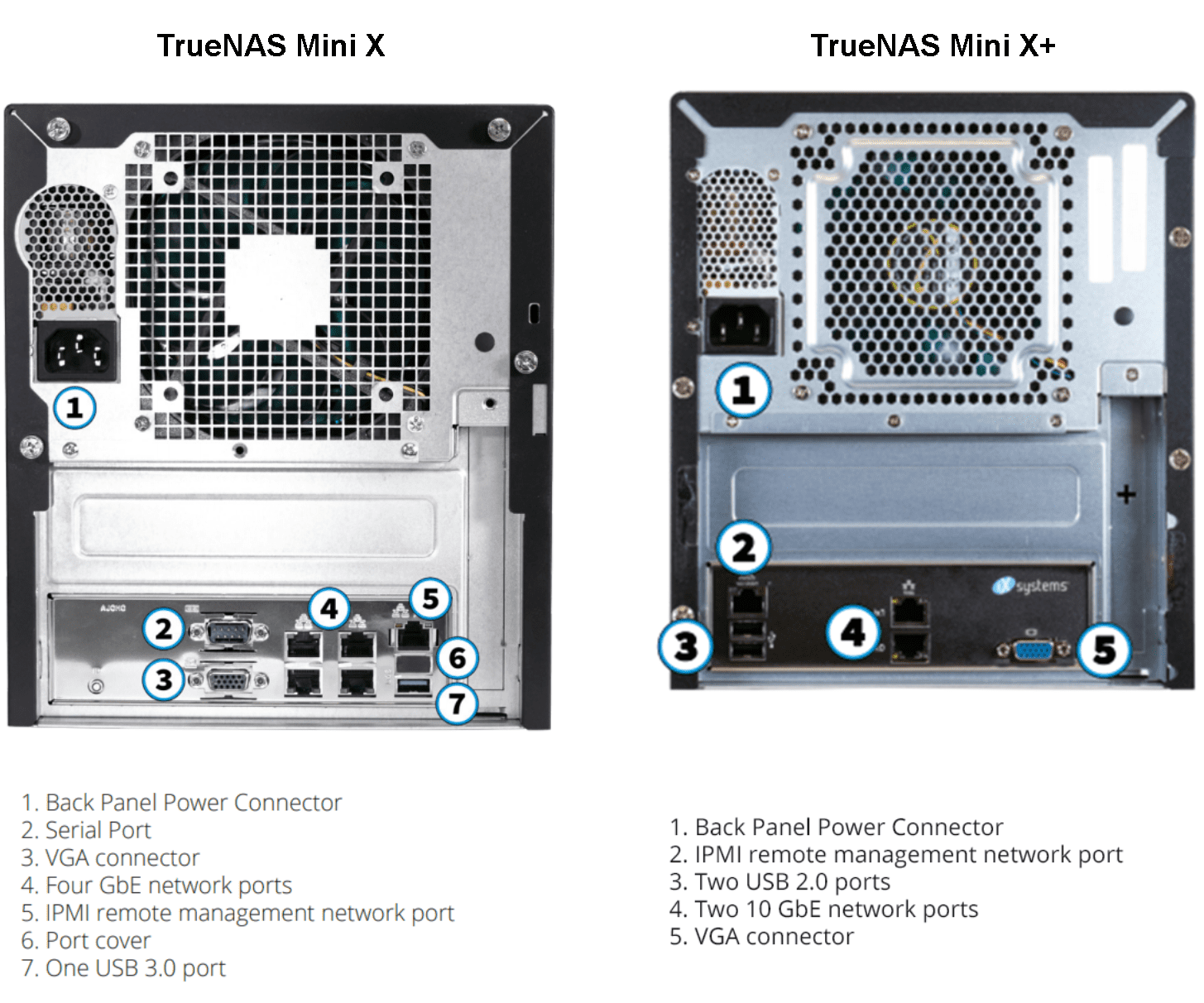 The TrueNAS Mini X+ is powered by an eight-core Intel® Atom CPU with a base frequency of 2.20 GHz. This 32 GB workhorse is recommended for multiple Plex transcodes, up to 16 Plugins, and 6 VMs!
Its motherboard includes two 10GbE RJ45 ports, four ECC DDR4 DIMM slots, one front-mounted USB 2.0 port, one front-mounted USB 3.0 port, two rear USB 2.0 ports, gigabit IPMI remote management port, and a VGA port. The Mini X+ is also upgradeable with a dual 10G SFP+ NIC option, using the available PCIe slot.
Power Efficient NAS Workhorse
The Mini X uses a C3558 Intel® Atom processor that is powerful and highly efficient with a thermal design power (TDP) of only 16 W. It allows the entire system to achieve a baseline idle power consumption of less than 26 W! The Mini X+ uses a C3758 Intel® Atom Processor, which has 8 cores and a 25 W TDP, doubling the compute horsepower while still keeping power consumption low.
Hard drives play a significant role in overall system power utilization. We build all TrueNAS Minis with NAS-grade hard drives (the Western Digital Red Plus drives) to provide the best balance of power efficiency, acoustic performance, reliability, and price per TB. Fully populated with five 14 TB NAS drives and two cache devices, idle power consumption is less than 45 W and less than 85 W under maximum load for the Mini X. The Mini X+, with its eight cores, memory maximized at 64 GB, and an additional dual port 10G SFP+ card, will consume less than 30 W more at maximum load.
ECC Memory & Caching
All TrueNAS Minis come standard with Error Correcting Code (ECC) memory that is the front line defense against data corruption and is one of the major features that sets the TrueNAS Mini apart from cheaper consumer-grade NAS systems. With ECC memory, single-bit errors are corrected on the fly before they are written to disk, and if multiple bit errors are detected, the memory will halt the system before any data corruption is committed to the disk.
The TrueNAS Mini X comes standard with 16 GB DDR4 ECC memory and can be upgraded to 32 GB RAM using 8 GB DIMMs. The TrueNAS Mini X+ comes standard with 32 GB DDR4 ECC memory and can be upgraded to 64 GB RAM using 16 GB DIMMs. Other configurable performance upgrades include optional Read (L2ARC) and Write Cache (SLOG) SATA SSDs.
True Silence
The TrueNAS Mini X/X+ is also whisper-quiet with one of the quietest 120 mm fans available,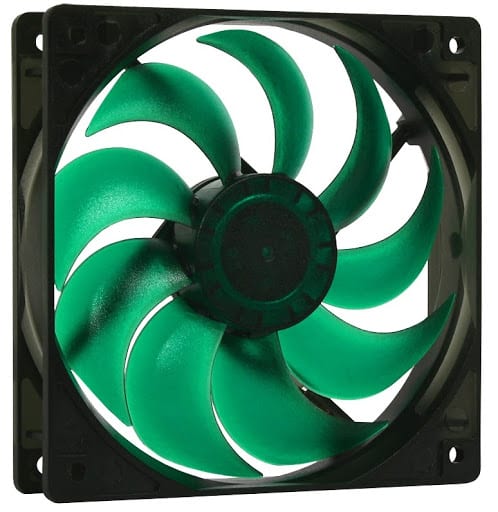 making it a perfect match for a sensitive work environment that requires near-silence.
Drive selection matters for maintaining low noise in a NAS system. When buying a Mini X/X+ without hard drives, pay attention to the acoustic specifications of the hard drives you select. For reference, the NAS-grade hard drives that come with our pre-populated systems idle around 20-21 dBA, and peak at 24-29 dBA, which is quiet by spinning disk standards. SSDs are silent and cooler, reducing fan speed and sound levels even further.
HTML5-Based Remote Management
Another "server-class" feature unique to systems in its class is the ability to manage and administer the TrueNAS Mini X/X+ hardware from a remote location via the Intelligent Platform Management Interface (IPMI) console. The IPMI web interface uses HTML5, which provides remote console access without requiring Java or connecting a physical monitor and keyboard to the Mini.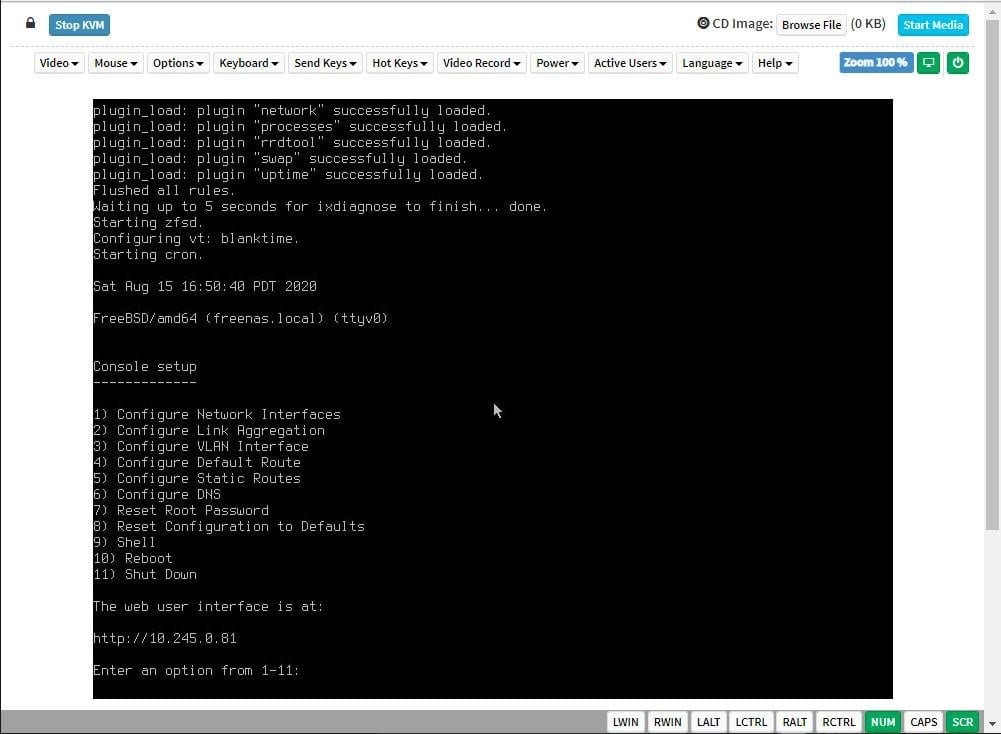 The HTML5 IPMI interface provides remote management from any laptop.
True Capacity
The TrueNAS Mini product family can also now support 14 TB hard drives! This brings storage capacity of the Mini E up to 56 TB, the Mini X and X+ up to 70 TB, and the Mini XL+ up to 112 TB! If you need even more storage, the SSD bays are available for the new Fusion Pools, bringing the Mini X and X+ up to 85 TB and the Mini XL+ up to 120 TB.
A TrueNAS Mini X+ with dual 10 GbE, 5 x 14 TB HDDs, and 2 x Cache SSDs packs a lot of performance and capacity in its small footprint, and the TrueNAS web configurator price for this 70 TB system is under $3700.
When adding drives to all Minis, we recommend the highly reliable WD Red Plus drives. Other Conventional Magnetic Recording (CMR) drives with a max wattage of less than 7 W can also be supported.
World's #1 Open Source Storage Software

TrueNAS Minis can run FreeNAS, TrueNAS CORE, and also the previews of TrueNAS SCALE software. There are several options to easily backup your data to another FreeNAS or TrueNAS system, or to a public cloud provider like AWS S3, Google Cloud, Microsoft Azure, or Backblaze B2, among others. TrueNAS 12.0 provides many wizards to simplify setup of ZFS pools, iSCSI extents, and SMB shares.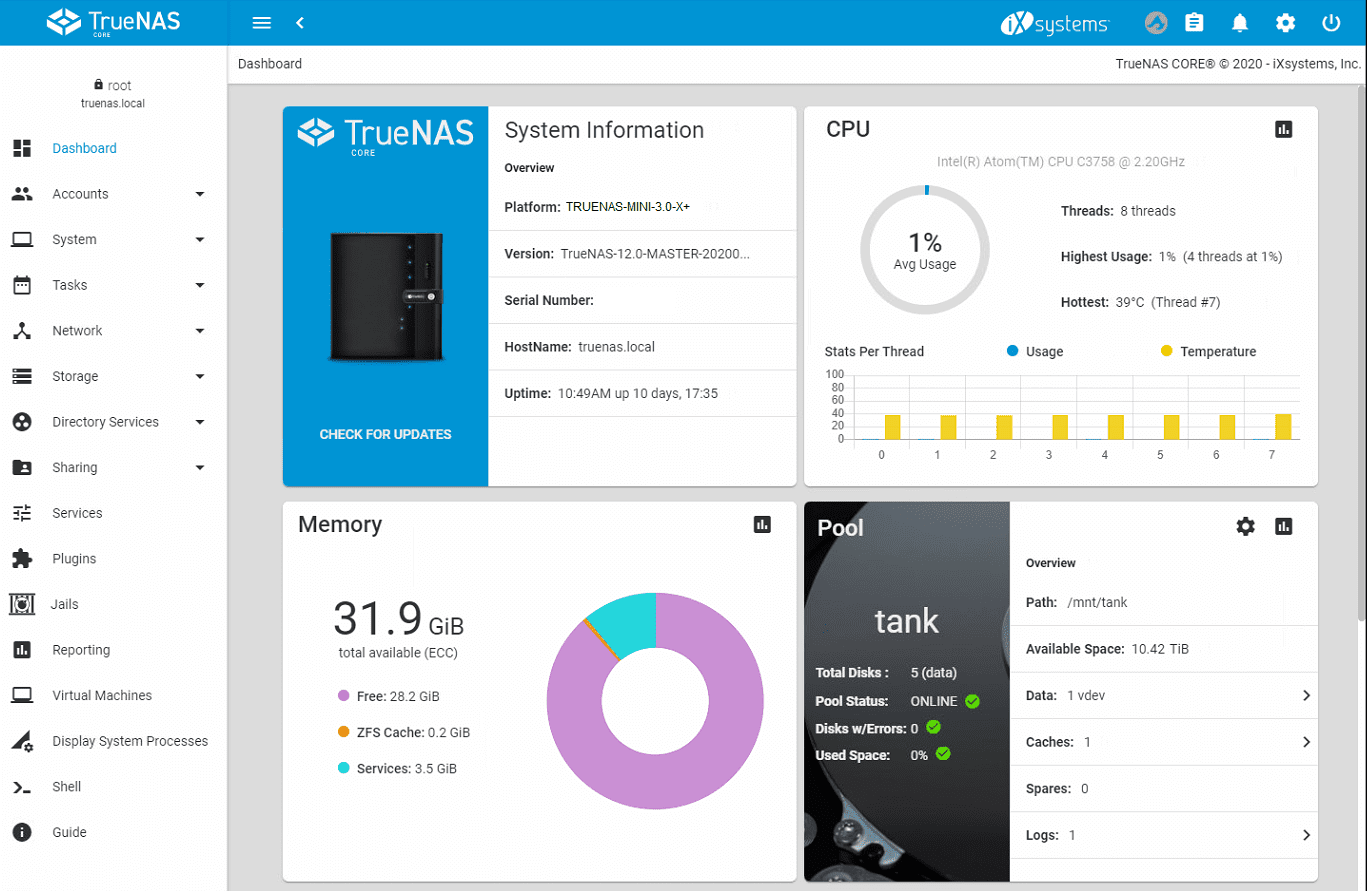 TrueNAS 12.0 BETA is also available to try out.
TrueNAS CORE 12.0-RC1 also provides enclosure management for the TrueNAS Minis (and the FreeNAS Certified line). Enclosure management simplifies operations of a Mini by providing the visual status of drives, names, and temperatures. It makes it easier to identify and replace failed drives.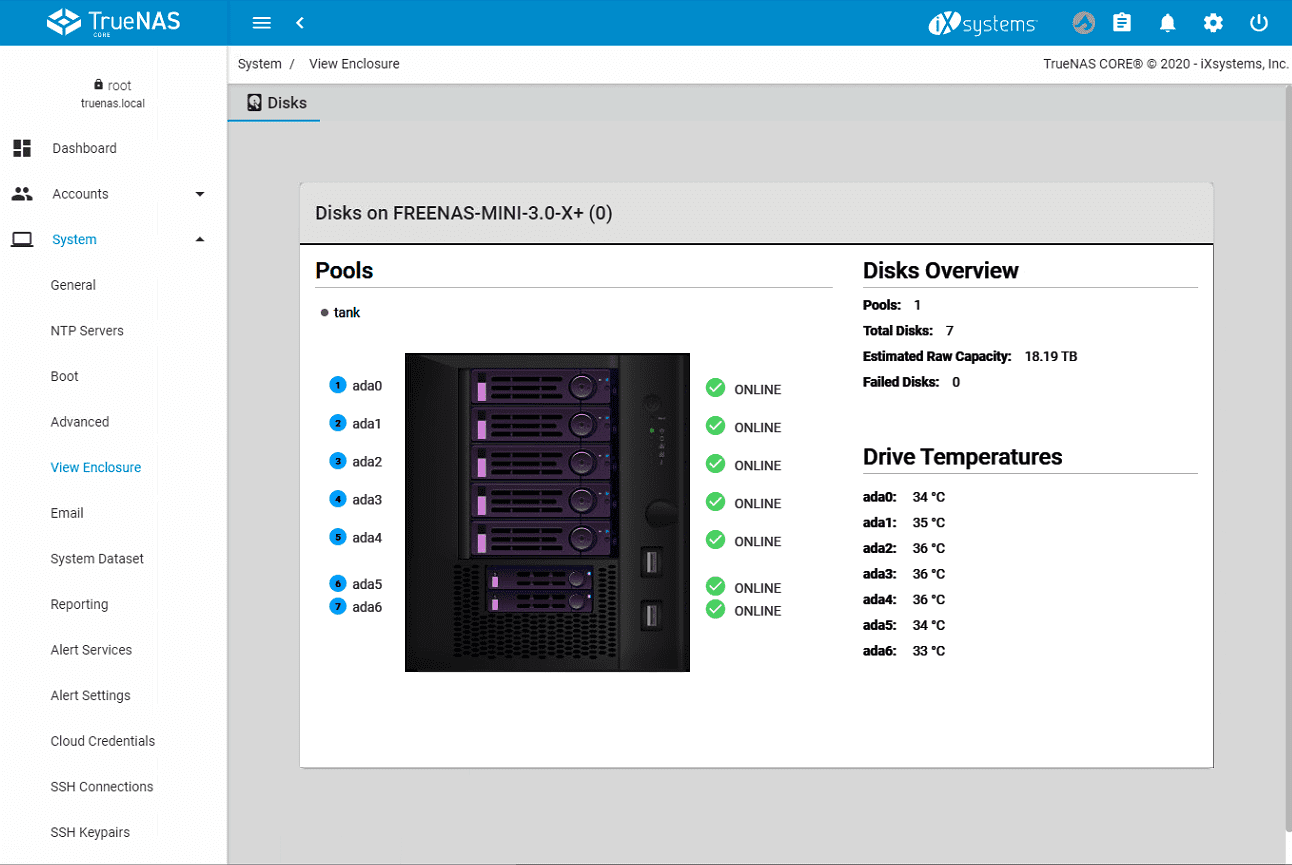 The TrueNAS Mini X includes enclosure management with TrueNAS CORE.
TrueNAS Minis can also be managed using the new TrueCommand multi-system management application. TrueCommand provides a "single pane of glass" for managing and monitoring groups of TrueNAS systems with automated alerts and customized reports.
Get yours today!
If you're looking for a compact storage system that provides professional-grade features and data protection beyond typical consumer-grade NAS systems, the TrueNAS Mini line is available through Amazon, starting at $699 without hard drives. The TrueNAS Mini X starts at $899. The 16TB (4 x 4TB) Mini X is $1499 and the 50TB Mini X+ (5 x 10TB + 2 Cache SSDs) is $2949. You can also have a Mini custom-configured to your specifications and ordered through the iXsystems online Mini Configurator. For additional technical information, visit https://www.TrueNAS.com/TrueNAS-Mini/. In-depth product reviews have been conducted by Lawrence Systems and ServeTheHome.
Please be aware that early units will ship with the latest STABLE version of FreeNAS until TrueNAS 12.0 STABLE is released. For those who want to try the latest features, TrueNAS 12.0-RC1 is available. Once TrueNAS 12.0 CORE is released, there will be an upgrade path from the latest version of FreeNAS STABLE. All FreeNAS features will be retained, and although the name is changing to TrueNAS, this upgrade will not cost you a single penny (now or ever)!