iXsystems TrueNAS M-Series Blows Away Veeam Backup Certification Tests
Testing shows that TrueNAS Exceeds Veeam Requirements by up to 5x
San Jose, CA – April 26, 2018 — iXsystems, the industry leader in storage and servers driven by Open Source, announced the certification of its TrueNAS M-Series for Veeam Backup and Replication. The TrueNAS M40 and M50 models performed up to five times better in certification tests than Veeam requirements. With this certification the complete line of iXsystems hybrid storage products, which include the TrueNAS X10, X20, M40 and M50 storage arrays, have passed the Veeam Backup and Replication v9.5 for VMware certification tests, confirming that TrueNAS integrates with Veeam software to provide VM-aware backup and storage.
The TrueNAS X10 and X20 are cost-effective enterprise storage solutions that are designed to help small and midsize businesses modernize their storage infrastructures and were announced in the middle of 2017. The TrueNAS M40 and M50 are the newest high-performance models in the iXsystems hybrid, unified storage product line, and were announced in early April of this year.
Veeam certification tests the speed and effectiveness of the data storage repository using a testing methodology defined by Veeam for Full Backups, Full Restores, Synthetic Full Backups, and Instant VM Recovery from within the Veeam Backup and Recovery environment.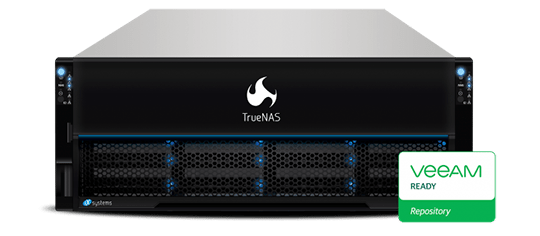 As a unified file, block, and object sharing solution, TrueNAS can meet the needs of backup and virtualization use cases thanks to its unified support for the SMB, NFS, AFP, iSCSI, and Fibre Channel protocols.
Testing Configuration
A TrueNAS M-Series Hybrid Storage array was configured to hold 8.4 TB of Veeam-provided data and served as the repository of the Veeam backup images generated by the certification testing. Two of the four certification tests required that these images be used during restoration.
Two servers, each with dual Intel® Xeon® v4 CPUs, were used to run the certification tests. These servers hosted all necessary virtual machines, including the Windows Server that ran the Veeam Backup and Replication 9.5 software. In addition, these servers locally stored the test Windows server VMs and ran the vCenter server VM.
Results
Following the requirements of the "Performance Testing Guide for Backup Storage" provided by Veeam, the TrueNAS M-Series test results exceeded Veeam's certification requirements by two to five times. This certification shows that the TrueNAS M-Series is ideal for supporting Veeam backups, helping customers meet their backup SLAs and putting IT at ease. There is an iXsystems blog for the M-Series describing the tests and test results.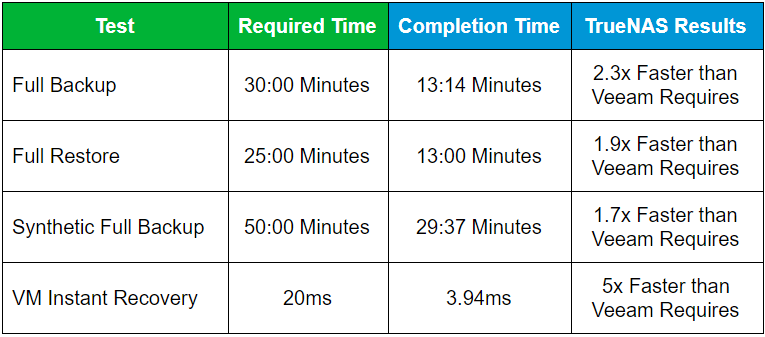 Customers have great success implementing the TrueNAS storage platform as the backup and recovery storage repository within their Veeam infrastructure. TrueNAS configurations include flash-assisted or all-flash storage solutions. Both have blazing-fast performance, share the same workflow, and act as a SAN and a NAS, meeting the needs of any enterprise data storage and backup workload.
TrueNAS offers High Availability to provide non-disruptive firmware updates, around-the-clock backup services, and zero downtime. It uses OpenZFS, which ensures that backup images can be retained and replicated with guaranteed long-term data integrity.
TrueNAS backup solutions with Veeam start at less than $10,000 and scale at approximately $100 per terabyte. To learn more about TrueNAS backup solutions with Veeam or to obtain a no-risk quote on a TrueNAS configuration, visit www.iXsystems.com/TrueNAS, email info@iXsystems.com, or call us at 1-855-GREP-4-IX.
iXsystems Executive Quote
"Many clients are moving to a virtualized data center and Veeam is strategically focused on this market. The combined strengths of Veeam and TrueNAS give clients a VM-aware backup and restore solution with safe, high-performance, high-value, and self-healing storage. Surveys show that more than half of our customers use TrueNAS to store their backup images and Veeam is the #1 backup product they utilize. With a TrueNAS unified storage array and Veeam Backup and Replication, IT staff can sleep well at night."
Gary Archer, Director Storage Marketing
Customer Quote
"The Veeam backups are working great. I am using Veeam's Direct SAN Access transport mode which connects directly to the TrueNAS using iSCSI which improves the data transfer throughput and reduces the amount of time it takes to backup each VM significantly."
Todd Lamonia, President & CEO, IT Worldwide Services
About iXsystems:
By leveraging decades of expertise in hardware design, its contributions to many Open Source software communities, and corporate stewardship of leading Open Source projects (FreeNAS and TrueOS), iXsystems has become an industry leader in building innovative storage solutions and superior enterprise servers for a global marketplace that relies on open technology.
Thousands of companies, universities, and government organizations have come to rely on iXsystems' storage, servers, and consultative approach to doing business. Headquartered in the heart of Silicon Valley since its founding in 1996, the dedication to white-glove customer service, industry-leading support, and transparent technological contributions has never wavered and continues to help lay the foundation for a new era powered by open technology.