We wanted to update everyone on the progress of the TrueNAS 12.0 release train. In just four weeks, more than 20,000 systems have been upgraded to TrueNAS 12.0. The feedback on performance and feature improvements has been excellent. TrueNAS 12.0-U1 has entered development code-freeze and is now entering its final QA cycle for availability in early December.
TrueNAS 12.0 RELEASE was made available October 20, 2020, and with it, TrueNAS CORE and TrueNAS Enterprise were available for production deployments. TrueNAS 12.0 was also the official merger of FreeNAS and TrueNAS into a unified software image accompanied by a long list of features and performance improvements. The TrueNAS 12.0 Release notes provide all the technical details.
TrueNAS Enterprise users (M-Series and X-Series) can manually upgrade to TrueNAS 12.0 RELEASE if specific features are needed. With TrueNAS 12.0-U1, the UI-based online update will be made available. This process is simpler and faster than manual updating; however, we still recommend that our clients contact iXsystems support and schedule the upgrade with them to make sure the best practices are followed and any issues are resolved along the way. In all cases, we recommend upgrading to TrueNAS 11.3-U5 before moving to 12.0, so that a roll-back is possible.
TrueNAS 12.0-U1 has also resolved the most significant bugs reported and has allowed us to add a few new features.
Bugs resolved include:
New features added include:
TrueNAS System improvements include:


Below is a graphic showing TrueNAS 12.0-U1 enclosure management of the TrueNAS R50 with 48 HDD bays. It simplifies monitoring, diagnostics, and operations of larger systems, saving hours of admin time and further preventing downtime.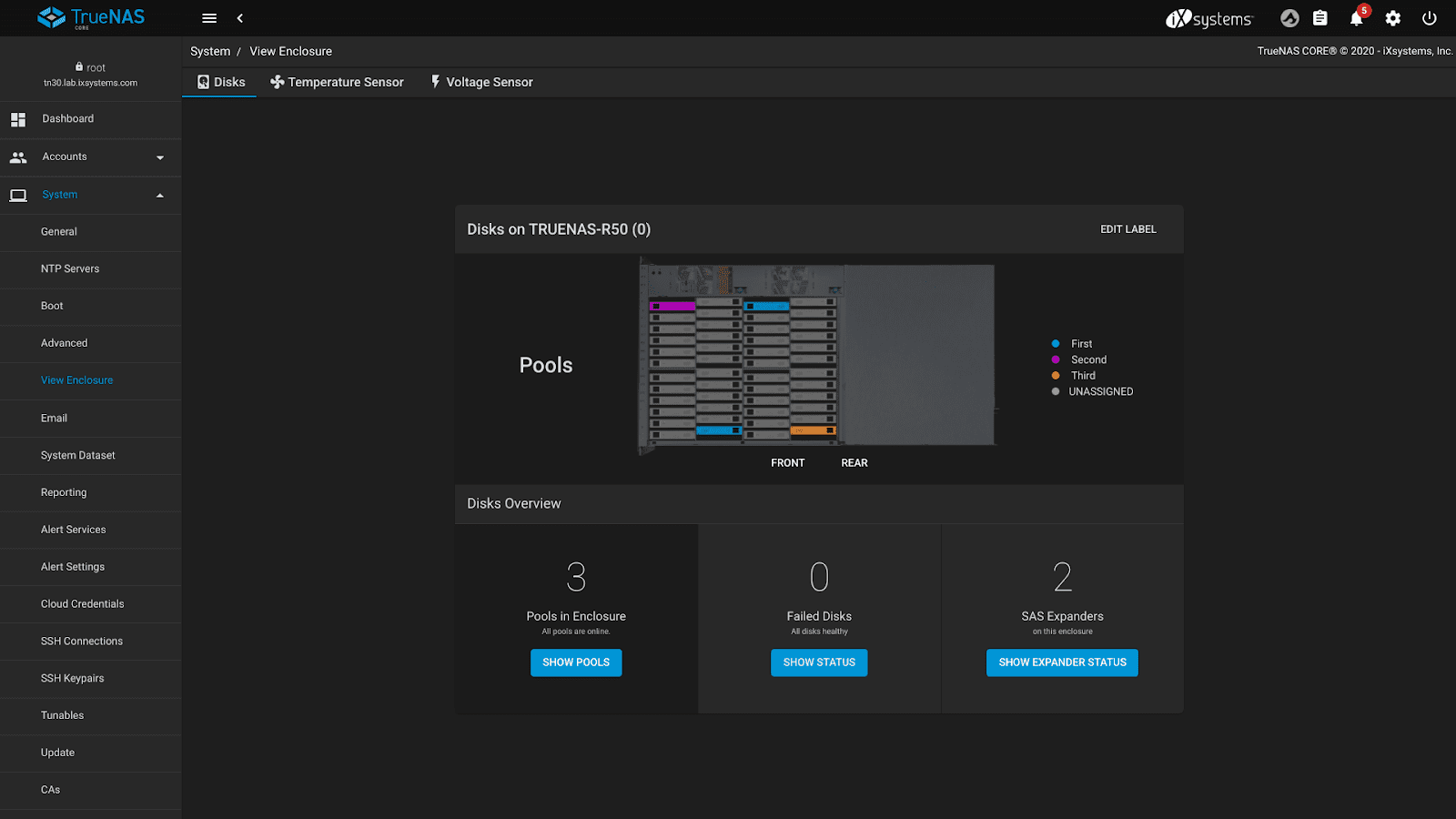 TrueCommand CLOUD
TrueNAS 12.0 also includes support for TrueCommand CLOUD, a SaaS version of TrueCommand which includes a VPN capability for managing across sites. Service trials have started and are going well. We expect to make this service generally available in December at the same time as TrueNAS 12.0-U1.
TrueNAS 12.0 Documentation is reaching parity with 11.3
TrueNAS 12.0 has moved to a more modern documentation style that encourages contribution. The new documentation is more modular and expandable, and is now nearly as comprehensive as that of FreeNAS 11.3. We'll continue to improve usability once completeness is achieved. Please check out the 12.0 documentation even if you don't upgrade today. We're grateful for all the contributions received thus far!
Migrating between TrueNAS 12.0-U2 and TrueNAS SCALE 20.12
One of the side benefits of the massive TrueNAS 12.0 and OpenZFS 2.0 work is TrueNAS SCALE. While TrueNAS SCALE 20.10 "Angelfish" is based on 90% of the same software, SCALE is less mature but very promising. For most users, we recommend moving to TrueNAS 12.0 and OpenZFS 2.0. From there, users can stay with CORE or Enterprise editions or migrate in 2021 to SCALE for Linux services or scale-out functionality. We call this flexibility, "Storage Freedom". In TrueNAS 12.0-U2 we plan to automate migration to TrueNAS SCALE for those that need Kubernetes or scale-out. Like TrueNAS CORE, TrueNAS SCALE is free and Open Source.
FreeNAS to TrueNAS 12.0 Upgrades are Easy
For those with FreeNAS installed on your system, we recommend upgrading first to FreeNAS 11.3-U5 and then you can upgrade to TrueNAS 12.0 with a single click and roll-back options! Otherwise, download TrueNAS 12.0 to get started.
TrueNAS 12.0 can operate on all of the iXsystems platforms from the FreeNAS and TrueNAS Minis, to the power-efficient X-Series, all the way up to the flagship High availability (HA) M-Series. There is also a new R-Series product line that can run CORE, Enterprise, and SCALE editions of TrueNAS.
For those with TrueNAS HA systems and support contracts, we recommended contacting iXsystems support to schedule an upgrade. We will verify your systems' health, configuration, and support the upgrade process to minimize issues.
TrueNAS CORE: Still the best Free NAS
TrueNAS 12.0-U1 improvements continue to make it the best Free NAS system available. If you have any questions or comments, we'd love to hear them on the community forums, on the TrueNAS subreddit, or in response to this blog. If you need additional information on how TrueNAS can streamline, accelerate, and unify data management for your business, please contact us.