TrueNAS 12.0-U7 was released today and is recommended for even the most conservative users of FreeNAS, TrueNAS CORE, and TrueNAS Enterprise. It will ship by default on all new TrueNAS systems.  Assuming no unforeseen issues, U7 is likely to be the last of the TrueNAS 12.0 updates, as TrueNAS 13.0 begins its development lifecycle. 
TrueNAS 12.0 has been very successful and over 85% of FreeNAS 11.3 users have already upgraded to TrueNAS CORE. TrueNAS 12.0 has now exceeded two exabytes (EB) of data under management and is growing at the astounding rate of 1 EB every 6 months.  
TrueNAS 12.0: a Retrospective
While releasing TrueNAS 12.0, we created a new lifecycle model for TrueNAS CORE and Enterprise releases.  The history of TrueNAS 12.0 releases has been:
TrueNAS 12.0 RELEASE was made available October 20, 2020, and included many new features and performance enhancements, along with OpenZFS 2.0 support and a major OS update to FreeBSD 12.2, which also broadened hardware compatibility.
TrueNAS 12.0-U1 was released in December, resolved the most significant bugs, and enabled features like Fusion pools and efficient scrubbing/resilvering.
TrueNAS 12.0-U2 was released in February and included bug fixes with some minor features. 
TrueNAS 12.0-U3 was released April 13, 2021, and included bug fixes with some minor features.  This release was officially ready for mission-critical users.
TrueNAS 12.0-U4 was released June 1, 2021, and included bug fixes with robustness improvements. 
TrueNAS 12.0-U5 was released August 3, 2021, and included bug fixes, python upgrades, and security improvements.  This version has been very stable and is considered the best production version, including all previous FreeNAS versions.
TrueNAS 12.0-U6 was released on October 5, 2021, and included a number of fixes, nearly a dozen improvements, and a few platform enhancements. 
TrueNAS 12.0-U7 was released on December 7, 2021, and also includes a number of fixes, nearly a dozen more improvements, and a few platform enhancements. These include:
More extensive SMB regression testing with various SMB options

Ongoing improvements to UI & middleware performance for large drive counts

Dashboard fixes for CPU temp reporting

Various M-Series and R-Series webUI improvements
A Glimpse into the Future with TrueNAS 13.0
TrueNAS 13.0 is the next planned release after TrueNAS 12.0-U7. It will include some major component upgrades which will offer new features, performance improvements, bug fixes, and security improvements. The major component changes will include:
FreeBSD 13-STABLE

OpenZFS 2.1.1

SAMBA 4.15
TrueNAS 13.0 will primarily be focused on its role as very stable enterprise-grade storage and there will be very few webUI changes. TrueNAS 13.0 nightlies will begin this month and BETA will start early in 2022. There will be additional information provided prior to BETA. We look forward to working with the community to make this a smooth release and upgrade.
TrueCommand 2.0 is the Single-Pane-of-Glass Management Platform
TrueNAS 12.0, SCALE, and TrueNAS 13.0 include support for TrueCommand (Docker or VM) and TrueCommand Cloud, a SaaS version that includes a VPN capability for managing across private networks. TrueCommand 2.0 includes:
Storage navigation of datasets, files across multiple NAS systems. 

Real-time per-second statistics.

Role-Based and Team-Based Access Controls  (RBAC).

Tracking and reporting inventory with serial numbers and support status.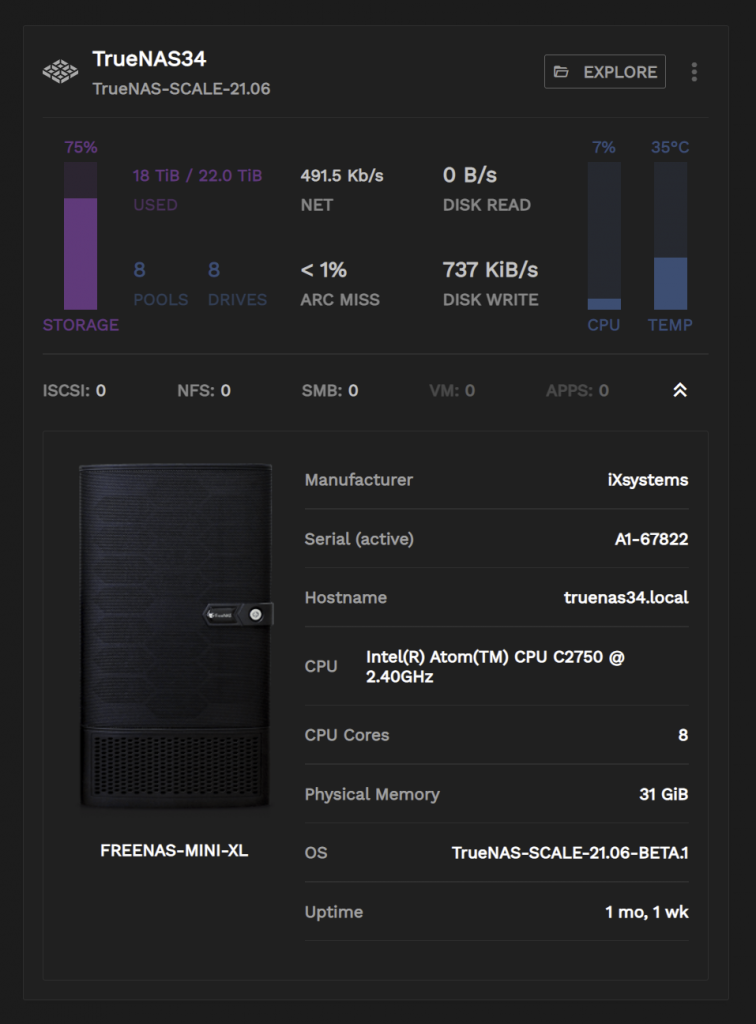 TrueCommand inventory view of TrueNAS systems
FreeNAS to TrueNAS 12.0 Upgrades are Easy
For those with FreeNAS still installed on your systems, we recommend upgrading to FreeNAS 11.3-U5 first from within the web interface, and then upgrading to TrueNAS 12.0-U7 to retain roll-back options.  While it is an easy web update, we do recommend waiting to update your system's zpool feature flags until you have validated your performance and functionality.  New users will want to simply download TrueNAS 12.0-U7 to get started.
TrueNAS Hardware Platforms
TrueNAS 12.0-U7 is compatible with all of the iXsystems platforms from the FreeNAS/TrueNAS Minis, to the power-efficient X-Series, all the way up to the flagship High Availability (HA) M-Series. There is also an R-Series product line that can run CORE, Enterprise, and SCALE editions of TrueNAS.  All of these can be updated via the web UI and include graphical enclosure management.
For those with TrueNAS HA systems and support contracts, we recommend contacting iXsystems support to schedule an upgrade. We will verify your systems' health, configuration, and support the upgrade process as part of the "white glove" service that comes with any support contract.
TrueNAS SCALE 22.02 is planned for release in February.
TrueNAS 12.0 users will have a choice of upgrading to TrueNAS 13.0 or TrueNAS SCALE whenever they like.
TrueNAS SCALE 22.02 "Angelfish"  is intended for RELEASE in February 2022 while TrueNAS SCALE 22.02-RC2 is expected to be available later this month. TrueNAS SCALE 22.02-RC1 already has over 5,500 users and is getting some great reviews. 
TrueNAS CORE is the Best-Ever Free NAS
The improvements to TrueNAS further strengthen its position as the best-ever "free NAS" system available. In that way, TrueNAS still is and always will be FreeNAS in spirit.  
Please check out the updated TrueNAS documentation even if you don't upgrade today. We're extremely grateful for all the contributions received thus far and encourage the community to keep the suggestions coming!
If you have any questions or comments, we'd love to hear them on the community forums, on the TrueNAS subreddit, or in response to this blog. If you need additional information on how TrueNAS can streamline, accelerate, and unify data management for your business, please contact us, or visit truenas.com and download the TrueNAS version that best fits your needs.
Here's to True data freedom!