#ServerEnvy: Hard Drives Need Not Apply
At iXsystems when we say custom, we do mean custom. No two clients have exactly the same requirements, so why would you expect a cookie-cutter solution to meet all of your needs? In this edition of #ServerEnvy, we're taking a look at a custom-built 4U iX4424 Jupiter rackmount server. What makes it so intriguing?
It's all-flash.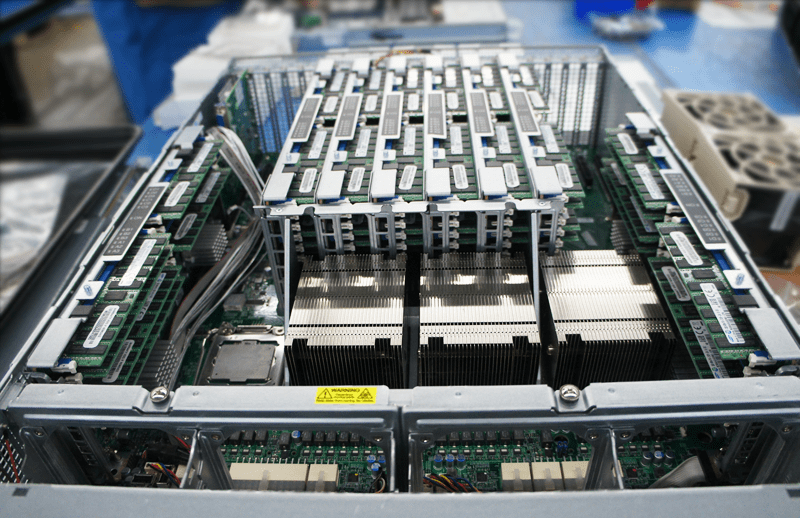 The first thing you'll notice is the amazing amount of RAM it holds—in fact, there's so much RAM, it's stacked in the middle and lining the sides of the system. It's currently outfitted with 48 x 32GB ECC RAM for a total of 1.5TB of memory. With 96 DIMM slots, this server can hold up to 6TB of memory.

Typically a system like this would house up to 24 hot-swappable HDDs but for this client's specific needs, we populated this build with 2 x 1.2TB SSDs and another 2 x 800 GB SSDs for a total of 4TB of blazing-fast flash storage.

In addition, this build has 64 cores built from four Intel Xeon 16 core 2.5 Ghz CPUs. A 10 Gigabit Intel Ethernet controller with dual ports provides the ultimate in storage networking performance. For protection, the system is set up in a RAID 1 configuration, has multiple fans and is powered by a 1620W redundant power supply to keep the system safe and secure.

We build custom server solutions for all of a client's needs and we're always more than happy to help you out. If you have a problem you'd like us to help you with, drop us an email at sales@ixsystems.com or call us at 1.855.GREP.4.IX for a risk-free consultation.