NEW FreeNAS ZFS Classes and a NEW Addition to the iXsystems Family
Hello FreeNAS users!
Since you signed up for the FreeNAS newsletter, we expect that you've got backups down pat. Still, we hope you celebrated World Backup Day all the same even if you consider every day "backup day". But if you're having trouble getting your system just right, you might be interested in knowing that we're now offering FreeNAS classes. Keep reading for more details.
In other big news, we're also welcoming FreeBSDNews.net to the iXsystems family. We hope to continue the great work that Gerard's done on the site for years. With so much happening, we're also seeing an influx of user-generated content. Our community is growing faster than ever, and we're thrilled people have an active interest in contributing back as it embodies the values of the Open Source community we're proud to be a part of. We've featured some of those submissions in this month's edition. Here's to even greater things ahead.
Cheers,
The FreeNAS Team
---
NEW FreeNAS classes – Intro to FreeNAS and ZFS
We're now offering live FreeNAS classes in collaboration with ZFS expert, Linda Kateley. Linda is a professional software educator with over 20 years of experience who specializes in ZFS and storage. This initial series of classes will introduce you to the FreeNAS GUI and teach you everything you need to know to get started with FreeNAS, including:
Basic Setup
Volumes and Datasets setup
Sharing with AFP, NFS, CIFS
Enterprise ZFS Features (Caching, Checksums, Snapshots, Replication)
The first class will begin on April 16th at 10AM CST. Classes are limited to 15 people per session in order to allow for focused collaborative attention and a robust Q&A session. Each class is designed to be topic-specific, taken "a la carte", and no longer than 3-4 hours. Sign up for your spot now.
---
---
New Partnership with FreeBSDNews.net
iXsystems has announced a new partnership with Gerard van Essen, the creator of FreeBSDNews.net. As part of our agreement, iXsystems will now maintain and host FreeBSDNews.net. With Gerard's continued involvement on the reporting and editorial side, our added efforts will allow the website to continue its growth and expand its coverage.
Needless to say, we're very excited about this. As regular visitors to our site know, we eat, sleep, breathe, and live FreeBSD. With this newest venture, we've got the community's best interests in mind. We are dedicated to the continued delivery of the high quality FreeBSD news, interviews, and announcements that FreeBSDNews.net is known for.
We invite all of our readers to check out FreeBSDNews.net now and subscribe to the RSS feed. We've got big ideas for the future and we hope you'll be a part of it.
---
 FreeNAS 9.2.1.4-BETA is now available
This point release for 9.2.1 fixes performance issues with ZFS replication, SMB spins / hangs under certain circumstances, and a variety of smaller issues.
All bugs fixed in 9.2.1.4-BETA can be found here. This is a very small point release – very few changes have been made as we endeavor to continue refining 9.2.1.x until no significant bugs are left and we can focus exclusively on 9.2.2, which will have far more substantial changes (see this link for some notion of what is planned for 9.2.2).
---
 OFFICIAL FreeNAS 9.2.1.3 Installation Video
We're back with another official tutorial! This time, we're demonstrating the entire installation process for FreeNAS 9.2.1.3. This is hands down the best FreeNAS installation tutorial this side of the internet (since it's from the people who develop the software). The video takes you through all of the steps including:
Necessary tools
Booting the FreeNAS ISO
Installing FreeNAS
Accessing the web UI
Check out our YouTube channel for more tutorials and subscribe so you don't miss any. We'll be coming out with more in the upcoming weeks. If you've created your own tutorial (video or article), we'd love to see it! Send it to FNsubmissions@ixsystems.com and you might just see it featured in the newsletter.
---
 FreeNAS at Great Wide Open
FreeNAS made an appearance at Great Wide Open this year. Dru Lavigne debuted our newest table banner and gave away FreeNAS promotional items. You may be familiar with GWO as the rebranded POSSCON from previous years. As a well-established conference, it draws a usual crowd of 600+ attendees each year. To find out how the conference went, read the recap on the iXsystems blog.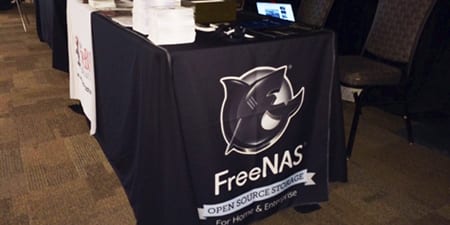 ---
 Unbox the Mini
Wonder what it's like when you get your FreeNAS Mini? One of the recipients of the Mini system made a video of his unboxing experience. Vaclav interned at the iXsystems headquarters last summer and as part of our thanks, we shipped one of the new Minis to his home.
During the video, Vaclav shows off the hardware, the packaging we use to keep the system safe, and of course, the FreeNAS goodies included in each Mini box. If you're interested in ordering your own, just send us a quote request. Every purchase of a FreeNAS Mini directly supports the developers of FreeNAS so we can continue making improvements and adding features to the software.
We've already made updates to the packaging, so recent FreeNAS Mini customers can expect a change to the unboxing experience. And for those of you who haven't bought your own Mini yet, keep your eyes peeled for a new video in the coming weeks. Of course, nothing beats the real thing. 😉
---
 FreeNAS Articles by Kevin Hanson
One user recently made the switch from Synology to FreeNAS and blogged about some of the things that motivated his decision. The biggest reasons Kevin Hanson gave for his switch were the security, customizability, and ZFS that FreeNAS offers. The constant bugs that came with his Synology box didn't help.
As he started configuring his system, he wrote a tutorial for getting Time Machine set up with multiple Macs for FreeNAS 9.2.1.3. Kevin included diagrams in his easy-to-follow, step-by-step tutorial. Give it a read if you'd like to do something similar with your machine.
---
 Dick Installs – Back Up to FreeNAS Tutorial Videos
Dick Thomas is back with more FreeNAS videos. He's a prolific contributor of tutorials such as his earlier videos "FreeNAS 9.x Setup with Samba File Shares, OwnCloud, Bittorrent and Plex" and "FreeNAS 9.2.x with BTSync, Transmission, Couchpotato, SickBeard, and Plex" that focused on plugin setup.
His most recent series demonstrates how to back up to FreeNAS. He started with the video "Windows Backup to FreeNAS". He followed that up with two CrashPlan videos due to popular demand, one for Windows and one for Macs. Several users have expressed gratitude for his tutorials, so that should tell you how useful they are!
---
Tech Tip #5
At low drive counts, the non-optimal configuration warning in FreeNAS is less significant than the performance gained by adding one more hard drive.
---
 Links of the Month
Why One User Chose NOT to Use ECC RAM via Brian Moses
One User's FreeNAS Build & Performance Reports via Jungle-IT
Episode 32: PXE Dust via BSD Now
---
 Need a Job? We need people!
If you've been reading about all the great things we've been up to and thought to yourself, "Hmm, I wish I could be a part of that", well…now you can be!
iXsystems, the company that sponsors FreeNAS, is looking for a few good developers to join our team. We offer competitive salaries, health benefits, stock options, 401k, and access to a fancy-schmancy coffee maker as some of the benefits. We're a very prominent company in the world of FreeBSD; in fact, we employ more FreeBSD developers per capita than anyone else you can think of.
Interested? The full job descriptions can be found here. If this sounds like your cup of double-shot espresso, email Jordan Hubbard at jkh@ixsystems.com with your resume. Cover letters appreciated but not required.
---
 Send Us Your Content
Got a FreeNAS hardware build you're proud of? Come up with a tech tip while tinkering around in the GUI? Have a link or picture you think we should see? As long as it's not something you wouldn't send to your boss, we'd love to hear from you. Drop us a line at FNsubmissions@ixsystems.com. We're always on the lookout for FreeNAS and storage related content to feature in the newsletter and on our social media channels.
---
 Connect with Us
If you need help with your FreeNAS setup or would like to show off your configuration, share your plugins, or just talk with like-minded people, join the conversation on our community forums. For video tutorials, check out our YouTube channel.
Want real-time updates as they happen? Like us on Facebook, follow us on Twitter, or add us to your Google+ circle!