Media Editing at All-Flash Speeds
Media editing needs speed, and high-end workstations are only one piece of the puzzle. Powerful NAS storage performance is critical for 4K and 8K video editing with a team of editors. Not only does the storage have to stream and write video at multi-gigabit speeds, but editors may "scrub" (scroll through) many video feeds simultaneously and saturate storage bandwidth and 10 GbE networks.
Each media editor needs a seamless experience without dropped frames or any slowdown, so focus stays on video quality and not on storage issues. Our goal is to make it easy to provide this editing storage performance with Open Source economics.
FreeNAS with All-Flash
iXsystems has been building FreeNAS systems with all-flash for a few years now. Every year, it gets faster and cheaper as more users make the switch to all-flash for their performance workloads. 
Recently, Linus Sebastian (LinusTechTips) and Patrick Kennedy (ServeTheHome) produced a video and a blog documenting their use of FreeNAS on an All-Flash server for a 12 workstation video production environment. The 100 TB flash system with RAIDZ2 (RAID6) config across 26 SSDs and 4 x 10 GbE saturated the network and even CPU bandwidth of a dozen workstations simultaneously running Adobe® Premiere®. This was achieved using hardware costing roughly as much or less than proprietary storage systems still using traditional hard drives. 
FreeNAS "Centurion" meets the Challenge
Per the video, the system designed was a 100 TB All-Flash system with a budget of around USD 35,000. This system was possible due to the new price points of SATA SSDs in the marketplace today, and the system only factored in parts cost, not time and expertise needed to install and configure the system. 
iXsystems is now offering a special 2U FreeNAS Certified system to meet the same requirements –  preassembled, preloaded and ready to deploy. After optimizing the "Centurion" system for performance and cost, we found we can deliver a full FreeNAS All-Flash 100TB system for $24,900. That price also includes dual 100GbE or 6x10GbE ports. With over 100Gb/s bandwidth and the latest all-flash SSDs, the "Centurion" is ready to take your editing environment to a whole new level.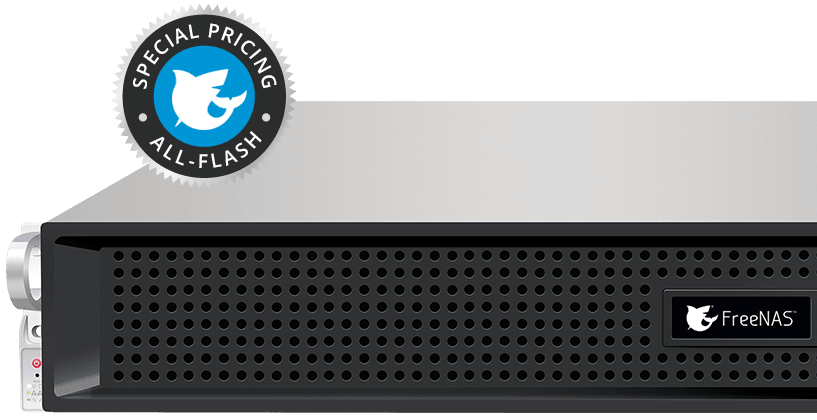 Check out the specs here and contact us to make the switch to All-Flash media editing.
Storage Options for Every Stage of Production
While the "Centurion" is optimized around a specific requirement for capacity and performance. Larger organizations with more complex requirements may require many systems, tiers of storage, high-availability, and 24/7 support. FreeNAS systems are perfect as edge devices, while TrueNAS offers 99.999% availability for mission-critical applications, and both can work together seamlessly. 
iXsystems can spec-out and support the best-fit storage solution for any workload(s) spanning an entire production flow. Other systems that might be used in a production flow include:
Deep-archiving –

6 PB TrueNAS system with 504 x 12TB HDDs

which is ideally suited to video archiving of many thousands of hours of HD video footage.

Small-office / home-office – Patrick Kennedy at ServeTheHome also recently

reviewed our FreeNAS Mini XL+

with dual 10GbE. It's a compact, lower power system that has the performance for a small video editing environment. It can be loaded with SSDs or HDDs.
Talk to iX
Find out more from the iXsystems media and entertainment solution page. For any questions, please contact us to talk to a storage expert, and we can help configure, size, and price a system that meets (and exceeds) your needs.