LFNW 2014 Recap
Bellingham, we meet again! Last weekend, the iXsystems team attended the 15th annual Linuxfest Northwest conference where we staffed a booth on behalf of the FreeBSD Foundation. A record-breaking 1600 attendees showed up this year.
The conference itself was very well-organized. With two game nights and an afterparty, the organizers offered many opportunities for attendees to mingle and network. Many big names made an appearance, including Firefox, Jupiter Broadcasting, and Microsoft. Lots of iX friends were also in attendance including Allan Jude, who made his first LFNW appearance, and Michael Dexter.

Many people stopped by the booth and we showed off FreeNAS on VM on a PC-BSD laptop. They were very impressed by both and we found the attendees to be a good mix of newbies and experts. It was fun educating and getting the word out about FreeNAS and PC-BSD to the newbies while meeting the experts and fans who were already familiar with us.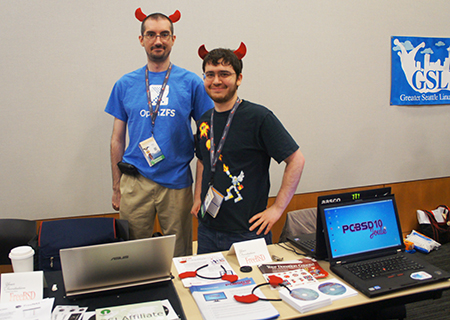 The horns were incredibly popular (as usual). Taking our cue from previous years, we rationed them out over the two days so they lasted slightly longer and weren't completely gone within a few hours on the first day. We also brought some FreeNAS bottle openers for the FreeNAS and storage fans and these proved popular with attendees as well.
The LFNW world-famous fundraiser raffle was held at the end of both days, with laptops and tablets among the top prizes. The afterparty was held at the Spark Museum and featured food, drinks, and fun.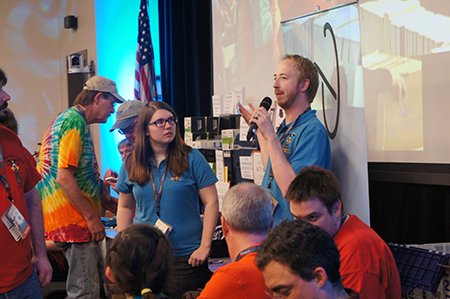 The second day was a bit quieter, but constant streams of people still swarmed our booth. Ben's talk after lunch, Setting up Your First NAS with FreeNAS, was well attended by over 30 people who packed into the room to hear him speak. During his talk, Ben covered installation, volumes, datasets, users, permissions, and shares with a demo and a short Q&A session afterwards.
Shortly afterwards, we gave out the last of our schwag. After packing up and filling out the feedback survey, we headed back to California to prepare for the next tradeshow!
Annie Zhang
Digital Marketing Specialist