Jenkins and bhyve: Continuous Integration for FreeBSD by Craig Rodrigues
On March 13, 2014, Craig Rodrigues gave a talk to a packed room during the monthly BAFUG meeting at Hacker Dojo. The talk discussed the progress of the effort to date, the use of bhyve VM's in the effort, and future plans.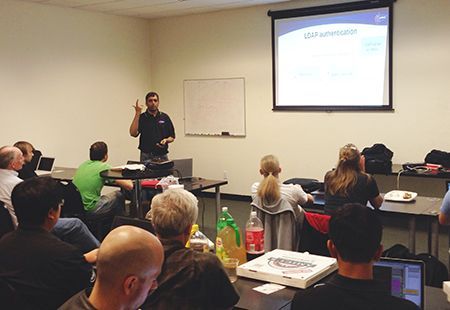 Photo credits to Larry Maloney
A team of FreeBSD developers led by Craig Rodrigues (rodrigc@freebsd.org) has formed the jenkins-admin team (jenkins-admin@freebsd.org). They have set up the Jenkins Continuous Integration system inside the FreeBSD cluster, and are building several branches of FreeBSD. The web server which lists the builds is visible at:https://jenkins.freebsd.org.
The jenkins-admin team has plans to expand the use of Jenkins to build and test FreeBSD. The project status and future plans are listed at: http://wiki.freebsd.org/Jenkins. The team is also looking for FreeBSD developers who can help along with this effort to improve testing of FreeBSD.
The team has made a video of this talk available on YouTube. Craig's presentation slides can be found below.