FreeNAS 9.2.1.2-RELEASE & Team Interviews (Bonus – a Closer Look at the New FreeNAS Mini)
Hello FreeNAS users!
Spring is in the air and it's a time for changes. After adding more bugfixes and patches, we're announcing the release of FreeNAS 9.2.1.2 and the next point release is just around the corner.
We also have several videos and interviews for you this month now that all of our programmers are finally popping their heads out of their cubicles to enjoy the sun. As a bonus, the interview with Jordan Hubbard on DIY Tryin also featured some shots of the all-new FreeNAS Mini. We've got some new official FreeNAS tutorial videos on the way so keep reading to see the first video we've made for the 9.x branch (and subscribe to our YouTube channel so you
don't miss any). And since it's Friday, take it easy and spend some time on Facebook to check out photos of the FreeNAS team at SCALE 12x.
Cheers,
The FreeNAS Team
---
9.2.1.2 – Release is Available
FreeNAS 9.2.1.2 is now available for download. This point release fixes even more issues found in 9.2.1.1 in CIFS, NFS locking, the new .system dataset, ACLs, migration during upgrades, serial consoles, and a few other smaller things. All bugs fixed in 9.2.1.2-RELEASE can be found here.
From a high level, these are the most significant changes:
Samba (SMB/CIFS support) upgraded to version 4.1.5

Linux Jails now work with UFS

NFS lockd now starts properly at boot time

Serial console misconfiguration is now harder to do.

Logging to .system dataset is now optional. If you have an old syslog dataset (which is how this was formerly done), you are strongly encouraged to transition to the new .system/syslog dataset by enabling that option in System->Settings->Advanced and simply deleting your old syslog dataset.
We'd like to thank the community for its patience in dealing with the many issues we introduced in the name of progress in 9.2.1 and we're working on another point release as we speak. We certainly could not have done this without all of your testing and feedback over the last month, so again, thanks!
---
---
Jordan Hubbard Interview Series with DCIG
DCIG recently sat down with Jordan Hubbard, lead developer of FreeNAS and CTO of iXsystems, for a look at the ideas and principles that drive the success of the company. Jordan started the interview by explaining how the FreeNAS project sets iXsystems apart from its competitors.
He then goes into detail about why the custom solutions iXsystems is known for are superior to a pre-built system and why hybrid storage is the best solution right now. Jordan then maps out how open source fits into iXsystems' business model, how the company benefits from working so closely with the open source community, and where the line between open source and propriety code falls.
The series is still ongoing so be sure to check back regularly for a revealing look at how iXsystems operates and the relationship between the company and the FreeNAS project.
---
FreeNAS Team on Revision3 (Bonus: Mini Close-ups)
Jordan Hubbard and James Nixon made an appearance on a recent episode of DIY Tryin with hosts, Patrick Norton and Michael Hand. This new video was a follow up to the first episode of DIY Tryin from way back in December. Patrick has a long history with FreeNAS so he invited us to the show to get expert information straight from the horse's mouth.
Jordan brought along the new FreeNAS Mini for comparison as he spoke with Patrick about optimal hardware specs and the history of FreeNAS. Patrick revealed he is actually a huge fan of Jordan when he started gushing during a fanboy moment near the end of the interview. James followed with a plugin primer tutorial using Plex and Owncloud to demonstrate how to navigate the directory and configure plugins in the jails. The rest of Jordan's interview was featured on Tekzilla, where he elaborated further about FreeBSD, FreeNAS, and the open source communities.
Details about the FreeNAS Mini featured in DIY Tryin can be found on the iXsystems website. Every purchase of a FreeNAS Mini supports the developers of FreeNAS, allowing us to add more features and improvements to the project.
---
Official Tutorial – FreeNAS 9.2.1 Initial Setup & Plex Plugin
We get lots of requests for more FreeNAS videos and we're happy to say that we've taken your feedback to heart. We're now in the process of making a series of official guides for the 9.x release branch of FreeNAS. For our first video, we've got a tutorial to show you how to set up FreeNAS 9.2.1 and install the Plex plugin.
This video takes you through all the steps, including adding a volume, creating a ZFS dataset, transferring media, and adding storage to jails. Check out our YouTube channel for more videos that we've posted in the
past and subscribe so you don't miss the new ones coming soon!
---
Miss us at SCALE 12x?
For three days, we walked, talked, and taught until we were exhausted – all in the name of getting the word out to the 2000+ attendees of SCALE 12x about the great things you can do with FreeNAS and ZFS. The FreeNAS booth was just one of many exhibitors at the conference and we had a lot of fun with all of our Open Source brethren.
For a recap of our experience, check out our blog write-up. Photos from day 1
and day 2 of the expo can be found on Facebook. This year, we were able to get videos of Dru and John's presentations. If you'd like to know everything there is to know about ZFS, check out the video of Dru's talk, ZFS 101 (aka ZFS is Cool and Why You Should be Using it). If you've ever been curious about how FreeNAS is created, take a look at John's presentation, Introduction to FreeNAS Development. It may or may not contain ponies.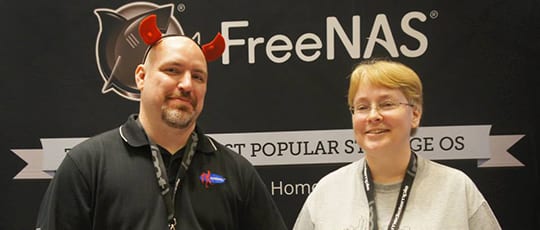 ---
Tech Tip #4
When upgrading, FreeNAS asks if you would like to back up your configuration. ALWAYS take this option.
---
Links of the Month
Big cable Tries Outlawing Municipal Broadband via ArsTechnica
Episode 28: Ghost of Partition via BSD Now
---
Need a Job? We need people!
If you've been reading about all the great things we've been up to and thought to yourself, "Hmm, I wish I could be a part of that", well…now you can be!
iXsystems, the company that sponsors FreeNAS, is looking for a few good developers to join our team. We offer competitive salaries, health benefits, stock options, 401k, and access to a fancy-schmancy coffee maker as
some of the benefits. We're a very prominent company in the world of FreeBSD; in fact, we employ more FreeBSD developers per capita than anyone else you can think of.
Interested? The full job descriptions can be found here. If this sounds like your cup of double-shot espresso, email Jordan Hubbard at jkh@ixsystems.com with your resume. Cover letters appreciated but not required.
---
Send Us Your Content
Got a FreeNAS hardware build you're proud of? Come up with a tech tip while tinkering around in the GUI? Have a link or picture you think we should see? As long as it's not something you wouldn't send to your boss, we'd love to hear from you. Drop us a line at FNsubmissions@ixsystems.com. We're always on the lookout for FreeNAS and storage related
content to feature in the newsletter and on our social media channels.
---
Connect with Us
If you need help with your FreeNAS setup or would like to show off your configuration, share your plugins, or just talk with like-minded people, join the conversation on our community forums.
For video tutorials, check out our YouTube channel.
Want real-time updates as they happen? Like us on Facebook, follow us on Twitter, or add us to your Google+ circle!