FreeNAS 11.1 is Now Available for Download!
FreeNAS 11.1 Provides Greater Performance and Cloud Integration
The FreeNAS Development Team is excited and proud to present FreeNAS 11.1! FreeNAS 11.1 adds cloud integration, OpenZFS performance improvements, including the ability to prioritize resilvering operations, and preliminary Docker support to the world's most popular software-defined storage operating system. This release includes an updated preview of the beta version of the new administrator graphical user interface, including the ability to select display themes. This post provides a brief overview of the new features.
The base operating system has been updated to the STABLE version of FreeBSD 11.1, which adds new features, updated drivers, and the latest security fixes. Support for Intel® Xeon® Scalable Family processors, AMD Ryzen processors, and HBA 9400-91 has been added.
FreeNAS 11.1 adds a cloud sync (data import/export to the cloud) feature. This new feature lets you sync (similar to backup), move (erase from source), or copy (only changed data) data to and from public cloud providers that include Amazon S3 (Simple Storage Services), Backblaze B2 Cloud, Google Cloud, and Microsoft Azure.
OpenZFS has noticeable performance improvements for handling multiple snapshots and large files. Resilver Priority has been added to the Storage screen of the graphical user interface, allowing you to configure resilvering at a higher priority at specific times. This helps to mitigate the inherited challenges and risks associated with storage array rebuilds on very large capacity drives.
FreeNAS 11.1 adds preliminary Docker container support, delivered as a VM built from RancherOS. This provides a mechanism for automating application deployment inside containers and a graphical tool for managing Docker containers. Please report any issues you encounter when beta testing this feature to assist the development team in improving it for the next major release of FreeNAS.
Finally, there are updates to the new Angular-based administrative GUI, including the addition of several themes. The FreeNAS team expects the new administrative GUI to achieve parity with the current one for the FreeNAS 11.2 release. To see a preview of the new GUI, click the BETA link on the login screen. Here is an example of the new GUI's main dashboard, with the available themes listed in the upper right corner.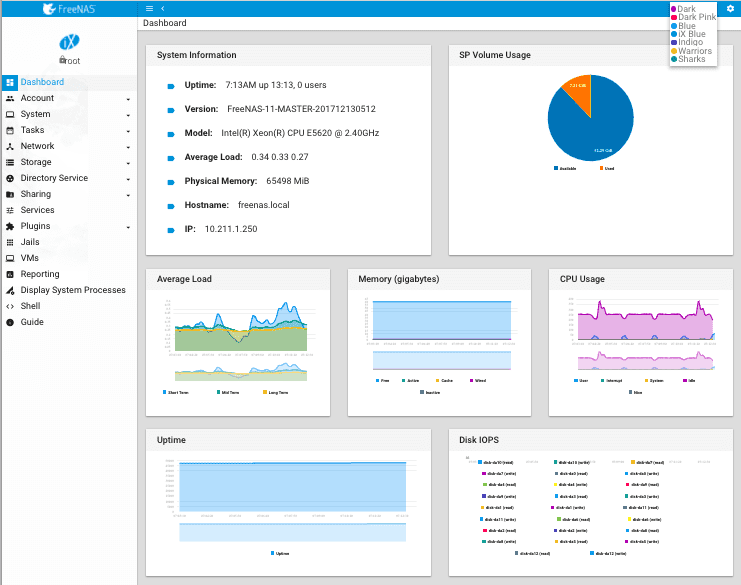 The FreeNAS community is large and vibrant. We invite you to join us on the FreeNAS forum. To download FreeNAS 11.1 RELEASE and sign-up for the FreeNAS Newsletter, visit freenas.org/download.
The FreeNAS Development Team